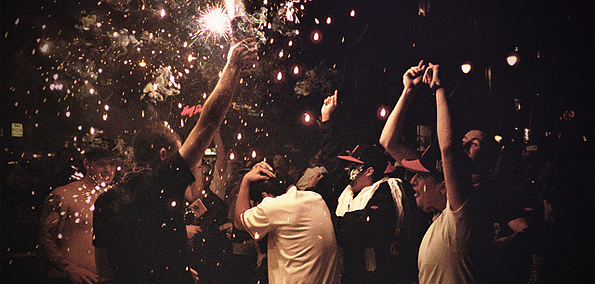 Starfuckers have already made a name for themselves as the hosts of some of Sydney's best late night raves. Their debut single "Make It Drop" has already become a club anthem for Australia's underground dance music scene. The release, out on House of Fun Records, features remixes from Angger Dimas, Redial & Night Dimension. The track blends guitar riffs reminiscent of your favorite classic rock band with warped ravey sounds that remind us of Steve Aoki. Exclusive free download below! You can listen to the remixes and their other tracks on Soundcloud.
Starfuckers - Make It Drop (Radio Edit)
Download:
Starfuckers - Make It Drop (Radio Edit)
The video for the track, below, directed by Matthew Simms, barrages you with flashing images of gas masks, graffiti, blood spatters, religious figures indulging in sacrilegious activities, and kaleidoscopic patterns. The party just took a dark turn.
[email protected] / @notalyce / tumblr
Starfuckers - Make it Drop (dir. Matthew Simms)