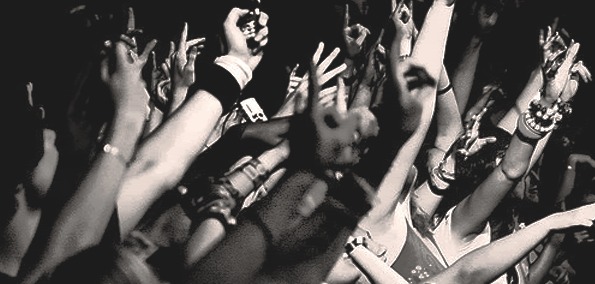 The discussion in regards to the judging criteria for this chart was a bigger process than putting together the chart itself. How do you weigh commercial success against production value? We tended to shy away from this year's trends and focus on quality behind the mixing desk. This list isn't to be viewed so much as our take on which songs were the most impactful in 2011 but more so as a countdown of the tracks that will continue to influence the soundscape and look forward to shape the sounds of 2012 and beyond. We look forward to your insight in the comments section.
Alas We've made to our top 10.  You'll find all manner of tracks in this wrap up.  A compilation our favorite jams in each genre if you will.  Without further ado....
#10. Paul Woolford & Psycatron - Stolen (Dub One) [Hotflush]
Our favorite song to be driving in a late night rain with.  Moody techno with just enough garage swing to keep it moving.  2011 was the year when genre lines got crossed to the point where everything became house again and this song was no exception.  Let's hope the Panteros666 fiasco doesn't delay any follow ups.
#9.  Todd Terje - Ragysh [Running Back]
Who wasn't playing "Ragysh" out this year?  A staple on most year end countdowns, this infectious sequencer jam isn't the most complex to make our 100 must have but it's certainly one of the most well known.  Sometimes less is more and Terje captures just the right amount of delay in his synth to satisfy our hunger.
#8.  Eats Everything - Entrance Song [Pets]
http://www.youtube.com/watch?v=TB3TaVHy1Fc
You'd be hard pressed to find anyone more deserving of a breakout artist of 2011 nod than Eats Everything.  This Pets release quickly became a go to for Justin Martin landing him a deal with Dirtybird.  Creative fader flare and nose dive sounding vocal chops add a sing along factor to the massive kicks.  If you're looking to fall into a K-Hole in a sketchy DEMF after hours this is the song you want on.
#7.  Miguel Campbell - Something Special [Hot Creations]
Takes home the prize for song we'd want playing when reaching in for a first kiss with that special someone.  What this Beatport chart topper gives up in production value it gains in authenticity.  True to the lo fi era from which it draws its sample there's just enough low end there to give it some pop while maintaing integrity.
#6.  Surkin - Ultra Light [Marble]
http://www.youtube.com/watch?v=_nGzwTw65vc
At number 6 we have the song we'd most want to hear played at a mega festival.  The french have always had a knack for big piano hooks and Surkin brings us arguably his biggest one since "White Knight Two".  Arps fill the mid range finally breaking through in the bridge as a placeholder till the main riff and 4/4 kick snares make their triumphant return.
#5.  Blawan - Getting Me Down [White Label]
If you had told me a song driven by an early 2000's R&B sample would crack our top 10 I'd have said you're crazy but the way Blawan flipped Brandi's "I Wanna Be Down" to the two beat makes it almost unrecognizable.  This song can work as the perfect peak to a deep house set or as the perfect reset in the middle of a more uptempo soiree.
Download: Blawan - Getting Me Down
#4.  Danny Daze - Your Everything Ft. Louisahhh! [Hot Creations]
Going back to the theme of things that I wouldn't have believed at the start of the year let's talk about the fact that Crooklyn Clan's Discotech would have such an influence on credible dance music.  Alas Jamie Jones, Lee Foss and the team at Hot Natured/Hot Creations helped get this song into the hands of the likes of Seth Troxler where videos of it being played quickly had the Erol Boards abuzz.
#3.  Katy B - Broken Record (Jacques Greene Remix) [Sony]
Jacques Greene could have easily snuck a few tracks into this list in what was a prolific year for the Montreal resident despite his time spent working on a forthcoming live show.  This Katy B remix was the highlight of his works in our humble opinions which emerged from a plethora of Katy B remix packages featuring a who's who of producers.  Necessary inclusion into any mixtape you plan on making for your girl or man.
Download: Katy B - Broken Record - Jacques Greene Remix
#2.  Scuba -  Feel It [Hotflush]
The second label to sneak two tracks in to the top 10 is Hotflush.  Seems fitting that the track we chose to come in with the silver medal comes from Hotflush boss Scuba.  Close your eyes around the 3:30 and let the techno toms and 909 snares fill your ears while visions of strobe lights and dark clubs fill your brain.  Feel it, feel it, feel it, feel it.
#1.  Julio Bashmore - Battle For Middle You [PMR]
http://www.youtube.com/watch?v=SpY9lxI8axo
No matter where different music publication's allegiances lie they all seemed to come to the same conclusion that Bristol's Julio Bashmore had the song of the year.  If you want to talk about what bass music is you can argue until you turn blue.  For us music is about emotions.  No other song in 2011 had the ability to make you jump around, cry, make love the way "Battle For Middle You Can". In a time when bass music is being hijacked by one dimensional kids Julio gives us the quintessential anthem that somehow plays out as the soundtrack to whatever moment in our life we ask of it.
__
Relive the rest of our posts as we counted down number 100 through 11
EARMILK Crates 100 Must Have Dance Tracks from 2011 [20-11]
EARMILK Crates 100 Must Have Dance Tracks from 2011 [30-21]
EARMILK Crates 100 Must Have Dance Tracks from 2011 [40-31]
EARMILK Crates 100 Must Have Dance Tracks from 2011 [50-41]
EARMILK Crates 100 Must Have Dance Tracks from 2011 [60-51]
EARMILK Crates 100 Must Have Dance Tracks from 2011 [70-61]
EARMILK Crates 100 Must Have Dance Tracks from 2011 [80-71]
EARMILK Crates 100 Must Have Dance Tracks from 2011 [90-81]
EARMILK Crates 100 Must Have Dance Tracks from 2011 [100-91]