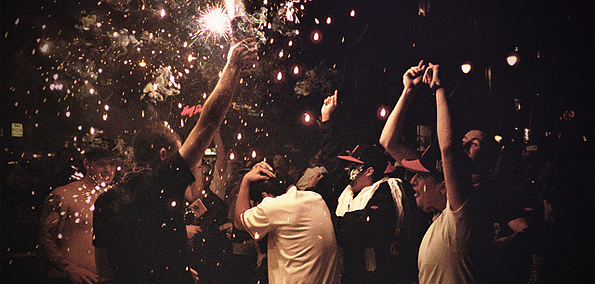 The discussion in regards to the judging criteria for this chart was a bigger process than putting together the chart itself.  How do you weigh commercial success against production value?  We tended to shy away from this year's trends and focus on quality behind the mixing desk. This list isn't to be viewed so much as our take on which songs were the most impactful in 2011 but more so as a countdown of the tracks that will continue to influence the soundscape and look forward to shape the sounds of 2012 and beyond.  We look forward to your insight in the comments section.
#80. Luca Lozano - Thug It Out (KWS We Be Thuggin Remix) [Klasse]
http://www.youtube.com/watch?v=LbH9rxgxjkw
2011 was a chance for producers started to break the mould of the past 3 or 4 years 127-132 BPM comfort range.  While this left many bedroom DJ's scrambling to actually learn how to mix it gave those in the know a lot more range in taking concert goers on a journey.  Kris Wadsworth finds the perfect goove at 117 on this Luca Lozano remix as a party energy builder.
#79. Bobmo - Deadpoint [Marble]
Breakdown reminds me of the big metal xylophones you'd get in grade 5 music class.  Whatever Bobmo used for the sound I'm cool with.  One of our favorite "bangers" this year that didn't take it over the top into distasteful territory.
#78.  Worthy + Eats Everything - Tric Trac [Dirtybird]
http://www.youtube.com/watch?v=9WCGZNEKA8M
The new kid on the block at Dirtybird teams up with old man on campus Worthy for this epitome of Dirtybird booty bass.  The full minute long build in the breakdown sets even the most demure chin scratching house heads into a frenzy of fist pumpers.  My Bass my bass my bass.
#77.  2 Bears - Church (Gingy Remix) [Southern Fried]
Another one of those "end of 2010" monsters that garnered it's play in 2011.  Hot chip side project 2 Bears had some big names on this remix EP including Midland, TEED, Supabeatz and Sneak but it was this submission by Turbo newcomer Gingy that got our attention.  Fantastic sound design.
#76.  5891 - Com Truise [Ghostly]
[soundcloud url="http://api.soundcloud.com/tracks/3138816" params="show_comments=false&auto_play=false&color=000000" width="100%" height="81" ]
 
This 87 BPM space funk jam was the highlight of Com's 11 track EP.  New school take on Dam Funk's sound in a way that only Ghostly would dare to take on.  Big warm analog sounds make you wish you were blasting off in a spaceship ride with Bootsy Collins.
#75.  TWR72 - Summer Of 91 (Acid Version) [Instant Replay]
http://www.youtube.com/watch?v=RiUQtYu5iJ0
One of TWR72's many appearances on this chart.  This track seems to have a little more of Roger's stamp on it.  Big detroit stabs with gliding acid sequences and open hat swing back 90's house diva vocal samples.  Heavy rotation in a wide range of DJ's sets this year.
Download: TWR72 - Summer Of 91 (Acid Version)
#74.  Autoerotique - Freak [Dim Mak]
http://www.youtube.com/watch?v=c-rVHQC_oWs
Turn Up The Volume got all the love on this EP.  Although well deserved, Freak has the legs and versatility to stick around in people's crates into 2012.  This tooly builder should teach the rest of the Dim Mak camp a lesson on how robot noises can be done in a tasteful way.
Bonus Track
Download: Autoerotique - Freak (Gingy Remix)
#73.  Bok Bok & Tom Trago - Lil Ma Bonus Beat [Sound Pellegrino]
[soundcloud url="http://api.soundcloud.com/tracks/26000820" params="show_comments=false&auto_play=false&color=000000" width="100%" height="81" ]
 
2011 saw the birth of Sound Pellegrino's artist series.  The concept: stick two artists from contrasting scenes together in a studio for a week and see what they kick out.  On this bonus DJ tool from their first release Tom Trago's house workings get hijacked by Bok Bok's bass heavy ghetto influence.  One for the club.
#72.  Maceo Plex - Can't Leave You [Crosstown Rebels]
No doubt you'll be seeing this one on a lot of end of year lists.  A favorite amongst underground heads and casual Beatport browsers a like the song grew legs by crossing over between the techno and the house set.  Maceo Plex will be garnering a lot of attention as 2011's producer of the year.
#71.  Pearson Sound VS Rod Lee - Let Me See What U Workin With [Nightslugs White Label]
Sticking with the DJ tool tip, Pearson sound AKA Ramadanman had a monster in this Rod Lee rework.  The infectious vocal sample gets Pearson Sound's drummy treatment a la Work Them.  Guaranteed to make people twerk or your money back.
Stay tuned as we count down ten more tracks each day leading up to our top 10.
Earmilk Crates 100 Must Have Dance Tracks From 2011 [90-81]
Earmilk Crates 100 Must Have Dance Tracks From 2011 [100-91]