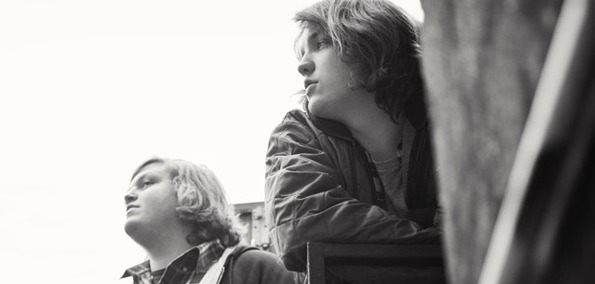 On the night of December 3rd, a group of men stood outside Glasslands for a quick smoke before the show. These men saw me as what Jim described as "galloping" across the empty streets. My urgency was to make an appointment with Young Buffalo. Jim Barrett is one member of this upcoming indie rock duo, along with Ben Yarbrough. They spoke with Earmilk and here is our in depth conversation about the band, inspirations, and life.
Young Buffalo - Baby Demons
Download:
Young Buffalo - Baby Demons
EARMILK: As an introduction, can you guys give us a background history of how this formed?

Ben Yarbrough: Jim and I met in the 8th grade. We have known of each other but never really hung out. Then he played in this band at a local talent show a long time ago and found out I played the guitar so he kind of recruited me. We had a band all through high school but Young Buffalo didn't really start till the summer after we graduated. We've been doing it for two and a half years now.
EM: And you've been on tour?

Jim Barrett: Weve toured a bunch. No national tours but pretty much all of the Northeast, Mideast and southeast stuff. Nothing national yet. We actually had one with The Vaccines but it was cancelled this fall. That kind of fucked us for touring.
EM: What happened with that?
JB: The lead singer had to get like throat surgery or something, so they cancelled the whole thing and our fall went from being very busy to doing nothing at all.
EM:Are you guys making new recordings?
BT: We've been recording new demos and stuff. I think we're looking to actually record songs for an album soon.
JB:Probably after Christmas
EM: How about a title for that album?
JB: No, not yet. our EP that's out is Young Von Prettylips.
BT: It's under Cantora.
JB: Yeah, we recorded "Baby Demons" in October and we put that up ourselves. That's the extent of our work from this fall other than the tour.
EM: One of my favorites is the cover for "Anthems of a Seventeen Year Old". What made you guys cover that song?
BT: That one came from an ex member. He knew how to play it on guitar so we were like "we should just cover that for a song".
JB: Yeah, we put some harmonies on it and made it sound pretty cool. We recorded that with a buddy of ours. That happened in one night and he mixed it up so it was done in a day or two. People seem to dig it.
EM: I guess you guys are fans of Broken Social Scene?
BT: Oh yeah, definitely.
EM: What other bands are inspirations?
JB: Kind of all over. I'd say bands like Thee Oh Sees, and Ty Segall is what I'm listening to right now.
BT: I've been listening to The Smiths again and My Bloody Valentine, which is really good.
JB: A lot of that doesn't necessarily appear too much in our records but it's kind of apparent in our live shows. We're not this slick polished pop stuff. For live shows, we want it to be more of a real live show. Not like a reproduction of our recording, so to speak. Who knows, our recording might be leaning towards that way but I'm happy with what we've done thus far. Since we lost Alex, we're hitting a new kind of thing. Who knows what the record next year will sound like but I'm pretty excited for it.
EM: You guys were three members and now two?
BT: Well, us two write and we have four people touring.
EM: Do you guys have a favorite show?
BT: We played three shows with the Artic Monkeys and it was really awesome.
JB: It was going from playing for 25 people a night to times a thousand times that, which was incredible.
EM: Was that the biggest show?
JB: Yeah, those were the biggest. They were great but it's a really different thing from playing here, at a cool intimate club.
EM: Which do you prefer then, big arenas or smaller venues?
BT: It's hard to say really. We've only played three really big shows. I like them both. I like playing to small groups. The other night, we played at a college and that was my favorite show so far. There were 50 people but they were all super into it.
JB: That was the funnest on this tour with the new band, I'd say.
EM: The new album will be out after Christmas?
BT: Probably next year.
JB: We're hoping to record in 2012 and get it out spring or summer.
EM: And still with Cantora Records?
JB: That was just with the EP. We're probably going to self release the LP.
EM: I was just going to ask, with all the bands on Cantora, which are you personal fans of?
JB: Bear Hands are pretty badass. Honestly, we played with Slam Donahue which just signed to Cantora, at the college show and it was really fun. Kind of like party rock. They're cool guys so I'm a fan of thiers now. I don't know. Of course, their MGMT stuff but that's what everyone would say.
EM:Have you guys been to Brooklyn before?
BT: Yeah, this is our, I think 7th time here.
JB: We've played in NY a fair bit in the past two years with CMJ but not this year. We've opened for people at the Bowery Ballroom, The Vaccines and this band called Chief.
EM: Oh, I think I know who they are. One member has the really long hair and beard?
JB: Yes, they're not a band anymore.
EM: That's sad. I remembered liking them!
JB: They were cool but I don't think they could tour so much or something.
EM: Bummer.. What are you favorite things about Mississippi?
JB: Oxford, our hometown.
BT: Oxford is awesome.
EM: Do you think your music is inspired by where you're from?
JB: It definitely is.
BT: It's not normal from where we're from but we're definitely inspired by it.
JB: You know, it's the day to day things making its way into our subject matters and honestly, getting away from Mississippi.
EM: What are your lifestyles back home?
JB: Loose.
BT: Yeah!
JB: Very loose lifestyle. Freelancers.
BT: Smoking, hanging out with friends
JB: Working at jobs that pay money.
EM: Is it too personal if I ask what jobs you guys have?
JB: No, let's do that.
BT: I work at catering.
JB: I move furniture/ I work for a private caterer.
BT: Different caterers.
EM: Last words for our Earmilk readers?
BT: Please check out our songs.
EM: Wait, which are your favorite songs?
BT: Right now, it's between the new ones. "Baby Demons" is a good one, it's fun to play live.
JB: Also with the new band, it's really fun playing it because they're a huge part of the sound and what we are now. So yes, download "Baby Demons".
BT: All day.
JB: Get our EP or steal it from somewhere.
BT: Just get it.
JB: Burn that shit.