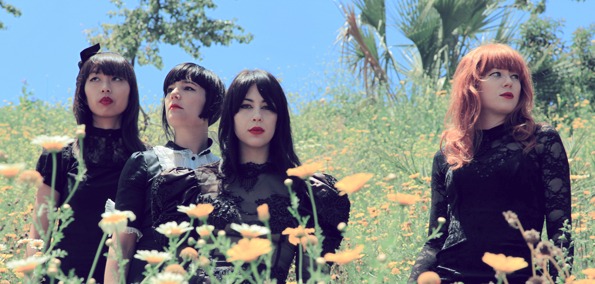 Only in Dreams may refer to the second album of the Los Angeles-based indie-noise-pop group, Dum Dum Girls, but everything else is reality.
Touring Europe, blowing up festival stages. No dreams, all real life. Clad in all black from head to toe, the lady group played the Jimmy Fallon Show performing their mesmerizing single "Bedroom Eyes". It seems playing Fallon live is either your last stop before catapulting into full-fledged stardom or a pit stop along the way to your third platinum album. Either way, landing a spot on that stage is something to be coveted.
This morning the ladies shared the mic with KCRW's Jason Bentley on Morning Becomes Eclectic, where they talked about the making of the "Bedroom Eyes" video and played an intimate live set.
Aussies can lock eyes with them live all throughout December as they begin the Australia leg of their tour on the 29th. Download "Bedroom Eyes", the single of their most recent album release, below.