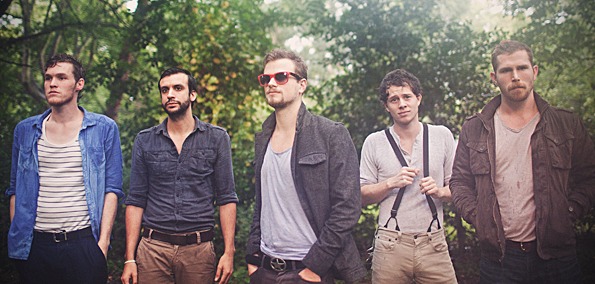 North Carolina is not known for hosting a rockin' music scene. It's not a state like New York or California, but hailing from this humble region is an exceptional musician with the name of Drake Margolnick and his band, Flagship.
Previously called Campbell the Band, Flagship is an indie rock outfit with a mind-blowing frontman. Margolnick provides intense singing and songwriting abilities that are displayed while simultaneously playing the guitar or piano. His lyrical utterances can be likened to an emotional ailment which listeners can all appreciate. We feel his pain and feel him morph Flagship into our sentimental lives.
Below is an Earmilk premiere of Flagship's "Holy Ghost". It is a live video performance bythe band at the Rock Quarry in Snug Records, NC. Margolnick says he wrote the original song four years ago as an apology to his girlfriend. There are four versions of "Holy Ghost" and this is the best one. Margolnick adds, "it's always been a favorite, I guess for the honesty." "Holy Ghost" contain bits of his personal life and yearnings of "take my heart, take my things, give me your hand and throw away." The band completes this track with a pause at 3:05 and pitches the rock energy, amplifying everything. Watch the video underneath and listen to another piece from Flagship "The Ladder".
http://www.youtube.com/watch?v=fJxGQPVUdW8
Download:
Flagship - The Ladder