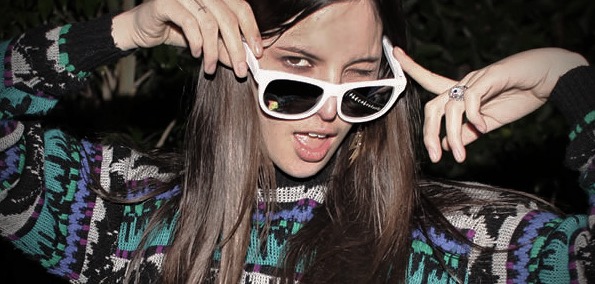 Growing up, "pop" music was pretty bad. The charts were trampled and distorted with awful "for profit margins only" boy/girl bands, bubblegum-chewing and provocative teen icons who reached their own logical conclusion by turning into mentals, and pointless styled pop rockers who sung about the same boring drivel as the popstars did but donned a tight pair of leather trousers, some eye makeup and did a guitar solo every now and again. Pretty raw state of affairs really.
Nowdays "pop" has taken a turn for the good and spread its genre encompassing wings to include some pretty dandy fine artists. WooWoos I would definitely include in that bracket.
They are currently recording their debut album in New York,  and dropped their debut single "Fizzy Lettuce"  on Moshi Moshi Records yesterday. The single is a sassy parade of distorted beats and a short but brooding bassline that is sparse yet impactful. It jumps between playfully plucked springs into a chorus which is engaging yet soothing at the same time.
Check the track below and cop a free downtime of a remix by Teeth below.

Download: WooWoos - Fizzy Lettuce (Teeth Remix)
[soundcloud url="http://api.soundcloud.com/tracks/23252793"]
WooWoos - Teeth