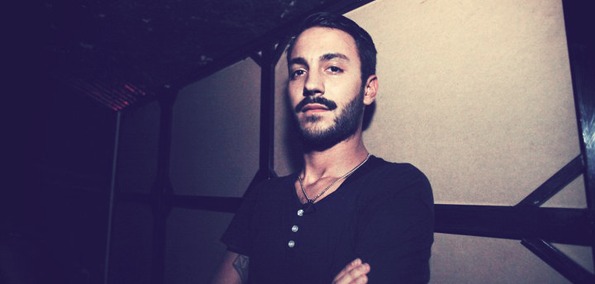 Industry heavyweight and all around nice guy, Brodinski recently sat down with us to chat about his foray into label mogulhood with the launch of Bromance Records.
Earmilk : You've always been known for your mixes (Fabric 60, Essential) and helping to break new artists as much as you have been for making music. I guess the question is, why'd we have to wait so long for you to finally get into the label game?
Brodinski: Ahah! Good questions.  I actually don't know why, but I'm happy I finally did it! I think recently I heard so much exciting music that I did want to release this myself, every kind of good music, not only about techno!
EM: You and Gesaffelstein have been two of a handful of artists that have managed to straddle the line of making music we can dance to while still retaining a sense of street cred.  Did the creation of the label stem from a lack of exciting music out there or from an abundance of good music needing a home?
B: I think it's more about the second situation. I love so much music out there, that I decided to be the one to try to release it and put it out for the people who are actually believing in good tasted music.  Only the best, for everybody.
EM: With guys like Tiga, Loefah, Untold and Scuba all taking the ownership of successful labels into the hands of the artists, are the days of big labels dead in dance music?
B: I think it's not just about this.  Big labels want money, but the money is not in the music selling industry anymore.  It's all about the show and DJ Set.  I'm gonna put music I love out, give a chance to the artist I believe in.  I'm just trying to have my place in the music world, with some bigger ideas and convictions.
EM: You've always shown a love for rap in your sets and mixes, can we expect any projects along the lines of 5kinandbone5 on the label or will the focus be on techno?
B: Actually yes you can expect some.  The next project will be Gucci Vump, which is one of my side projects with Guillaume Briere from The Shoes. It's gonna be a mixtape for the internet including beats we did this year, inspired by DJ Screw and the whole southern rap scene.  You will have the choice, not only music for the club.
EM: "Let The Beat Control Your Body" is the lead single and has us really excited.  How did the collab with Louisahhh! come about?
B: Louisahhh! and I became friends in 2010 in Miami, we started to talk about doing music together, and I wanted her on one of my tracks, but originally she is not a singer, but a super amazing house music DJ, one of the best I've ever seen.  I will give her some props with the label too! :)
EM: Care to elaborate on any artists we may see on upcoming releases?  Will you be leaning more on established friends for EPs, looking to break upcoming artists or a combination of both?
B: I think it's gonna be all about friendships, Gucci Vump is the next project, the rest is a secret for the moment.  I want people to be surprised, not only excited about names.
EM: Your tour with Gesaffelstein kicked off November 10th.  Has it been hard dealing with the amount of groupie affection that comes with being the two most dapper gentlemen in techno?
B:  I don't know what are you talking about.... :D
EM: People are always quick to point you out as one of the nicest guys in the industry and I'm sure your relationships you've built over the years will translate into success with Bromance.  Congrats and Best Wishes!
B: THX A LOT MAN. xxx
The teaser for the first release, featuring singles by Brodinski and Gesaffelstein, has us grasping at the ideal that perhaps big room dance music still has some room to grow and evolve.  After a long string of recycled electro and dubstep riffs filling college DJ's crates, thanks to this EP, alongside recent and upcoming releases by ZZT, Gingy And Bordello, Mr. Oizo and Maelstrom, the thought of sweaty dance floors and stage dives suddenly doesn't sound so appalling.
Brodinski's offering is "Let The Beat Control Your Body" which can be heard in the first half of the video and features vocals by Louisahhh! whose "Your Everything" with Danny Daze was one of the summer's biggest hits.  The B-Side, if you can call it that is "Control Movement" by Gesaffelstein featuring his signature percussion and big reverb.
The EP drops November 21st on Bromance Records wherever you buy your digital music. Check the link to their website for info on tour dates including stops at I Love Techno, Soulwaxmas and Holy Ship!