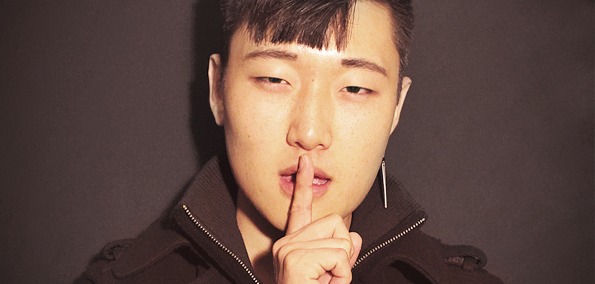 Gaelic Football (look it up) player Austin O'Malley once said, "Those who think it is permissible to tell white lies soon grow color-blind." There is certain truth to this, as lying in whatever form should be avoided at all costs - but I'm not here to have a philosophical discussion. The thing about white lies is that they are, for the most part, well-intended. Often presented out of respect for someone, or in order to avoid conflict, white lies are the dirty truths of universal language. This idea, that a simple lie is sometimes better than the truth, is the basis behind Jhameel's new song, "White Lie", as it pays testament to one he once told to get out of a relationship.
Download:
Jhameel - White Lie
The track is part of a project called Waves, in which Jhameel is releasing one song every Tuesday for five weeks, each with individual artwork and free to download. Jhameel was courteous enough to send me his own description of the song:
"This week's song is called 'White Lie,' which is the second song in the series. While the last track ('Collision') was my homage to disco, I'm excited to say that this is my first song that's particularly influenced by hip-hop and R&B.  The melodies are characterized by the smooth catchy falsettos that you often hear in 90's R&B, the beat has an old-school hip-hop timbre, and the lyrics are sung with an almost rap-like rhythm.  Everything is brought into the context of my own style though, especially in the production and lyrical structure.  When listening to the words, try to keep the title in mind."
Back a few months ago, we integrated Jhameel into The Indie Sabbath, featuring two of his tracks ("The Human Condition" and "Soldier's Daughter") for the first time on our site and exposing the Prince-like pop feel that he brings to the table. Similar to "The Human Condition", "White Lies" is a marvelous tune, demonstrating once again Jhameel's dynamic abilities. In addition, Jhameel recently recorded a cover of "Sweet Dreams" by the Eurythmics which is listed alongside his first track off of the Waves set below.
Sweet Dreams by Eurythmics covered by Jhameel
Download:
Jhameel - Sweet Dreams by Eurythmics covered by Jhameel
Download:
Jhameel - Collision
Like a younger, more jubilant Sufjan Stevens, Jhameel's music continues to impress me. Comparing an artist to a great like Sufjan is a correlation I'm hesitant to make, but seeing as the two are sincere with their lyrics, write their own music, and play all of the instruments in their recordings (for the most part) - Jhameel is the closest artist to Sufjan out right now. Be sure to check back in to his Soundcloud or Website every Tuesday for the next few weeks and catch the rest of his Waves set.