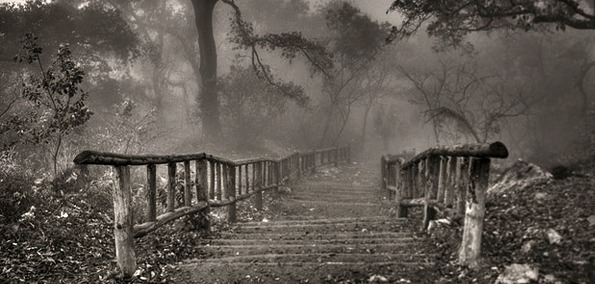 Halloween comes in many forms. For some, it's pure eerie darkness. For others, it's about a more playful sort of mischief. Thankfully, we adults can spend an entire weekend acting out all of the many sorts of Halloween, from the sluttiest soirées to the spookiest séances. Whether you want to shake your costume-clad booty a bit or explore your nearest graveyard with earbuds in tow, hopefully we've got you covered.
Happy Halloween from Earmilk!
Below are some of the spookiest picks from a few of us at Earmilk. Enjoy!
Courtesy of Alyce, philipjamesdevries, Montrey, and Skinny G
Alyce's Picks
11 Playing with Fire (Ital Tek Remix)
Download:
Starkey - Playing with Fire (Ital Tek Remix)
Download:
Pictureplane - Dark Rift
Download:
Gatekeeper - Chains
Download:
Lorn - Void II
Download:
Crystal Castles - Courtship Dating
Download:
Araabmuzik - Free Spirit
Download:
The Unicorns - Tuff Ghost
Download:
Pendulum - Witchcraft
Philipjamesdevries' Picks
Stream:
Bottin
- Horror Disco
Stream:
Actress
- Maze
04 - Of Decay And Shadows
Stream:
Demdike Stare
- Of Decay And Shadows
Stream:
Demdike Stare
- Hashshashin Chant
Stream:
Emptyset
- Function
Stream:
Fairmont
- Velora
Stream:
The Knife
- Silent Shout
Skinny G's Picks

Download: The Horrible Crowes - Blood Loss

Download: Deftones - You've Seen the Butcher (Mustard Pimp remix)

Download: Puscifer - The Undertaker (Renholder remix)

Download: A Perfect Circle - Judith (Renholder Remix)

Download: Marilyn Manson - Coma White
Montrey's Picks
Im A Motherf__king Monster (Another Somewhat Hellish Bootleg)
Download:
Kanye West, Rick Ross, Bon Iver & Nikki Minaj - Im A Motherfucking Monster (Another Somewhat Hellish Cazzette Bootleg)
Aphex Twin - Come To Daddy
Download:
Aphex Twin - Come To Daddy