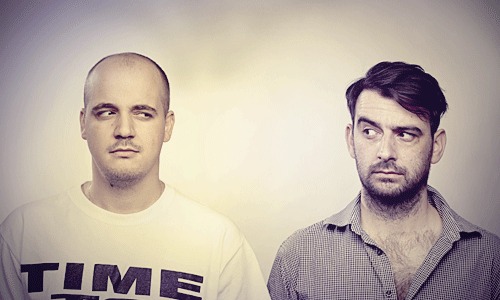 I've always thought of Modeselektor as a dance group first and foremost; such is the curse of being danceable, it's easy to get sorted into that particular category. But just because you're danceable doesn't mean you can't expand beyond being pure dance music and cross over into intelligent listening territory. This is something that Modeselektor is good at and continues to be good at on their third LP, Monkeytown, out between September 27 and October 4 depending on location on Monkeytown Records.
If the Modeselektor name doesn't ring a bell with you or lend the album enough credibility on its own (which, for me, it does), you can take solace in the fact that it features a ton of big names from a variety of genres, from Radiohead's Thom Yorke (bringing haunting vocals to two of the album's tracks) to Siriusmo (contributing a synth line to "Green Light") to Anti-Pop Consortium (on "Humanized") to Apparat's Sascha Ring (playing guitar on closing track "War Cry" and continuing the tradition of collaboration present in Modeselektor + Apparat's Moderat).
The variety of featured artists should clue you in to the variety of sounds that are present on the album: there are some tracks that are more standard IDM, relying on beats sans vocals, and there are other tracks that feel more like a conventional song, such as "Shipwreck" feat. Thom Yorke and "Berlin" feat. Miss Platnum. There are a few different voices on the album, but they're tied together by Modeselektor's flawless beats and basslines and an eerie, echoing feel, regardless of the actual vocalist.
It's not that often that I stumble upon on album that just feels perfect. I don't think there are many times when I wouldn't enjoy listening through this. The production is on point, there's good balance both within and between tracks, and there's something for everyone on this album. In some ways, it reminds me a bit of Zomby's Dedication, another 2011 gem: there are certainly dance music influences in both of these albums (although Modeselektor is more "techno" and Zomby is more "dubstep"), but they also transcend dance music and are just fucking great albums.
I often create a distinction between music I listen to as "good" or "fun." If I'm listening to Laidback Luke or Rusko, chances are, I'm filing it under "fun," while if I'm listening to something that's not so clearly party music, I'm more likely to file it under "good." It's an oversimplified duality, but the point is, on rare occasions, things seamlessly straddle the line, and Modeselektor is rockin' it here. This will probably be one of my top albums of 2011. You should listen to it.
Purchase: Modeselektor - Monkeytown