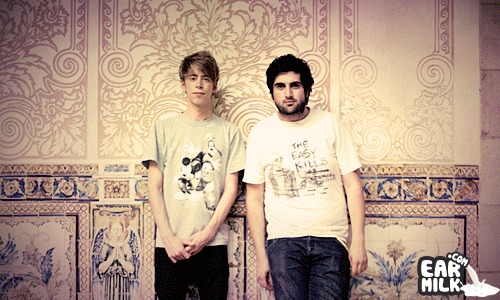 Most of the time, when I end up at a show, my decision to attend is based on the fact that one particular artist will be present. In those situations, it's a major disappointment if I hold a ticket and that artist cancels for some reason. On other rare occasions, it hardly matters because the rest of the lineup is so airtight. It's the latter experience that I had at the Boston stop of HARD Summer at the Paradise Rock Club.
I don't think I've ever been to a show so unstable. First, there was a venue switch: the show was moved from the House of Blues (which I like to not-so-affectionately refer to exclusively as the "House of Blue Balls") to the Paradise, one of my favorite Boston venues. This switch was a mystery to me: the email explaining it did not make any reference to a reason why, though presumably it had to do with selling less tickets than originally anticipated. Last year's HARD happened at the House of Blues and was pretty massive, boasting a lineup featuring Crystal Castles, Rusko, Sinden, and Destructo. This year's original lineup was also looking pretty nuts: Digitalism, Caspa, Designer Drugs, Switch, and Destructo.
As I dealt with a borderline ticket fiasco in line, I overheard someone lament the fact that Jack Beats wasn't playing. While I chalked this up to drunk bro fodder (since Jack Beats was never, ever on the lineup), it cued me to take a look at the setlist and notice that Caspa was no longer listed. I cried out in agony to whoever would listen; someone told me that he had broken his ankle. Okay, I've never broken my ankle, but I've seen Crystal Castles play with Alice Glass sporting the same handicap, and Tyler the Creator has also been known to perform with injured legs. Maybe I'm just an unempathetic supervillian, but can't you DJ with a broken ankle? Does Caspa DJ with his feet? Sorry, Caspa, this is tough love. I am only saying these things because I like you and I want us to work out.

Download:
Designer Drugs - Drop Down
However, the sting of Caspa's removal was easily assuaged by the rest of the artists, all of whom killed it. Destructo started things out with an awesome set. Designer Drugs followed, and having seen them absolutely pack smaller venues as headliners, it was an interesting experience to see them in a slightly less jam-packed venue (despite this, my phone was broken in two during their set. Props). They brought their usual heavy, bro-y electro and dubstep, and when I cite bro-y, I often do so with a positive undertone. Sometimes a heavy dose of brostep, with bass cannons fired from every direction, is just what you need.
Download:
Ke$ha - Animal (Switch Remix)
Broken Hearts (Dillon Francis remix)
Download:
Kito & Reija Lee - Broken Hearts (Dillon Francis remix)
Following Designer Drugs was Switch. I'm only somewhat familiar with Switch, associating him mostly with Major Lazer and Switch and Sinden's epic Fabriclive 43. However, his set was definitely the best of the night, starting with heavy bass and moving into a more twitchy, Moombahton-influenced section. His transitions between songs were often quick, but this meant he was able to pack in a ton of great tracks and keep a bunch of ADHD electro fans entertained.
Download:
Digitalism - 2 Hearts
Digitalism closed the evening with a live set. I'm not all that familiar with Digitalism (basically I've only listened to their BBC Radio 1 Essential Mix), but their live set was a great time, packed with energy. There's something about livetronica that is just irresistable; it transcends a pure DJ set with an air of increased spontaneity, plus it's just more fun to watch someone perform with instruments than tweak buttons on a mixer. Although I was exhausted by the end of the night, I never once was able to stop dancing. While this summer's Boston HARD didn't quite match the epic scale of last year's, it was still a whole lot of fun, and it was nice to leave a show not entirely drenched in sweat and with memories of dancing with, gasp, space to move.