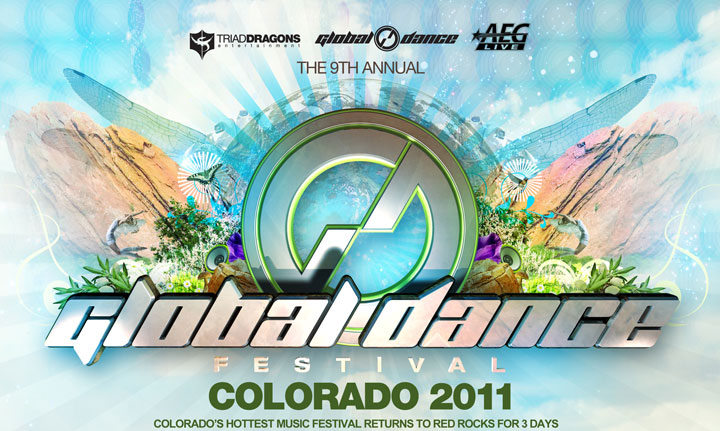 In just a few days, Global Dance Festival will begin at the famous Red Rocks Amphitheatrein Colorado. If you're not familiar with Red Rocks, you've likely been living under a big rock, or smoking too many white rocks. Either way, you need to get with what music is all about – seeing it live. There are few places in the United States (perhaps the world) that rival Red Rocks for awesomeness. (The Gorge in Washington State is the only one I can think of that is similar.)What's the even better news about Red Rocks this year? We are going to be bringing you full coverage of it. I am going to be there with a camera crew and my notepad in hand, meticulously analyzing as each Artist and giving you some honest feedback on their performances.
This year, a $50 ticket presents an incredible value. Among the headliners:
Kid Cudi, Empire Of the Sun, Skrillex, Nero, LMFAO, Benny Benassi, Major Lazer, Porter Robinson, Avicii, Manufactured Superstars, Big Gigantic
and many more.
These are some of the hottest acts in music today. Seeing them all in one place –especially at Red Rocks– needs to be a priority. If you live anywhere near Colorado, and you have the ability to be at Global Dance Festival, you need to buy a ticket. Here's some fun stuff- including a naughty deal that ends tomorrow.
$50 Limited Tix Deal ends Wednesday at 5PM- Get em while they're hot!
Global Dance Festival 2010 Recap:
[youtube]http://www.youtube.com/watch?v=Jn7MUUQNJFI&feature=related[/youtube]
Global Dance Festival: Thursday Trailer
[youtube]http://www.youtube.com/watch?v=0kAsKx2lXX0[/youtube]
Global Dance Festival: Fri/Sat Promo
[youtube]http://www.youtube.com/watch?v=cW1Iv99d2a0&feature=player_embedded[/youtube]
Follow me on Twitter for live updates from the show and daily entertainment @RonnieEarmilk
GET TICKETS & MORE INFORMATION AT THEIR SITE: