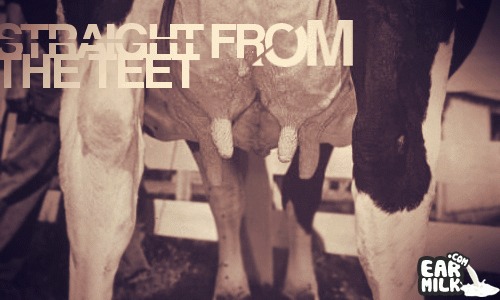 There's no exact way of knowing how many songs are released in a day. Whether it be an eighteen second kazoo ditty on Soundcloud, or a Hypem track with 4 hearts, all music deserves a shot. Even on an independent blog like Earmilk, it's impossible to cover every band/song/remix worth listening too. That's why Straight From the Teet is coming back, and this time…IT'S DAILY! My name is Logan (aka Running) and I will be curating Earmilk's newest old feature, highlighting three up-and-coming artists from three different genres, so sit back and enjoy some good-old-fashioned, non-pasteurized, Earmilk. Drink it fast though, because I'll be coming back tomorrow with more…
House
Not much is known about Gooseflesh, other than that they can drop one hell of a banger, they're two guys from Istanbul, and they have loads of eclectic remixes that you can check here on Soundcloud. Their take on We Are Terrorists' throwback rap hit "Kill Kill" makes me want to move to Turkey and be their hype man. The stuttering, spinning bass synth paired with a steady four-to-the-floor beat glams up the morose "Kill! Kill! That's why I shot you down!" chant, and makes me want to sing along.
We Are Terrorists – Kill Kill (Gooseflesh Remix)
Hip-Hop
Lyfestile is the production-vocals duo of Troy Hodges and David Greenfield-arguably most famous for their semi-viral video hit "9 Things You Can Smoke". Their latest music video "Let It Rise (ft. Leon Ware)" features the debut single off their upcoming debut 4 Your Mind, which is due out next month. I know the whole mixing-soul-music-with-hip-hop thing is getting a bit stale, but on this track you get the poignant stylings of (former Marvin Gaye producer) Leon Ware. Plus, you get to peep some interesting street people (check the guy who's parents were "eaten by pigeons" at 1:37).
http://www.youtube.com/watch?v=XrsTPlf-BmY
Let It Rise Ft. Leon Ware
Download:
Lyfestile – Let It Rise Ft. Leon Ware
Indie-Pop
Tall Ships' latest single "Hit The Floor" was released on June 13 via Big Scary Monsters Records. Their previous hit track "Plate Tectonics" was released to much abuzz, which has left me hoping they'll do an LP of previous singles á la Creedence Clearwater Revival. The intro riff of this track is certainly memorable, and the syncopated drumbeat, shout-along "HEYYYY!" pre-chorus, and pounding bass stabs don't hurt either. Certainly more high energy than any their previous releases.
Tall Ships – Hit the Floor
Download:
Tall Ships – Plate Tectonics
Follow Me @LoganMcMillen
Requests: logan@earmilk.com