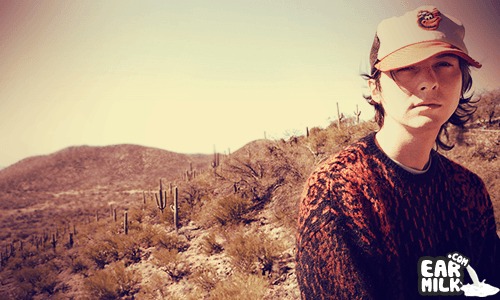 Panda Bear aka. Noah Lennox, founder of Animal Collective and arguably the psychedelic king of the last decade, recently released his first album since the wonderful work Person Pitch in 2007.
While reading listen to the hit track from Person Pitch 'Comfy In Nautica' for a blast from the past and a taste of what's to come.
STREAM: Panda Bear - Comfy In Nautica
His new album Tomboy was released on the independent label Paw Tracks on April 12, and has been receiving a slew of hype over the past week and a half. Tomboy, the fourth album from Panda Bear, is a bit different from the sample-heavy Person Pitch and uses a "Guitar and Rythym" approach, inspired by the White Stripes. However the psychedelic and beautiful use of reverb is still there, and Tomboy is a joy ride one must feel to fully understand. If you know what I mean. I think Taylor Lampela says it best in her review on iTunes.
"Sometimes an album is meant to be listened to. Listened to as you're driving. Listened to in the background of various activities. Listened to while working out. But sometimes an album is meant to be experienced. Tomboy is meant to be experienced."
Tomboy is not just a psychedelic album one should trip to. Tomboy is a meticulously thought out and put together masterpiece. It creates musical soundscapes that you can close your eyes and let your mind wander through. It is a melodic world that we can live in, engulfed by the 50 minutes of beauty that it encompasses, unlike any other album that has been released this year. If you sit back, forget about what you are expecting, close your eyes and simply listen- Tomboy will take you places. I guarantee that.
The whole album is something that needs to be experienced as a whole, but if you're looking for a few J's that are a little bit fatter than the rest, take a toke off these crystal-covered compositions.
SHOTS 'O MILK:
Download:
Panda Bear - Drone
05 Last Night at the Jetty
Download:
Panda Bear - Last Night at the Jetty
Download:
Panda Bear - Alsatian Darn
Download:
Panda Bear - Surfer's Hymn
THE FULL GALLON:
Panda Bear's Tomboy is a trip to a land of unmeasurable visions, sounds and feelings. It is the epitome of out there, and in a good way. Without a doubt download it, and enjoy yourself- It's meant to be experienced.
*Fun fact: He got the name Panda Bear from his drawings for album art on his early recordings.

Follow me on Twitter @RonnieEarmilk
Fan of Indie Music? Keep an eye out for my upcoming weekly mixes of the best new stuff in Indie Rock, as well as Album reviews - Coming Soon!