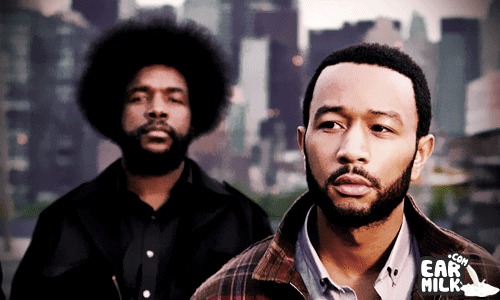 This is your Daily 2% – Chilled and Ready to Serve. We will try to bring you one "chill" track every day. This is for when you get home and you are trying to unwind. You reach for that glass of wine or that unlit Black & Mild or maybe you reach for something more herbal. This track is for those times. We are just your milkmen and I'm here to make a delivery. Chill...
Today's delivery is brought to you by John Legend & The Roots. So, the collaboration album, Wake Up!, dropped this week and is already a critical success. It's hard to imagine these artists coming together and producing anything sub-par because they have all consistently produced good music since the beginning of their career. The track I'm bringing to you today is called "Humanity" which was a surprise to me considering its a straight up reggae track. I've tried to always bring some reggae flavor to EARMILK every now and than but its always older tracks. So its good to see some older style reggae be made new again by such great artists. Definitely pick up the album but for now..check out the track and chill...
08-john_legend_and_the_roots-humanity_(love_the_way_it_should_be)-ftd
Download:
John Legend & The Roots - Humanity (Love The Way It Should Be)
[itunes link="http://itunes.apple.com/us/video/live-in-studio-performance/id392345925?uo=4" title="BUy Album"] Buy the Album!