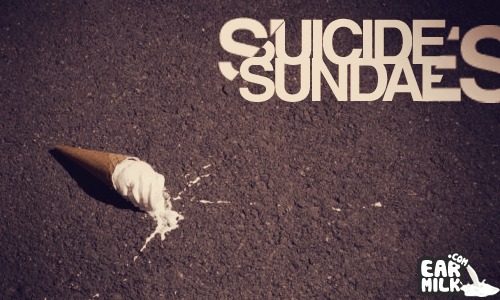 Suicide Sundaes - stop your grinnin' and drop your linen. Every Sunday electblake of Earmilk will bring you the weeks dirty servings, and some old favorites through a throwdown-throwback to simpler times. A time when bangers were big, remixes were bigger, the bassline bled, and we didn't care about anything as long as came in kicking and left screaming. To hell with sketchy sunday, we want to shove another dragon down the hole.
fucking eh.
This week is a vengeance, a dish like whiskey - served best on the rocks. I watched Old Boy the other day - a spectacular Korean extremist film about vengeance (seeking it and getting it) and it must have hit a nerve.
Your Sunday Sundae is especially mean this week, with heavy doses of LaTourette, Boyz Noize (I brought back that classic Euro Sébastien Tellier mix), some amazing Gooseflesh, and as you'll seen hear, an amazing stand-out unknown this week in JUSO's creative banging version of Yeasayers' O.N.E.
Snuck in a few Epyk remixes, as for some reason, I feel like we'll be seeing a lot more of that name in the near future.
update: I know I used the wrong vocal sample for the start (32 vs. 33) - c'est la vie.

Download SS 33 Mix: http://www.mediafire.com/?mmcw3dytjflqwjn
01 Is You (Casino Gold Remix)
Download:
D.I.M - Is You (Casino Gold Remix)
01 Best In Class (Soulwax Remix)
Download:
Late Of The Pier - Best In Class (Soulwax Remix)
02 Like You (Violence Love Remix)
Download:
Awkoder - Like You (Violence Love Remix)
02 Swoon (Boys Noize Summer Mix)
Download:
Chemical Brothers - Swoon (Boys Noize Summer Mix)
Download:
Something A La Mode - 5AM (LaTourette Remix)
Daft Punk is dead (Power-mixdown)
Download:
Alpha Boy - Daft Punk is dead (Power-mixdown)
I Needed To Go (Gooseflesh Remix)
Download:
Cyberpunkers - I Needed To Go (Gooseflesh Remix)
Lamour et la Violence (Boys Noize Euro mix)
Download:
Sébastien Tellier - L'amour et la Violence (Boys Noize Euro mix)
Love Me Hate Me Kiss Me Kill Me (Gooseflesh Remix)
Download:
FUKKK OFFF - Love Me Hate Me Kiss Me Kill Me (Gooseflesh Remix)
Machines Can Do The Work (Reset! Remix)
Download:
Fatboy Slim vs Herve - Machines Can Do The Work (Reset! Remix)
Download:
Pance Party - Mumble
Nightcall (LaTourette Remix)
Download:
Kavinsky - Nightcall (LaTourette Remix)
Download:
Yeasayer - O.N.E. (JUSO REMIX)
Skin Machine (LaTourette Remix)
Download:
autoKratz - Skin Machine (LaTourette Remix)
Ultimo (Dem Slackers Remix)
Download:
Evil Nine - Ultimo (Dem Slackers Remix)
What You Know (Epyk remix)
Download:
Two Door Cinema Club - What You Know (Epyk remix)
What You Know (Vodka & Milk Remix)
Download:
Two Door Cinema Club - What You Know (Vodka & Milk Remix)