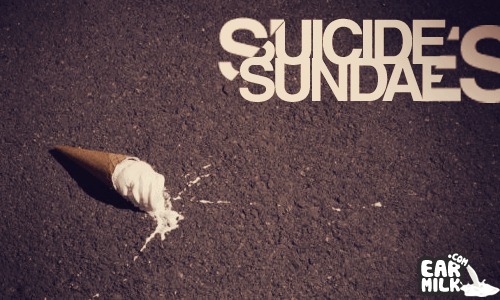 Suicide Sundaes - stop your grinnin' and drop your linen. Every Sunday electblake and jsully of Earmilk will bring you the weeks dirty servings, and some old favorites through a throwdown-throwback to simpler times. A time when bangers were big, remixes were bigger, the bassline bled, and we didn't care about anything as long as came in kicking and left screaming. To hell with sketchy sunday, we want to shove another dragon down the hole.
This week we debut The Romans, with their beefy and made-to-ripup track which feels like it would sit inside a set with Congorock's Babylon without missing a step. I can't wait for some more varied types of tracks from them.
We also see some classic SS with Audionite's Delphic remix but some new faces in the crowd for sure (which is why your here right? gotta stay ahead of the curve...)
Riot 87, NILOF, Computer Juice, and Star Guitar (Shinichi reference?) are some of my favourites from this weeks new kids coming out party - but don't forget to checkout the Coeur De Pirate remix which should have all you xx fans swooning...
Oh yeah, its not new but I've been waiting for Bobermann aka Bob Cornieus Rufio is Bloody Beetroots' personal side project to turn out some more goodness so I dropped his remix of The Subs.
Dig in.
Download:
The Romans - Colosseum (promo)
myspace.com/theromans2012
myspace.com/theromans2012
Mitsubitchi (Bobermann Remix)
Download:
The Subs - Mitsubitchi (Bobermann Remix)
myspace.com/thesubstrax |
Computer Juice (Tai and D.I.M. Remix)
Download:
Computer Juice - Computer Juice (Tai and D.I.M. Remix)
myspace.com/cpujuice | myspace.com/taitaitai
We Love Animals (Religion Remix)
Download:
Crookers ft. Mixhell and Soulwax - We Love Animals (Religion Remix)
| soundcloud.com/religiondjs
Kill the DJ (Brightside Remix) V2
Download:
Riot 87 - Kill the DJ (Brightside Remix) V2
myspace.com/riot87music
Download:
NILOF - Le Creme
myspace.com/nilof
Download:
Jacuzzi Hi-Dive - Let's Groove
myspace.com/jacuzzihidive
Star model (Don Rimini Remix)
Download:
Numero - Star model (Don Rimini Remix)
myspace.com/jaimenumero | myspace.com/donrimini
Dirty (Star Guitar Remix)
Download:
Pulpalicious - Dirty (Star Guitar Remix)
myspace.com/pulpaliciousmusic | myspace.com/starguitarmusic
Signs (Armand van Helden Remix Edit)
Download:
Bloc Party - Signs (Armand van Helden Remix Edit)
myspace.com/blocparty | myspace.com/armandvanhelden
When You're Around (Boys Noize mix)
Download:
FrankMusik - When You're Around (Boys Noize mix)
myspace.com/frankmusik | myspace.com/boysnoize
Download:
Delphic - Doubt (Audionite Remix)
myspace.com/delphic | myspace.com/audionite85
Download:
Astro - ea dem! (Barretso Remix)
myspace.com/astrojp | myspace.com/barretso
Comme Des Enfants (Le Matos Andy Carmichael Remix)
Download:
Coeur De Pirate - Comme Des Enfants (Le Matos Andy Carmichael Remix)
myspace.com/coeurdepirate | myspace.com/lematos
Download:
A-Trak x Drake x Birdman - Loonies To Blow