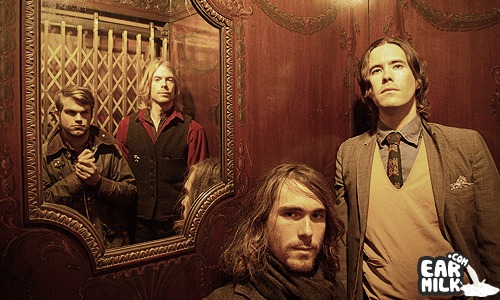 Here at Earmilk, there are a few favorites that get passed around and around. We talk about them at the meetings, we go to the shows, and we listen while we work. Elvis Perkins is one of those artists. I recently saw him and his band open up for Bon Iver in Orlando, and I can't even begin to tell you how good the show was.
Elvis Perkins  is a folk-rock recording artist ( I call him "recording artist", because hates the term "singer/songwriter". It reminds him of being a bad guitar player at open mic night.) He came to prominence with the release of his debut studio album, Ash Wednesday in 2007. He then toured in support of the album with his band Elvis Perkins in Dearland, composed of Perkins alongside multi-instrumentalists Brigham Brough, Wyndham Boylan-Garnett and Nick Kinsey. The band released their debut, Elvis Perkins in Dearland, on March 10, 2009.
Known for their wide range of dynamics and eclectic instrumentation, Elvis Perkins in Dearland have frequently drawn comparisons to Leonard Cohen, Neutral Milk Hotel, Buddy Holly and The Band. The band formed in Providence, RI around 2004 when Elvis moved to the East Coast upon completing Ash Wednesday, although the members have been friends and collaborators for many years.
Their music is super folk-y, but a lot of fun to listen to. His vocals are also extremely idiosyncratic and sometimes cynical. He uses a lot of metaphorical statements, which I love. Aside from just the music itself, the lyrics are a whole different ballgame that pulls the whole thing together with Perkins' voice.
With that said, their self titled album is one of my favorites of this year, as well as many of the other writers favorites also. We are all so into it, we thought we should give you an in, and let you know whats up.
Make sure to check out the videos also. They are absolutely excellent, and are the two of the best songs on the album (in my opinion).
Enjoy.
04%20I%20Heard%20Your%20Voice%20In%20Dresden
Download:

Elvis Perkins In - I Heard Your Voice In Dresden

 
05%20Send%20My%20Fond%20Regards%20To%20Lonelyville
Download:

Elvis Perkins In Dearland - Send My Fond Regards To Lonelyville

 

Elvis Perkins In Dearland - Shampoo (Gold Room Session)

Elvis Perkins In Dearland - Chains, Chains, Chains