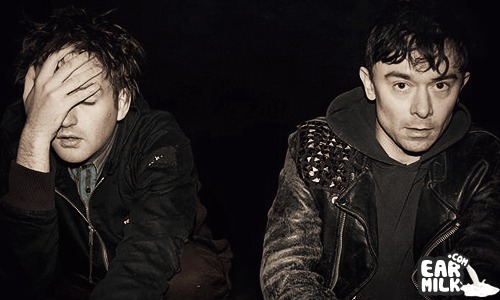 So, we've already covered the new single Dominos from the London, UK Duo The Big Pink but I upon some further inspection, we need some indepth analysis here.
The Big Pink are, Robbie Furze & Milo Cordell. Currently recording their debut LP at the Electric Ladyland Studios in New York (which is set for release after the summer), The Big Pink are something of a shoegaze band, but don't let the (most likely) ill concieved label fool you.
With guitars that push you into the back hall of a dingy night club, The Big Pink use a perfect balance of electronic instrumentation to bring something new to the floor. With a voice that brings forth the pixes or placebo (at times) I am falling in love with these possibly destined londers who don't want you to to die wondering.
I say destined not only because these guys seem to have the crossover strength to get to me and then some, but neither are new to the world of success in the music industry. Milo Cordell is son of 1960s pop producer Denny - which does make me wonder if their name comes from The Band's album entitled "Big Pink". Cordell also runs the Merok label, which has released cutting-edge dance acts such as Klaxons and Crystal Castles. Robbie Furze is a former guitarist with electro-punk singer Alec Empire (of in the infamous Atari Teenage Riot - which deserves a long post to themselves) and is also a founding member of the band Panic DHH.
With 3 singles released, and an LP on the horizon The Big Pink are on the verge if you ask me, but who really cares what I think - judge for yourself
The Big Pink Music Videos
The Big Pink - Too Young Love
http://www.youtube.com/watch?v=OA3twi3iSNQThe Big Pink - Velvet
The Big Pink Chunes
Download: The Big Pink - Love Song (Cure Cover from NME Tribute Album)
Headlock%20(The%20Big%20Pink%20Remix)
Download: Esser - Headlock (The Big Pink Remix)
Download: The Big Pink - She's No Sense
Download: The Big Pink - Crystal Visions
Download: The Big Pink -
Water
Introduction%20To%20Awareness
Download: The Big Pink - Introduction To Awareness
Download: The Big Pink - Stop The World
Download: The Big Pink - Too Young Love
Too%20Young%20To%20Love%20(Delorean%20Remix)
Download: The Big Pink - Too Young Love (Delorean Remix)
Download: The Big Pink - Velvet
Velvet%20(Mount%20Kimbie%20Remix)
Download: The Big Pink - Velvet (Mount Mimbie Remix)
Velvet%20(Van%20Rivers%20and%20The%20Subliminal%20Kid%20Remix)
Download: The Big Pink - Velvet (Van Rivers & The Subliminal Kid Remix)
Velvet%20(Gang%20Gang%20Dance%20Remix)
Download: The Big Pink - Velvet (Gang Gan Dance Remix)
Download: The Big Pink - With You
Support & Enjoy