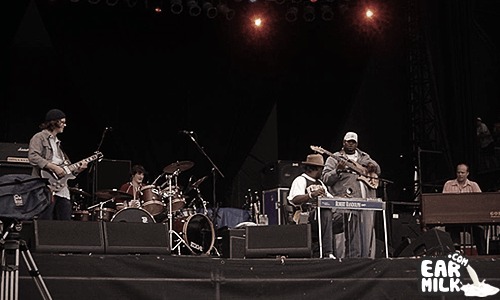 Sometime in late 2001, I was rummaging around a record store in Missouri, and stumbled across an album simply titled "The Word". Naturally interested in what material could be labeled this way, I checked out the back cover, and was immediately thankful to whatever force put that album in my hands. Their mix of jazz-infused keys, distorted slide-guitar, and pounding drums all inspired by southern gospel music left me only wanting more.
The Word is comprised of all three members of The North Mississippi All-Stars, John Medeski (Medeski, Martin, and Wood) and Robert Randolph. All three of whom are noted as the best of the best in the folk/jamband genre. Their one and only self titled album was released early 2001 on Ropeadope Records, after which they did a small amount of touring (which led to sold out shows), then reunited again in 2007-08, only to play more sold out shows to groove-hungry folk fans throughout the U.S.
Now, The Word are to re-unite again for JamCruise 8, a cruise going from Ft. Lauderdale, FL., to Jamaica, then to the Cayman Islands, and back to Ft. Lauderdale. They will be playing with artists such as Sound Tribe Sector 9 (STS9), J.J. Grey & Mofro, Zappa plays Zappa, and Galactic.
While we may not all be able to hop on a boat to Jamaica anytime soon, we can certainly hope to see more dates added to The Word's touring schedule. When they do, please believe I'll be there with my dancing shoes on. - WORD.
P.S- To see something wild, watch the video of The Word covering "Seven Nation Army" by the White Stripes...
Download: The Word - Joyful Sounds
@http://files2.earmilk.com/upload/mp3/01%20Joyful%20Sounds.mp3" volslider="y"]
Download: The Word - Waiting On My Wings
The Word - Seven Nation Army (orig. by The White Stripes)