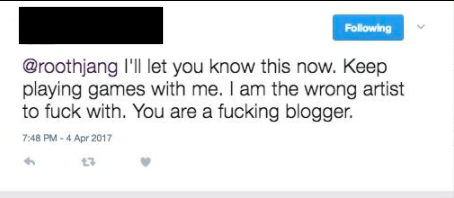 I won't mention his name in this article because I'd prefer not to freely promote his name but just trust that all these screenshots and the story I am about to tell you is 100% true. Here's how I got a diss track made about me and my favorite blog in the world, EARMILK.
The story begins with someone sliding into my DMs and me forgetting to respond to said person's DMs. Let's call him Mr. Rapper Dude. As you can see below, our exchanges are pretty normal– if you're a blogger, artists might hit you up like this all the time.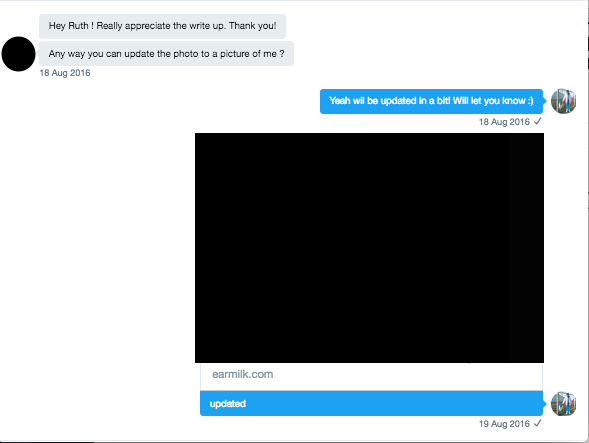 Mr. Rapper Dude messages me again in January and I completely forget to respond. A couple weeks ago, I tweeted something random and Mr. Rapper Dude gets my attention by replying to my tweet. Then he slides back into my DMs immediately after. I got cranky because he literally tried to get my attention by replying to a tweet that had nothing to do with him, so that's why my response is a little snappy.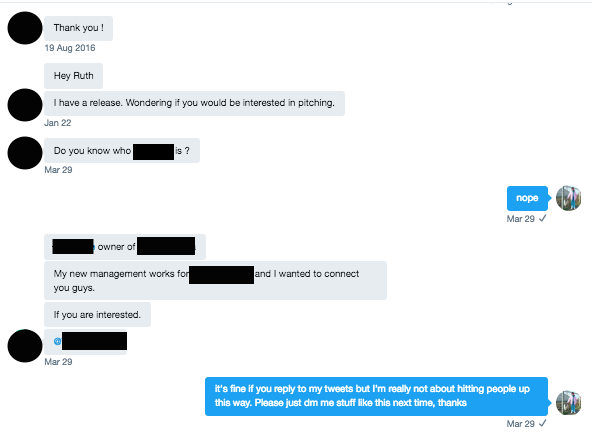 He responds, still pretty courteously but gets a little passive aggressive at me for not responding to his past tweets. To be completely honest, I just forgot. 

I didn't think anything else about Mr. Rapper dude until he DM'd me again, this time on April 4th. WTF.

Besides feeling amazed by the irony and hypocrisy of his messages, I was getting kinda annoyed. Like, really annoyed. So I did the thing almost any millennial does when they're having a bad day: I took it to Facebook. Notice how I didn't include his profile or Twitter username in my screenshot. That's intentional because even though this dude is very obviously a jerk, I still didn't want that to reflect back to his actual artist career. I guess I'm really sympathetic and totally get the struggling artist feel? Boy, if only I knew.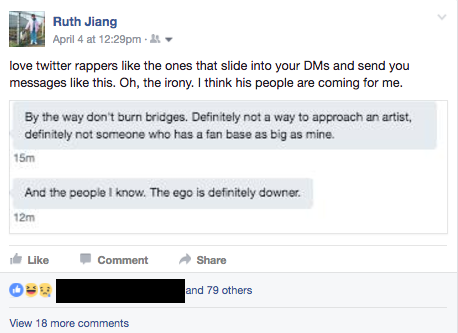 People responded to it and honestly I was pretty surprised. I didn't think anyone would care. It wasn't just my Facebook friends that noticed though– Mr. Rapper Dude also somehow found out.
Later that evening, he sends me this:

A problem? How am I making this into a problem? Before I can think anything else, a twitter notification pops up. What could it be…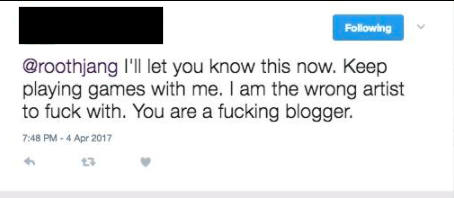 Y I K E S.
Okay, now I'm mad. Like, really mad. Who the fuck is this dude? This guy is not a big profile rapper– I think he has around 3,000 followers on SoundCloud. And I wrote about his song one time on EARMILK. I'm not sure why he was being so aggressive all of a sudden, but whatever he has going on his life, it is absolutely inexcusable to ever talk to a stranger on the internet in the way he did. Period. 
So what did I do? I put my anger aside and thought for a moment. 
Because I work in music PR, I've sacrificed a lot of the privacy of my social media for my job. I have over 1000 Facebook and "friends", with at least 80% of them being people who work in music; either as an artist, a manager, writer, and the list goes on and on. Everyone has a little petty in them, and I also love meme culture. This dude just called me a "fucking blogger" and the truth of the matter is, I owe all the paid jobs I have ever gotten in music to being a blogger at EARMILK; you make a lot of friends from artists who appreciate their posts, and managers who appreciate your posts, they add you on social media, etc. Eventually I got into PR because of all these new music friends and now I work in marketing for bitbird.
It was funny that he put my writing hobby that way. Being a "fucking blogger" has helped me pay for groceries and my mom's phone bill. Being a "fucking blogger" is the reason I'm graduating a year early from school so I can work full time in music. 
So what did I do? 
First, I change my Twitter header and my Twitter name.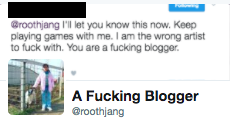 Looks great. The branding is pretty on point, I would say. Next is Facebook: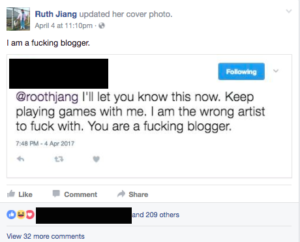 People were shocked that Mr. Rapper Dude would tweet something so aggressive. So demeaning. Their reactions were amazing. I was really touched by all the people who reached out to me around this point, like guys thank you it seriously means a lot. It's around 12 AM now, and I have a lot of work to do before bed so I log off for the evening (sort of) and don't think anything else about Mr. Rapper Dude. 
And then… I woke up in the morning to THIS.

 I was amazed. Shocked.
I couldn't help it, I had to post about it on Facebook.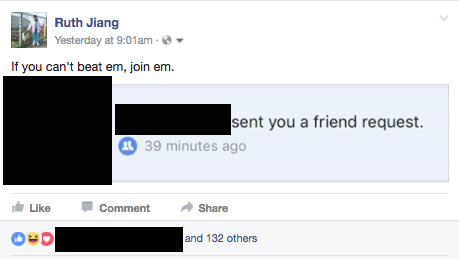 At this point, Mr. Rapper Dude is also stalking my Facebook, probably looking for anything he can do to get back at me for doing… nothing? Like, I literally didn't do anything. That's why he started getting mad at me inthe first place, was because I forgot to respond to his DMs. I block him on Twitter and Facebook and think, "this is it, now is when the story ends. "
And then… THIS happens.  

Y I K E S. 
(And for the record, I did not add it to my timeline.) 
And then… THIS happens.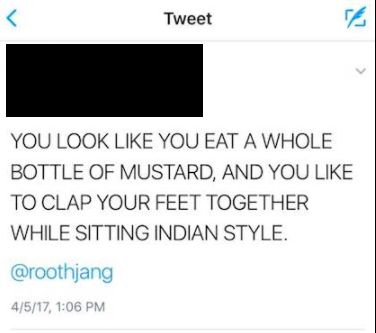 D O U B L E    Y I K E S. 
Back I went to Facebook, and I posted the two pictures.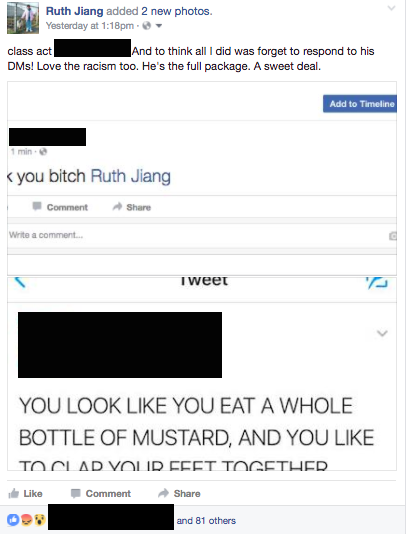 My URL friends are now bashing Mr. Rapper Dude on both Twitter and Facebook. He sent friend requests not just to me, but to literally everyone who has interacted with my posts about him (set on public now).
One of my friends accidentally accepted his request before realizing who he was and this happened. 
The man is literally trying to network off his newfound haters. It's almost smart, but they're still haters/won't take him seriously regardless. 
Some of my other friends are talking to him, trying to figure out why the man is so MAD. Like, was he just having a bad day? Ego got hurt? Something else…?
My friend Shane decides to approach Mr. Rapper Dude directly on Twitter. Um. I'll just put the screenshots down below without further comment.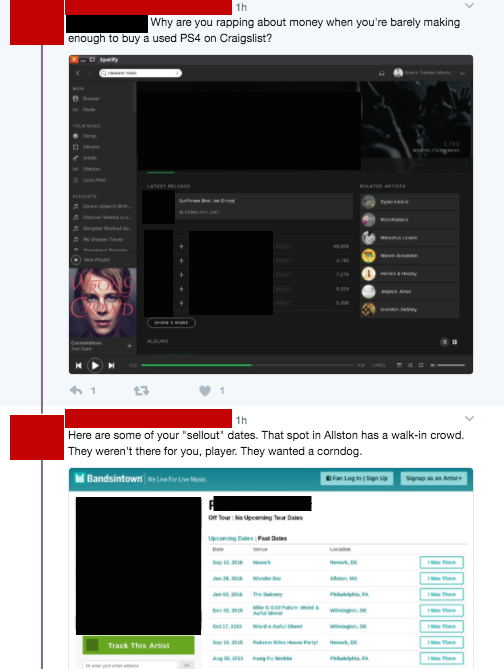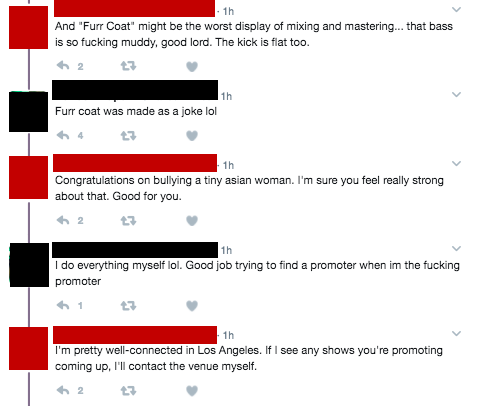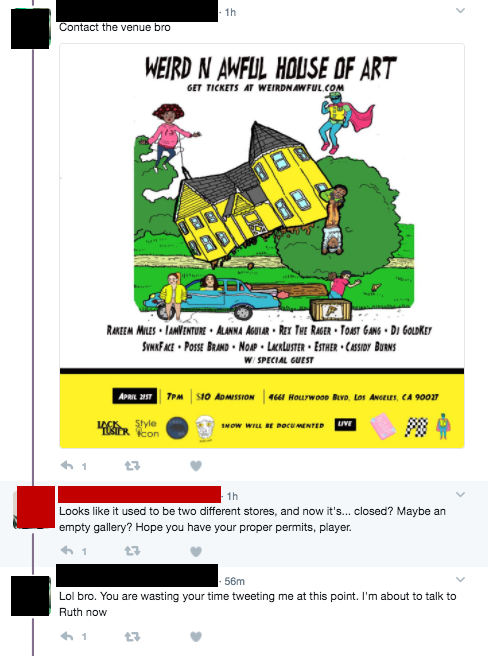 He did apologize to me. Sent it via his manager's Twitter because I blocked him. I felt sort of "Hngggg" about it and didn't respond because I was in the middle of reading a book for class.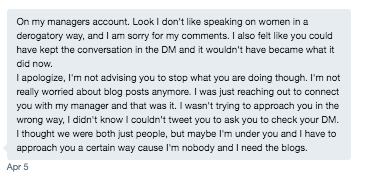 Now back to Shane: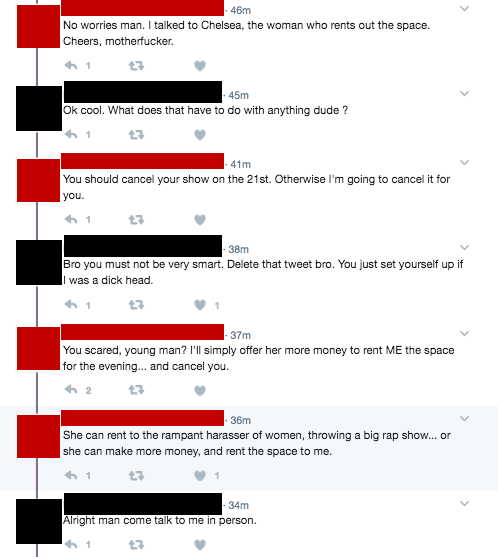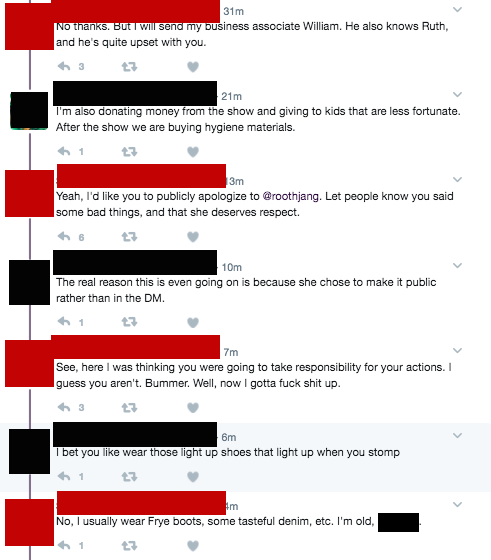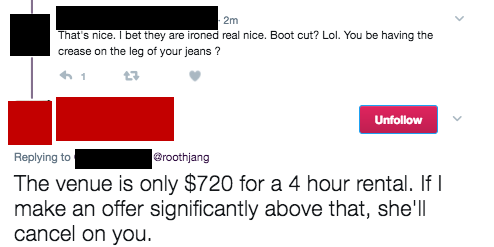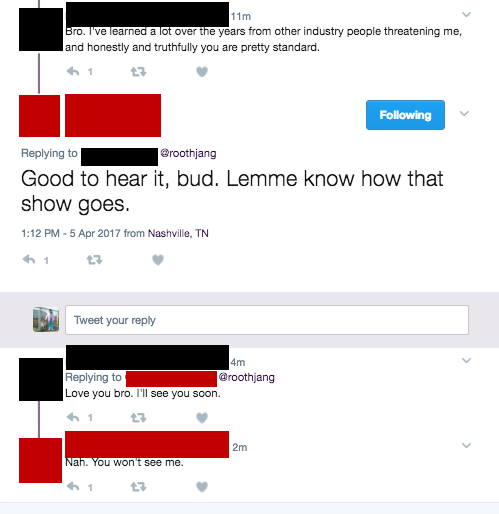 You think the conversation's over at this point right? Nah. Mr. Rapper Dude hits back at Shane with one final tweet. Masculinity rules!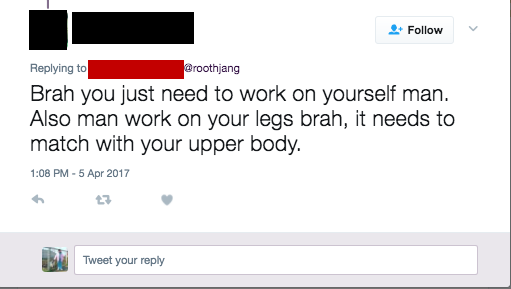 I think the buzz has died down at this point. My notifications are going off like crazy from the screenshots I posted on Facebook earlier in the day, but other than that, I don't think anyone else I know is trying to engage Mr. Rapper Dude in social media warfare.
You're probably reading this article getting impatient. "Where's the diss track, Ruth?!?!"
It's coming now.
Later in the evening, I returned from my two hour class and open my phone to see… that my Twitter notifications have blown up. Oh god, here we go.
My URL friend Ian (who I once sent a Valentine's Day card to) hopped into the conversation between Shane and Mr. Rapper Dude while I was in class. I'm just going to post the screenshots here.
It'll be a little confusing because Mr. Rapper Dude was quick to delete his reply tweets but I think you'll get the gist of it.
(Also read from the bottom-upwards since I got these from my notifications on Twitter).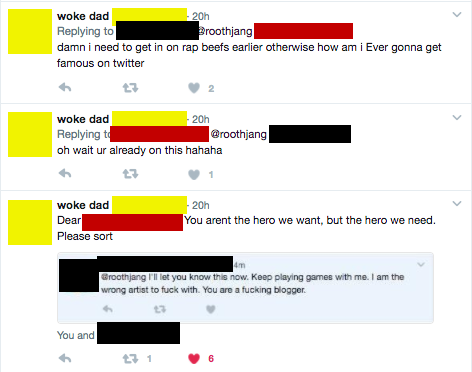 Chaos ensues as now both Ian (woke dad) and Shane start talking back to Mr. Twitter Dude. And thats when the idea for a diss track started…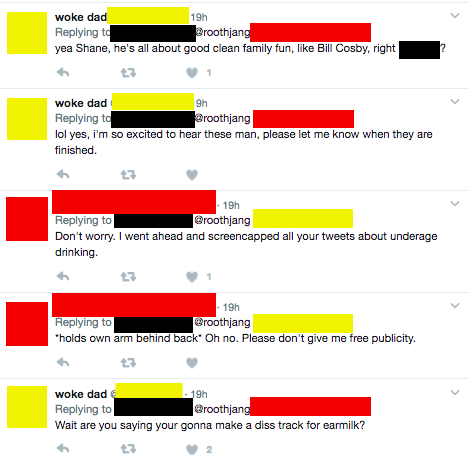 ~…….~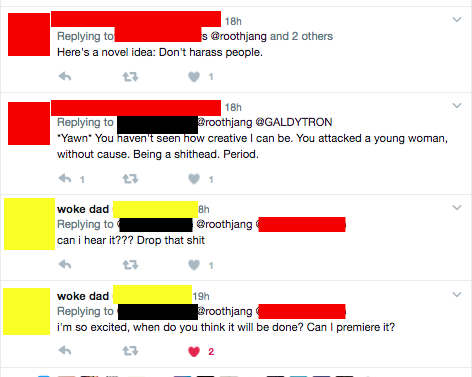 It escalates into one final question from Ian:

And Mr. Rapper Dude actually does it. 
He actually made a diss track inspired by me and EARMILK. 
And I'm not going to link it here, because that's what he wants. Just know it's floating around on SoundCloud, unless he's taken it down like he's deleted all his other tweets from this weird beef with me that I never asked for. And no, this is not a publicity stunt for EARMILK if you're wondering. 
Ian was quick to play the song and give his review of it, which I have also dropped below.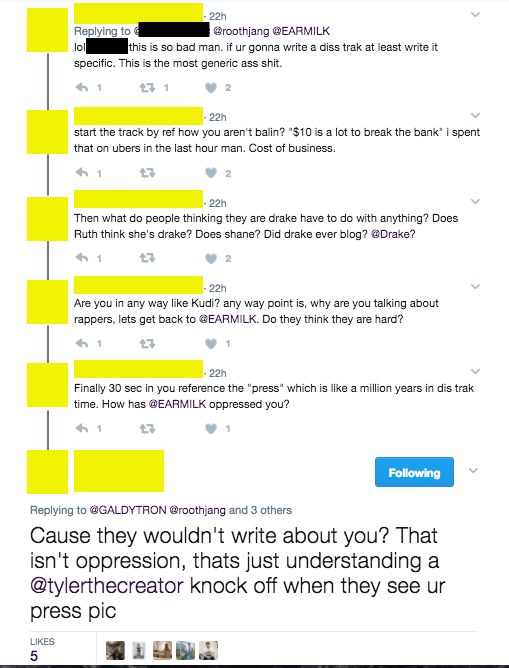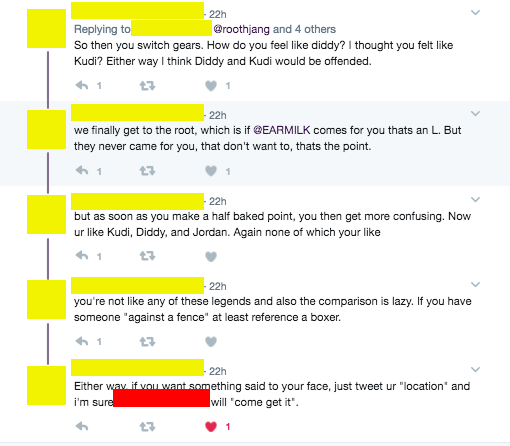 But that's not it. Even after Ian's scathing review of Ruth x EARMILK diss track, Mr. Rapper Dude has still not run out of steam.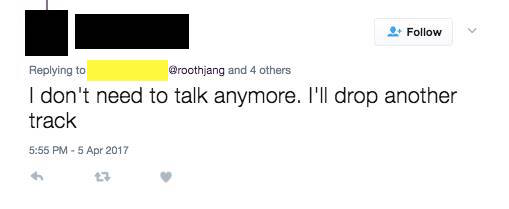 Ooooooooh. I'm so ready. 
So Mr. Rapper Dude has not gotten back to us yet about his follow up diss track, but before the night ended, he did drop one final, message over to Ian. Looks like this day has taught Mr. Rapper Dude to switch careers.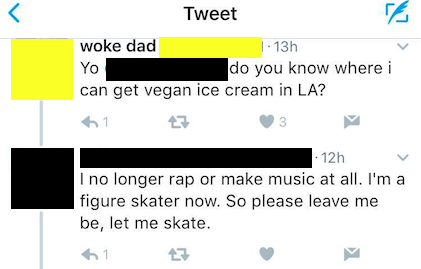 Skate away, Mr. Rapper Dude!
I really don't know why this even started because I think the rational person would know that attacking strangers that might help you is probably a big no-no, but here we are. All I did was send a few screenshots into the world and that is why now me and EARMILK have a diss track.
At the end of the day, I guess here's my two cents to any type of artist that is looking for some support from a Fucking Blogger:
Understand we're not getting paid to write about music, most are doing it for fun, and it is not intentional if we accidentally missed your first messages. Don't get hung up over it!! Everyone is a busy bee these days and one ignored DM does not mean the end of the world. You got this!