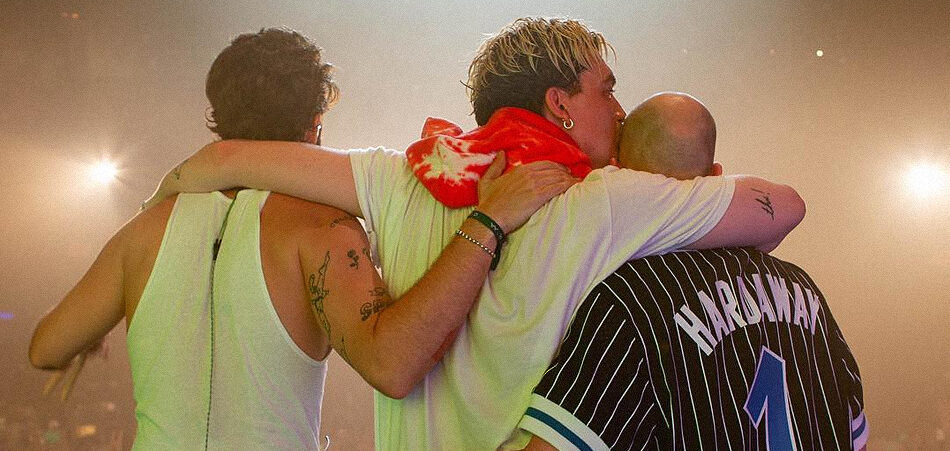 The Los-Angeles trio, LANY, have been rolling through their 100-date tour off their latest album, Malibu Nights. They performed Sunday night in Atlanta, GA at the Coca-Cola Roxy. Role Model tagged along as the opener with a set of about 45 minutes. LANY performed all of their fan favorites, opening with their Malibu Nights single, "Thick and Thin" and closing with their breakout hit, "ILYSB". 
Paul Klein, frontman of the band, delivered an interactive performance as he ran into the crowd singing and dancing with the fans. The singer briefly paused the show to say, "Stop. Let's take care of each other," which set the tone for a welcoming night for the sold-out show. The Roxy also allowed the fans to bring roses for the boys as it being part of LANY concert culture and their visual aesthetic.
PSA: We are making an exception for tonight's show with @thisisLANY and are allowing flowers. The thorns need to be removed, the stems need to be cut short, and it is single roses, it cannot be in a bouquet of plastic. ? ? ?

— Coca-Cola Roxy (@CocaColaRoxy) June 2, 2019
The band is now on to the next city, San Antonio, Texas at the Aztec Theatre on Thursday night. To tag along with the crew and connect with Paul, Jake, and Les, follow them on the links below.
Connect with LANY: Tour| Twitter| Instagram| Youtube
The following two tabs change content below.
writer who can also pickup a camera.
Latest posts by Gregory Castel (see all)