Due to bad weather, flakey friends, financial issues, transportation mishaps, or a variety of other unexpected and disappointing occurrences, many people who plan on attending festivals around the world are unable to do so at the last minute. While nothing compares to sweating in a crowd of thousands of people with a warm beer in hand listening to one of your favorite artists, there are still some ways to bounce back from the festival loss. Here's what you should do to avoid a total music meltdown in the wake of your festival cancellation. 
Sell your tickets:
Just because you can't go to a festival doesn't mean that you should have to be out hundreds of dollars in addition to suffering from severe FOMO. Obvious solutions to this are websites like Ticketmaster and StubHub, which allows people to sell their gently-used and never-worn tickets to someone else online. This is a super easy and reliable way to get your cash back quickly, depending on your selling price and how desirable the festival you planned on attending is. Music festivals also often allow people to buy and sell tickets on their own platform once the first batch that was being sold directly by them runs out. TickPick and Ticketfly have both been used directly by festivals in the past, so keep up to date with possible preferred methods of selling by checking out the festival website first. Of course, you can always ask friends, family, and acquaintances if they'd rather buy them off of you, first. *To help avoid any fees, a pro-tip is to look on the festival Facebook event page. You can either post yourself or find people posting directly on there for last minute tickets. Yes, it's going to be hard to get rid of the thing you probably slaved over in a weird online 'waiting room' for a couple of hours, but that digital ticket isn't going to do anything for you in a couple of weeks, and the extra cash will probably boost your mood.

Watch a live stream:
These days, tons of music festivals offer free live streams of some or all of the shows that are going on. It's usually as simple as just clicking on the festival's website or Youtube page, and if you microwave your beer for a few seconds and turn your AC off, it'll almost feel like you're right there with the rest of the attendees. You can even go back and watch broadcasts later. Websites like LiveList and LiveXLive let you watch tons of concerts and festivals from the comfort of your own couch, and Coachella and Pitchfork have already released videos from their weekends of music. This coming FYF Festival in Los Angeles will be entirely live streamed through Twitter. 
We're excited to announce a live stream of FYF! FYF Fest Live on Twitter presented by @Toyota C-HR. https://t.co/tLMx14n66o #ToyotaCHR pic.twitter.com/dl6cipvNkQ

— FYF Fest (@FYFFEST) July 19, 2017
Plan something else:
Missing an event can be a real bummer and a half, but one of the best ways to get over something is to plan something else in the wake of tragedy. The artists you love from the fest you were supposed to be attending are probably going to be playing after shows to pick up extra money since they are already in the area. Look up some details on who is going where and get excited about something different. After shows and secret shows are regular occurrences after hours during the weekend of festivals and provide cheaper and more intimate alternatives with the same artists that you would have seen at the festival. These events are also usually pretty easy to find, and often times, featured on the Facebook pages of the festival itself. Do some scrolling and find events you're into; there are still ways to see the bands you were excited about.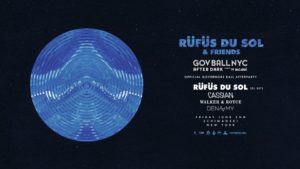 Find Another Festival:
Sometimes, the reasons people aren't able to go to the festival they originally planned on is extremely temporary, allowing them the ability to go to another festival at a later date. These days, there are so many music-related weekends to choose from, so look through some around your town and start over. Save up money, find new friends, get better transportation, or just make a plan you're more likely to be able to stick with. Festivals, ranging from huge blowouts to small sidewalk shows, are not uncommon during the summer months, so find something that better aligns with your budget and schedule and try, try again.