Ok, let's get the obvious stuff out of the way first: after attending multiple previous versions of Holy Ship! on some of the finest cruise ships out there, I went into this year's "wrecked" edition with trepidation. Indeed, with the departure of founder Gary Richards (aka Destructo) in 2017, new brand curators Insomniac and Live Nation (as HARD Events)  along with Cloud 9 Adventures and The Bowery Presents were essentially upending the very premise on which Holy Ship! was built. Simply stated: can you really do Holy Ship!… without a ship? 
By the end of the first day, the answer was unequivocally, "YES." 
This isn't to say that this year's iteration was the same as others.  By any objective measurement Holy Ship! Wrecked (hereinafter "HSW") was a different experience than any version before it, and trust me, I'll go over some of those differences later on. But I can't help but feel the principal goal of an event like Holy Ship! is to provide an intimate, catered electronic festival experience to the most passionate, die-hard electronic music fans out there. And beyond one glaring (and very easily remedied) issue, the curators behind HSW accomplished this goal with unexpected aplomb. 
Without question, most of the thanks should be given to the wonderful folks at the resort. For four days and nights, HSW took complete control of the oceanfront paradise at the all-inclusive and luxurious Hard Rock Hotel & Casino in Punta Cana, Dominican Republic from January 22-26.  If you checked out my preview piece, you know just how beautiful and luxurious this resort was. It was legitimately the beachfront tropical tropical paradise it advertised itself to be. Even the weather seemed to hold itself together for us, as I only remember one the mainstage getting slight drizzles one time (Side note: HSW was even prepared for that, as they had an entire ballroom prepared for inclement weather scenarios… that went ENTIRELY unused!). Similarly, the accommodations were an upgrade over even the cruise ship suite rooms, with two king size beds, an outdoor balcony, and a hot tub in every room.  You might want to reread that sentence. And if you don't believe me, check the pics below: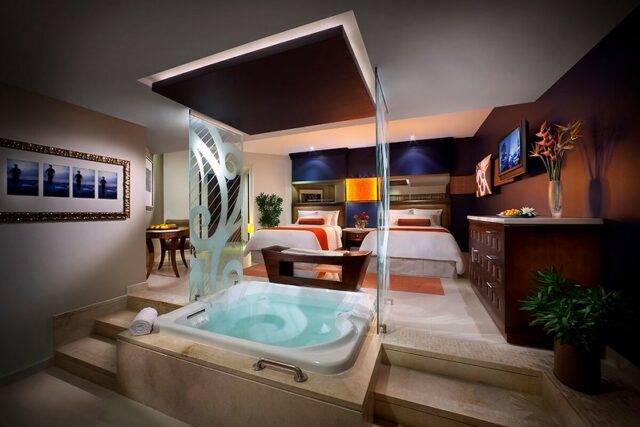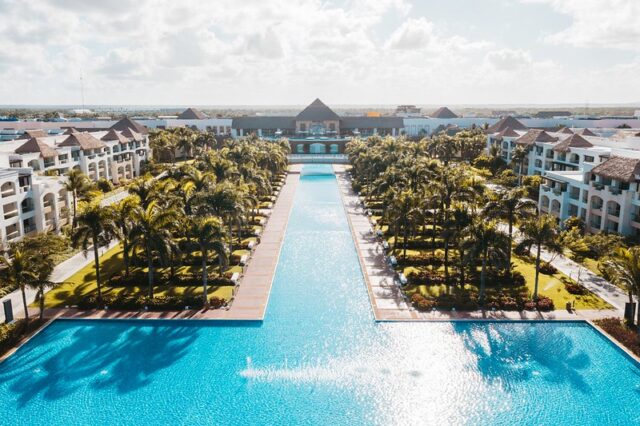 Oh, did I mention this resort was all inclusive? I can't stress enough the majesty of simply walking up to a bar, asking for a drink, and within seconds receiving said drink. No exchanging of credit cards or room keys and especially no drink packages. You're just handed a cup… or two… or six… and that's it. And it was the same with food and activities! Every restaurant, literally every single one, only required at most, a reservation.  and I want go over every activity offered at the Hard Rock (you can do that yourself at their website) but again, they were available and all completely included. 
But all the accommodations and luxuries would have been useless without the wonderful, world class staff on hand at the Hard Rock. Honestly, it was kind of ridiculous just how amazing and gracious the folks at the Hard Rock were. Remember I mentioned how nice it was to be able to walk to any bar and just get a drink? Well that was sort of lie, because often I didn't have the chance to even make to a bar before someone was asking if they could get me another. And it was like this everywhere… at all times. Even during sets (both indoor and outdoor), staff was always on hand to get you whatever you asked for, so you never had to miss a second of your favorite artist. Hungry at 4am after the music is done? Order room service and watch it show up within 30ish minutes. From top to bottom, the accommodations were truly world class.
Speaking of sets, you didn't think I'd go this entire review and not talk about the music, did you? While everything I talked about above was incredible, the main purpose of HSW is bringing the best music to the best fans. And as expected of a lineup curated by HARD events (particularly Live Nation and Insomniac) and The Bowery Presents… the lineup was out of this world. Again, I'll refer you to my preview piece for the full lineup, but suffice it to say, HSW had a perfect mix of some of the biggest and best artist in dance music today, mixed with some great up and coming names. We even got the first official Duck Sauce reunion set! And everyone threw down at least twice, so if there happen to be a conflict for you, you always had another chance to see your favorites. Or just do what I did and see your favorites twice (yes, I'm a stan for certain names, I'll admit). But really, hats off to the organizers for creating a near flawless schedule that always had something popping at all times. For example, here's Friday's schedule showing just how busy your day could be if you wanted it: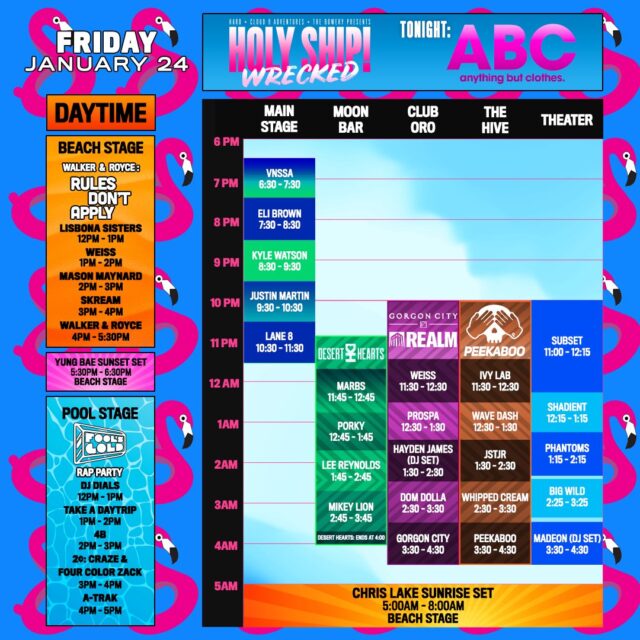 Along with the some of the biggest names, the teams behind HSW also made sure to have world class production available for their DJs. It's here where I think the resort outshines all previous cruise ship offerings, as the Hard Rock was specifically designed to hold multiple entertainment experiences for a multitude of people. The Folks behind HSW took full advantage of that, creating multiple stages all around the resort, each with a different atmosphere but all offering top-notch production values. And when I say full advantage, I mean the ENTIRE resort was limited to only HSW attendees. Peep the map of the resort below:
If you think it looks gigantic, that's because it was. While I don't have actual stats on distances, walking between stages (and from some of the stages to the resort) felt like walking from one end of one of the cruise ships, and back again, multiple times a day. Thank god for the tram/cart system in place that ran almost 24 hours a day, because walking a mile just to get to the music could be a chore. 
This also leads me to one of my gripes about the HSW experience: I think the Hard Rock may have been a bit too big for the number of HSW attendees. The Hard Rock Hotel & Casino at Punta Cana is a massive, 1,775-room luxury resort and even doing some very conservative math at two people per room, that's a resort built to hold at least 3,550. Nonetheless, while I wait for official numbers, there couldn't have been more than 1500 HSW attendees onsite. Which is why at times, the resort felt pretty empty. Of course this also was nice in a way, as there were absolutely zero lines for anything, ever (who remembers waiting to get into the theater stage on ship for A-Trak's Fool's Gold set?!). If you wanted to get to the front of any stage, it easiest it's ever been. But undoubtedly, part of the charm of ship was being surrounded by shipfam, with high chances for for zany shenanigans to pop off at any time, around any corner. With such a large, spacious resort its almost impossible to recreate that sort of intimacy.
Which leads me to my final point: the magic of shipfam. I won't deny that this year's Holy Ship was missing a large cohort of past shippers, some of whom weren't interested in a land version, and some who chose other festival cruise ship options. Like I said at the beginning of this review, as a long time member of shipfam even I was worried about this year's landlocked edition. The reality is, not everyone was going to be happy with the changes to Holy Ship, and that's okay. At this point, HSW is set on creating a something unique in the festival experience, and in turn hopefully cultivating a new passionate group of dedicated "shipfam" just like Holy Ship! has always had.  And if this year's version is any indication, I think HSW is well on its way to becoming something just as special. 
I leave you with a photo journal of some of the highlights of this year's Holy Ship!Wrecked, which offers just a snapshot of some of the events awesome moments. Take a look below, and check the links down below for more info.
See you next year ;) 
Connect with Holy Ship! Wrecked: Official Site | Facebook | Instagram