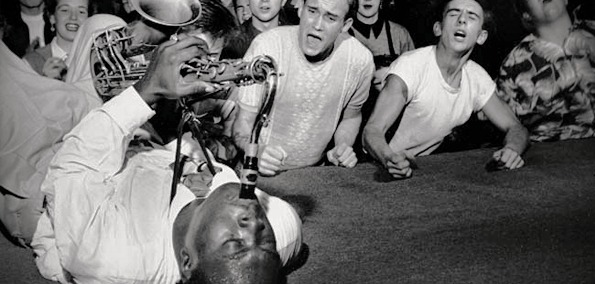 Jazz has not been advanced with the same rapidity and originality since John Coltrane, but it may be on it's way with the next giant step thanks to new age hip hop artists such as Kendrick Lamar, Anderson Paak and Chance the Rapper.
[soundcloud url="https://api.soundcloud.com/tracks/241947066" params="color=ff5500&auto_play=false&hide_related=false&show_comments=true&show_user=true&show_reposts=false" width="100%" height="166" iframe="true" /]
In the past century, jazz can be broken up into clear sub-genres along a lineage of great players. Dixieland was akin to New Orleans. Scott Joplin played ragtime. Louis Armstrong brought the scene and standards to New York City in the 1920s. Duke Ellington made it swing in the '30s. Charlie Parker then complicated the standards with Miles Davis following his lead, making the chord progressions more complex, and challenging players to spontaneously make melodies over intricate changes. Then, Coltrane created the Giant Steps cadence pattern and explored modal music, along with other abstract jazz musicians like Ornette Colman in the 40s.
In the 60s there was free jazz, the 70s brought jazz fused with rock and roll, and the 80s found a need to resurge back to the traditional standards that started the speeding train that was jazz. However, after Coltrane, the jazz train seemed to have slowed down.
EARMILK met up with NYU professor and  jazz guitarist, Jeff Peretz, to discuss the future of jazz and hip hop's influence on it/vice versa. 
"The concepts of creating shifting harmony and creating spontaneous melodic information over shifting harmony hasn't changed since bebop, whether the harmonies are modal, nonexistent or hardcore changes."
While there have been many innovations in fusing jazz with other styles of music, there is still a difference between a fusion and an advancement.
"There've been no real advancements in the art form. There's been fusions and amalgamations and stylistic explorations, but no real advancements. What we're waiting on is the next hero."
Did jazz really reach it's outer limits so long ago? Since Coltrane, people have been looking for replications of the past. Wynton Marsalis was considered to be "the new Miles Davis." According to Peretz, the commerciality of the music industry has caused executives to be looking for the next versions of who have already existed, "but there's no groundbreaking music."
The traditions, as with most all genres of music, have changed dramatically with the advent of streaming services and the advancements in record production. However, by jazz's nature of improvisation, value still exists in live performance. People still go out to see jazz because it is a performance art, and no other live music has the amount of skill and improvisation that jazz brings to the table.
[soundcloud url="https://api.soundcloud.com/tracks/178525956" params="color=ff5500&auto_play=false&hide_related=false&show_comments=true&show_user=true&show_reposts=false" width="100%" height="166" iframe="true" /]
So, to get the opinion from someone who lives the history, EARMILK spoke with Spike Wilner, a jazz pianist and owner of the renowned New York City jazz club Smalls.
Smalls was founded in 1994 by owner Mitch Bourden, and Spike was a frequent player at the venue before eventually joining as a business partner.
Though the club started out as a bebop club, Spike programs in various generations of players to attempt to keep the train rolling.
"What I'm seeing from young guys now is soulful, joyful music. They're not trying to recreate something from the past. They're really into what they're doing. It is connected to the tradition because they're playing in that style, but it also just depends on their taste. Some guys grew up in the hip-hop tradition, and that's part of who they are. Some guys bring contemporary classical influences to their playing. I'm hearing a lot of young players that are individuals who play really well, and that's exciting for me as an owner."
Spike believes that this evolving jazz hop genre is jazz influenced, but not necessarily jazz.
"The technique of jazz can be present in almost any music. Jazz in the traditional sense has a lineage of artists that have been performing in New York City really since 1900. Tradition is a lineage. I don't break jazz into stylistic variations. I think that the thing that makes jazz jazz is the feeling of the music."
Jazz and hip-hop came up the same way in society, as a sort of black youth, counterculture movement. Because of the similarities in energy between the uprising of jazz and hip-hop, and the commonalities between rappers and jazz players, it's only a matter of time before they find out they're really just the same thing. 
There's a group of jazz players on the West Coast that are doing this.  Let's just call them the West Coast Dudes. Some of the notable members of this group are bassist Thundercat, producer Flying Lotus, producer Terrace Martin, drummer Questlove, and pianist Robert Glasper. These were the guys that played on Kendrick Lamar's To Pimp a Butterfly, the outtakes of which lead to his most recent release of Untitled Unmastered. These could be the guys that move jazz and even hip hop forward.
The reason this has the potential to be an advancement and not a fusion is because of the rapper's ability not only to create spontaneous melodies over shifting harmonies, but also to use this spontaneity to create rhythmic and lyrical information as well.
"What's exciting about Kendrick and all the West Coast dudes, is that those guys were raised on hip-hop, but they all play like jazz musicians, so all those elements coming into the music. Though it's not really there yet, if anything, it is the new jazz."
Kendrick is rapping over production that is jazz based and sonically complex because of the skill set and traditions brought in by the players of the West Coast Dudes, and new recording technologies that make the polished and innovative sounds of his production possible. This is reminiscent of the way Coltrane was constantly seeking out new ways to play jazz.
It's not there yet. But with these new age Hip Hop artists continuing to experiment, we could be looking at the next jazz heroes.