Closures of venues, cancellations of festivals, and postponements of releases have rocked the music industry during the worldwide crisis surrounding the COVID-19 pandemic. And while it's been amazing to see the rallying call to quick adaptation moving efforts to digital concert experiences, the volume of these events taking place can feel overwhelming to digest and keep track of. 
While artists like Questlove, Delacey and RAC are doing one-off streams, many companies and platforms are turning to full on festivals to help pass the weekend. To help alleviate the whirlwind of the onslaught of these streams, we've aggregated a list of the best festivals, concert series and music events taking place this weekend in a concise list.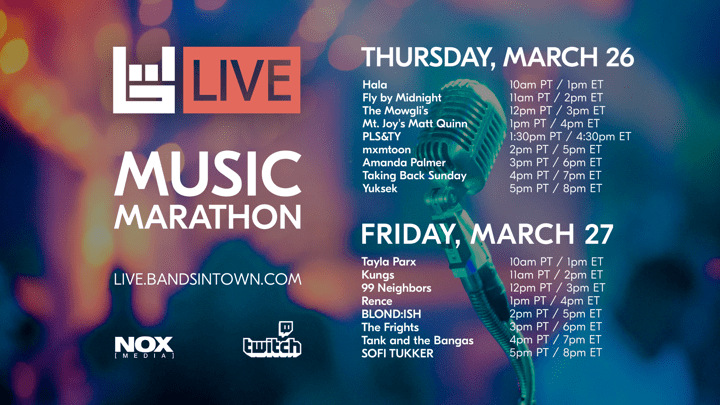 Bandisintown's Music Marathon [Live now]
Concert aggregation site Bandisintown launched a music marathon that started Thursday, March 26 and continues today, Friday, March 27. Viewers watching live on Twitch can donate directly to MusiCares COVID-19 Relief Fund to assist those in the music industry affected by the pandemic. You can watch here.
Sofar Sound's Listening Room [Live Now]
Intimate concert series platform Sofar Sounds has announced a weeklong stream series for their Listening Room. Launching today with Samiere (Los Angeles) and continuing tonight with The Brook & The Bluff (Nashville), you can tune into their updating here. You can also donate directly to the artists or through Sofar Global Artist Fund while tuning in.
March 27
3pm EST –
Samiere
live from Los Angeles
March 30
March 31
April 2
36h Ingrid [Live now]
Peter Bjorn and John have launched a 36-hour livestream marathon on Twitch entailed "35h Ingrid." Launched at 6 AM PST today, this series runs through tomorrow at 7 PM EST and will feature performances and DJ sets from an array of artists including Freja The Dragon, Tussilago, Esther, Johnossi, OLSSON, Studio Barnhus's Axel Boman and Kornél Kovács, and others via Twitch.
TIDAL's Daily Live Streams
Streaming platform
TIDAL
is capitalizing on its partnered artists to put on a two-day livestream, with Saturday being hip-hop day and Sunday being R&B day, for its users. Head
here
for Saturday's stream. and for Sunday's R&B livestream, head
here
. For more information, head to their
website
.
Saturday, March 28 – hip-hop
JAY-Z, J. Cole, Lil Wayne, Meek Mill, Gunna, City Girls, 21 Savage, and more
Sunday, March 29 – R&B
Beyoncé, Rihanna, Ari Lennox, Trey Songz, Jorja Smith, H.E.R, and more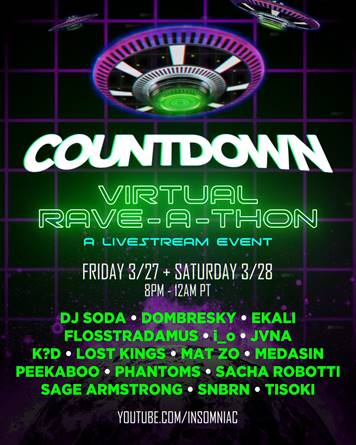 Insomniac's Virtual Rave-A-Thon [Live Now]
After an impressively successful launch of a digitally broadcasted Beyond Wonderland, dance events company Insomniac is following up with a Virtual Rave-A-Thon this weekend, starting tonight and continuing tomorrow through 12AM PST. You can also follow along with a 24-hour stream of Insomniac REWIND that will be indefinitely broadcasted. Each can be accessed through Insomniac's YouTube channel.

Beatport

 Presents: ReConnect, A Global Music Event

Electronic and dance platform Beatport will launch a 24-hour live stream in partnership with Twitch. Viewers can directly donate to charity, and the funds will go to the COVID-19 Solidarity Response Fund for the World Health Organization, and the AFEM Members COVID – 19 Hardship fund. 
Sennheiser #DontStopTheMusic with Third Eye Blind, Citizen, Bob Sinclar and The Talbott Brothers live on Instagram
Audio brand Sennheiser has launched their #Dontstopthemusic series live via Instagram, looking to bring music fans and artists together in unity through positivity. You can check out the full schedule below.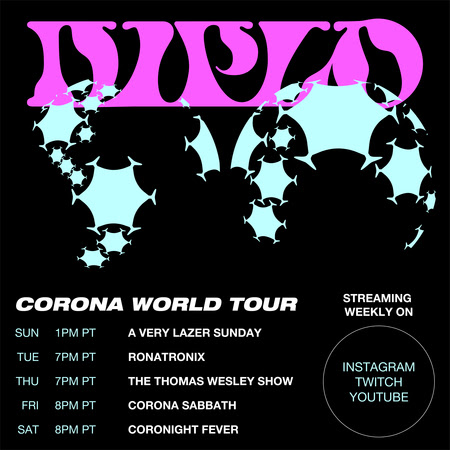 Diplo's Corona World Tour
One of the early ones to get in the live streaming game, DJ and producer Diplo kicked off his Corona World Tour last week and continues on performing five days a week. Royalties will be paid to any artist whose music is featured, and you can donate directly on Twitch to the PLUS1 COVID-19 Relief Fund.
You can tune in via YouTube, Twitch or Instagram.
Dead & Company weekly stream
Legacy band Grateful Dead and John Mayer Dead & Company has announced a series of live streams of archival concert footage from the band's extensive touring history. With details announced via Twitter, the shows can be streamed each week on their Facebook page, with fans asked to donate to the MusiCares COVID-19 Relief Fund.
Tune in this weekend at 8PM EDT / 5PM PDT for the next One More Saturday Night, our FREE weekly #CouchTour ? series. ⁣
⁣
This Saturday isJune 15th, 2019's show at Wrigley Field. ?⚡️⁣⚾️
⁣
Watch with us on the Dead & Company Facebook page! pic.twitter.com/DlKwRFEKEY

— Dead & Company (@deadandcompany) March 26, 2020