The Compton-native rapper Buddy is celebrating his birthday today. Now, although we're used to seeing artists splurge on their birthday and buy unimaginable amounts of cars, clothes, jewelry, and possible substances, this LA rap star is taking a different approach. Today, September 10th, Buddy is having a concert in Los Angeles and donating all of the proceeds from the show directly to schools in his hometown of Compton. And if that wasn't enough to warm your hearts, several artists including Guapdad 4000, Bas, Smino, Kent Jamz, and Boogie are supporting the cause by being special guests at the show tonight.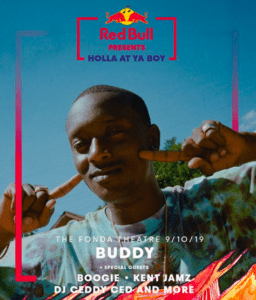 Buddy's birthday concert (also known as Holla At Ya Boy)  has gained positive feedback from fans and artists alike, causing the show to sell out days before the event. Several rap artists and hip-hop figures share their thoughts with EARMILK on tonight's event. 
"I'm super excited to come out and do a show with all the homies. We've been trying to put a show together for a while and I'm happy that we were able to pull it together for Buddy's bday. For him to make the whole thing a charity thing is crazy, but, we definitely get along good 'cause he's a hero and I'm a super villain." – Guapdad 4000
"I'm ecstatic, this is Buddy's first headlining show in the city, this is big and we sold it out! To be playing aside 1500 or Nothing with Buddy, it's going to be a show for the books! As well as having the homies come perform also, a lot of talent to come see. I think it's very honorable and necessary, our school systems are lacking resources and funding, by Buddy donating 100% of the proceeds shall open some doors and provide a better experience for the youth in the Compton schools he grew in. Holla At Ya Boy!!!" – DJ Ceddy Ced 
Holla At Ya Boy is an event presented by Red Bull. For the past two decades, Red Bull has celebrated all things music, including some of the West Coast's most talented hip-hop figures and how they continue to support their communities. Buddy is one of the artists at the forefront of this movement in addition to having a successful year when it comes to his music. Not only did he release the deluxe version of his album Harlan & Alondra earlier this year, but Buddy has also collaborated with several other rap artists on Dreamville's Revenge of the Dreamers III. Adding giving back to his community to is portfolio does nothing but enhances the Compton rapper's authenticity.
Connect with Buddy: Instagram | Twitter | Spotify | Soundcloud