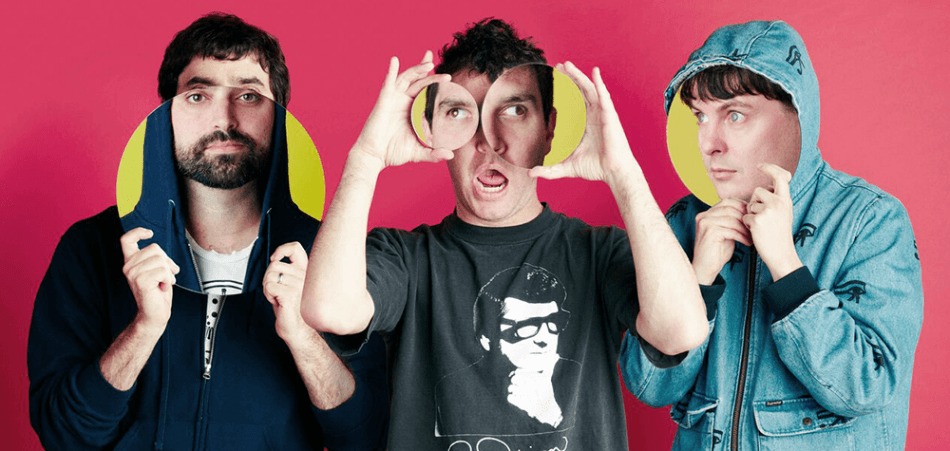 Animal Collective momentarily consists of three band members and is well known for releasing 10 uniquely strange albums in the past fifteen years. The latest official studio album from the experimental group is Painting With and is receiving generally positive feedback. There is some speculation as to what exactly they are trying to communicate, but the album seems to have resonated well regardless with theirs fans.
Painting With is composed by Noah Lennox (Panda Bear) , Brian Weitz (Geologist), and David Portner (Avery Tare). Josh Dibb (Deakin),the fourth member of Animal Collective, sit aside on this project to complete his debut solo album. The three artists had help percussion help from Emil Richards, a renowned drummer . The new project helps prove the originality of its members for staying in the spotlight by coming up with innovative ideas on every new compilation.
The geographic distance between the band members has made a creative rift. Where they once had a synergy among close contact, they now have children, wives, and different zip codes. Regardless of the physical separation, the unison between the sounds still exists. The clatter of voices on Painting With shows a disorganized attempt to communicate over distances, but one ultimate message all the same. Tracks like "Golden Gal", "Burglars", and "FloriDada" are prime examples of blurred distinctions between a lyrical process and Animal Collective's vocal distortions.
If you've followed Animal Collective from their experimental earlier albums throughout the popular summertime shine on Merriweather Post Pavillon or the naturalist elements to Sung Tongs, then you are guaranteed to appreciate their new approach. The members have developed distinct sounds over time, like Panda Bear's unique vocals and distortions or Avery Tare's bizarre style and memorizing melodies. It's interesting to see how they will grow from here on out, the Painting With tour being the next stage on their collective journey.
Important to note is that the band will be hosting their own festival during September 23-24th. You can find more out about the two-day camping experience at the Fernwood Resort in Big Sur, California below. They will be head lining both nights with a host of other artists like Jessica Pratt, Winter, and WIFE.  
If you're a fan of Animal Collective, then check out the below tour dates to find out when the trio will be coming somewhere near you on their world tour in 2016. 
04-01 Brussels, Belgium - Botanique – Orangerie
04-02 The Hague, Holland - Rewire Festival @ Paard van Troje
04-04 Hamburg, Germany - Uebel & Gefahrlich *
04-05 Berlin, Germany - Postbahnhof *
04-07 Milan, Italy - C2C Festival @ Magazzini Generali *
04-08 Stans, Switzerland - Stanser Musiktage Festival @ Kollegi
04-09 Paris, France - La Cigale *
04-12 London, England - The Troxy *
04-13 Manchester, England - 02 Ritz *
04-28 Fayetteville, AR - George's Majestic Lounge ^
04-29-05-01 Austin, TX - Levitation
05-01 Tulsa, OK - Cain's Ballroom ^
05-03 St. Louis, MO - The Pageant ^
05-04 Royal Oak, MI - Royal Oak Music Theatre ^
05-06 Nashville, TN - Marathon Music Works ^
05-07 Atlanta, GA - Buckhead Theatre ^
05-08 Asheville, NC - Orange Peel ^
05-10-11 Washington, D.C. - 9:30 Club ^
05-13 Wilmington, DE - World Café Live at the Queen ^
05-14 Sayreville, NJ - Starland Ballroom ^
06-03 Barcelona, Spain - Primavera Sound
06-05 Lyon, France - Le Transbordeur
06-06 Bordeaux, France - Le Rocher de Palmer
06-07 Madrid, Spain - Joy Eslava
06-09 Porto, Portugal - Nos Primavera Sound
08-22 Honolulu, HI - The Republik
09-02-04 Dorset, England - End of The Road Festival
09-03 Liverpool, England - O2 Academy Liverpool
09-02-04 Laois, Ireland - Electric Picnic Music and Arts Festival
09-06 Glasgow, Scotland - O2 ABC Glasgow
09-07 Leeds, England  - Leeds Uni Stylus
09-08-11 Isle of Wight, England - Bestival
09-20 San Diego, CA - The Observatory North Park #
09-21 Santa Ana, CA - The Observatory #
09-23-24 Big Sur, CA - Animal Collective Camping Weekend ‒ Fernwood Resort
09-26 Eugene, OR - McDonald Theatre #
09-27 Vancouver, British Columbia - Vogue Theatre #
09-29 Calgary, Alberta - Macewan Hall Ballroom #
09-30 Edmonton, Alberta - Union Hall Night Club #
10-03 Sioux Falls, SD - Orpheum Theatre #
10-05 Indianapolis, IN - Egyptian Room at Old National Centre #
10-06 Morgantown, WV - Mainstage Morgantown #
10-07 Pittsburgh, PA - Mr. Smalls Theatre #
11-02 New York, NY - Terminal 5
11-03 Baltimore, MD - Rams Head Live!
11-04 Richmond, VA - The National
11-05 Carrboro, NC - Cat's Cradle
11-07 Tallahassee, FL - The Moon
11-08 Tampa, FL - The Ritz Ybor
11-10 Miami Beach, FL - The Fillmore at Jackie Gleason
11-11 Orlando, FL - The Beacham Theatre
11-12 Jacksonville, FL - Mavericks
11-14 New Orleans, LA - The Civic Theatre
* with GFOTY
+ with Kaitlyn Aurelia Smith
# with WIFE