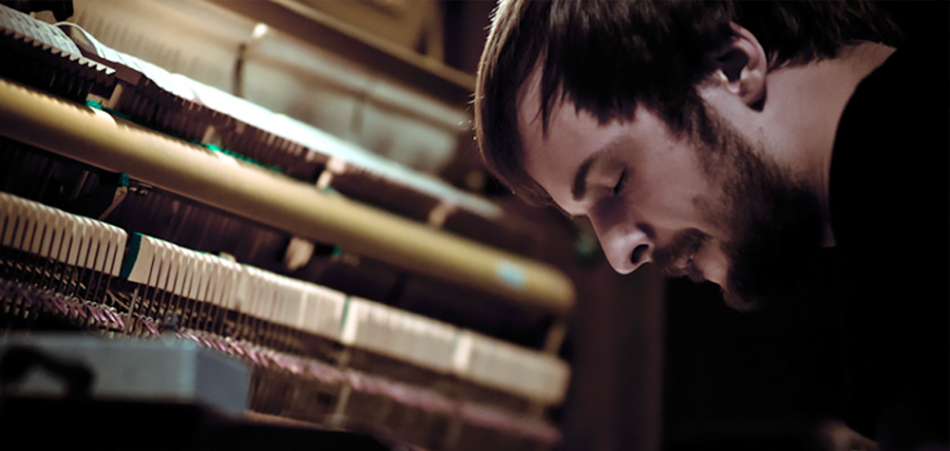 Nils Frahm is having a year for the ages. The German pianist/composer seems to be drawing from an infinite reservoir of creativity, perhaps spurred by the unprecedented amount of new support he's received from both critics and fans. In 2015 alone, Frahm has already: scored his first film, premiered a second collaboration with Icelandic musician, Ólafur Arnalds, and released yet another poignant collection of minimal piano pieces. But it seems Frahm still has more to say. Today his camp announced that he's teamed up with childhood friends, Frederic Gmeiner and Sebastian Singwald, to form a band called nonkeen.
The trio reportedly dates back to a Germany still divided by the Berlin Wall. Frahm and his friends met on occasion to record bits of sound on four track tape recorders, and the band's forthcoming debut LP, The Gamble, apparently revisits those early recordings. nonkeen refused to practice or do multiple takes, and only the bits that survived the unreliable cassette tape technology were available in the first place – as the press release states, "only when [Frahm] remembered to hit 'record'". So, the release continues, "chance became a band member".
Using chance as a method of composition predates this instance – and popular music altogether. Avant-garde composers used chance as a compositional technique throughout the 20th century before nonkeen decided to inject it into the realm of popular music. For Frahm that's par for the course; he's been negotiating the intersection of popular and art music for years, and his electronics-infused, erudite piano compositions have won him a significant crossover audience. Chance is simply the latest idea to float from the art side of music into the hearts of earnest young hipsters.
In The Gamble – to be released February 5 via R&S Records – nonkeen bounced original sound bits to computer, overdubbing and processing them until the collection was complete. There's no music to hear yet, but you can pre-order the record on either iTunes or Bandcamp. You're also encouraged to read more about nonkeen's incredible history on their newly launched website.