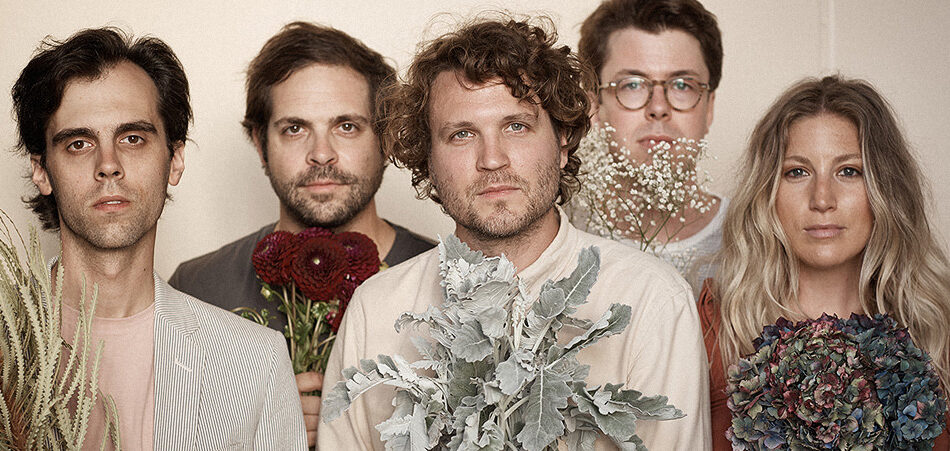 Brooklyn's Ra Ra Riot has always been a band that could never quite be explained with just one song. Their eccentric style has been largely unmatched, with each new album finding new grooves and compositional firsts. Their fifth full-length album, Superbloom, out today via Rob the Rich Recordings/Caroline, aligns this five-piece band with a genre they've been toying with for years, but never quite committing to: the simple yet irresistible pop. 
Taking the name from a 2017 phenomenon in which patches of the Southern California desert exploded with wildflowers, Superbloom gently treats its newly sprung pop-leanings with meticulous care and collaborative guidance. "In the past, we've sometimes gotten in our own way or held back from our poppier tendencies," says lead vocalist Wes Miles. "Working with all these different people [Rostam Batmanglij, Kieron Menzies, Dean Reid] and adding their ideas allowed that side of our music to fully manifest itself, in a way that felt really exciting." In "Bad To Worse", throbbing synths offset Miles' signature falsetto, whilst a slow drumbeat and whimsical keys give this track an air of nonchalantness, an almost unconventional yet perfectly executed approach. 
One of Ra Ra Riot's most alluring features is their dynamic instrumental chemistry. Take Rebecca Zeller: Her role as a violinist extends far beyond the studio, as she is often seen taking centre stage during their live performances. The reason being that her violin chords are just as crucial to the soul of a Ra Ra Riot song as any other instrument found on it. In "War & Famine", Zeller's strings delicately hold the track, letting it flutter ever so slightly along with Miles' slowly swelling vocals. Meanwhile, in "Belladona", they herald in a production of buoyant synths in a euphoric anthem filled with boisterous drum kicks and colourful verses. 
While this album may be a form of self-actualization for the veteran band, it impresses with not just its authenticity, but with its range. Pop doesn't come in one flavour, and neither does Superbloom. Pulling influences from different eras and spaces of pop, whilst maintaining a signature sound is ultimately what sets this album apart from the band's earlier works- and opens the door wide to an exciting new frontier.