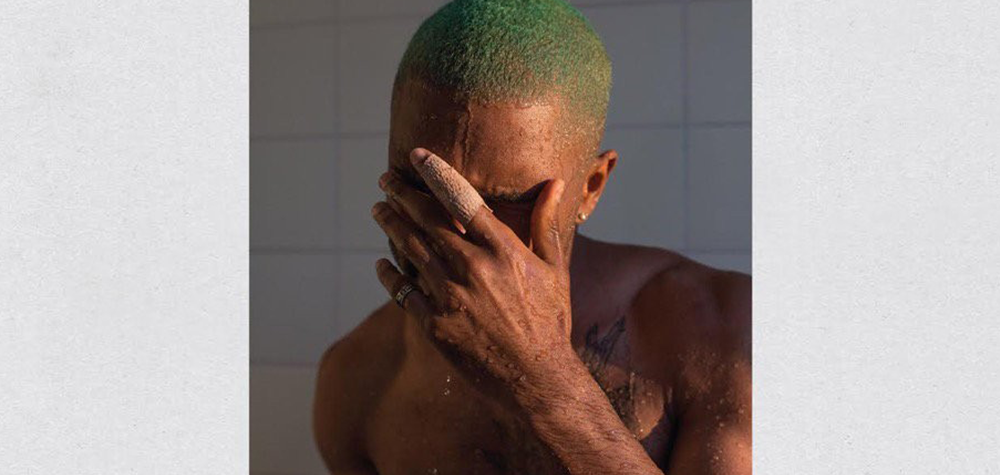 I mean, have blue balls ever carried so much weight? We've been teased time and time again in the rocky Ocean waters. Some fans were livid and betrayed, thinking, "how could he desert us like this?" Others accepted his creative process and the notion that perfection doesn't come overnight. Or maybe we just came to terms as listeners with this "whole patience is a virtue" thing. The one thing that we can all agree on here - is people don't forget.  After releasing numerous cryptic signs that he'd give us a taste - he kept pulling the plate away before we were able to take our first bite. However on August 20th, Frank Ocean served up blond as his 5 course meal and goddamn does it taste good. 
You may have not understood what was going on for the past four years with Frank Ocean's mindset and don't trip - none of us do. But after hearing blond - you gotta respect the craftsmanship. We weren't too shocked when Ocean changed the album name from Boys Don't Cry to blond because - you know, throw us another curveball - I dare you. After all, Frank does preach, "I got twoooo versions, I got two versions".
The one thing I do disagree with is classifying blond as "Pop". Anyone listening to Frank's voice can hear the raw, graceful, melodic R&B tone, dreamy hypnotic groove and the hip-hop paced percussion. Demonstrated perfectly on the opening track, "Nikes" begins with an autotuned "is-this-really-Frank" sounding vocal. Towards the end, Frank comes in spitting/singing his R&B bars and is sounds just like home. While the song touches largely on sexuality and spirituality; it also presents political parts - particularly the shooting of Trayvon Martin. While watching the video for "Nikes" things made more sense. The provocative visual acts as a wild precursor to the rest of the album.  
Frank starts strong with his first three songs. Following "Nikes" his vocals seep in like poison on "Ivy". We can classify this as the most "pop" of the tracks - meaning it's likely to be extremely popular. Over a mellow electric guitar pluck, Frank does his thing laying his vocals down gently on this alternative soundscape.
As a listener "Pink + White" reminds us of the procreation between the first two tracks: if "Nikes" fucked with "Ivy" their baby would be "Pink + White". "Solo" reminds me most of the vibes from channel ORANGE. His debut album was indefinitely heavier on the multi instrumental soundscapes; that being said, arguably the most standout aspect of Frank Ocean, is his voice. His bone chilling vocals feel raw down to the rind yet concrete to their core. He gains the control of his vocal tone while remaining calculated in his imperfections and vivaciously vulnerable at all the same time. Songs like "Skyline To" & "Self Control" serve as an innovative ballad for the artist to explore different "skylines to self control". "Self Control" really envelopes a perfect science of sound hitting every note on the head and riffing through the harmonies effortlessly . The songs like "Good Guy" and "Close to You" act as wavy interludes tucked in between lengthier tracks.
For me, "Nights" is his "Pyramids" track off blond with equally as flav first part of track with a crazy static transition that almost makes you want to change the song. But you don't, cause you have infinite amounts of respect. And thank God you didn't cause the second half of the song drops and - oh my lord - Frank tells us a story over an R&B trapsoul type beat, and the song hits like a quaalude, dipping back and forth in between fantasy and a raw truth in the creative realm. The most unique thing about this song is he sings the same hook on the two separate beats.  The first 1/2 of the track carried a heavier rap cadence as the second slowed it all the way down. On songs like "Solo (Reprise)" Frank brings back Three Stacks to dominate this feature in a one minute verse long song. Andre ends his track unveiling some real OG thoughts.
After 20 years in, I'm so naïve
I was under the impression
That everyone wrote they own verses
It's comin' back different and yeah that shit hurts me
I'm hummin' and whistlin' to those not deserving
I've stumbled and lived every word
Was I working just way too hard?
Songs like "White Ferrari" remind me of the same melodic tone The Beatles carried while "Seigfried" is a raw ballad addressing all feelings of the love cycle through a metaphysical, extraterrestrial, real and vulnerable lense. Frank finishes the album with two songs "Godspeed" where he states this song is a story about his childhood and letting us know he was alright, and he's still alright.
"I wrote a story in the middle – it's called 'Godspeed'. It's basically a reimagined part of my boyhood. Boys do cry, but I don't think I shed a tear for a good chunk of my teenage years. It's surprisingly my favourite part of my life so far. Surprising, to me, because the current phase is what I was asking the cosmos for when I was a kid. Maybe that part had it's rough stretches too, but in my rearview mirror it's getting small enough to convince myself it was all good. And really though… It's still all good."
Frank finishes blond off with a track called "Futura Free". This track is broken into two and separated by a silent interlude. The first part is a stream of conscience flow discussing different aspects of Frank's life - family, friends, sexuality, even Tupac & Selena. The second half is an interview conducted by Frank's little brother Ryan Breaux who clowns around with Illegal Civilization members: Mikey Alfred, Sage Elsesser and Na-kel Smith. It seems Frank finishes off blond on this light hearted note to let his listeners know he's been alright. We hear you. We'll be good with this for awhile but don't think we'll stop busting your balls for future releases.
In short? Here is a quick letter to Mr. Ocean. 
Dear Frank,
Are you reading? I understand your creative process as an artist. Especially being a perfectionist; this is your baby. You've finely curated you craft - meticulously shaped each edge and finely tuned the knots and bolts. Your late nights and early mornings have paid off, you've struck gold with your finished product. As God Tupac once said, "I ain't mad atcha, I got nothin but love for ya".
Sincerely,
Your loyal ass fans
P.S - But don't go that long without calling again, ok? 
Connect with Frank: Tumblr ( fucking duh), Frank has no other form of social media | AppleMusic