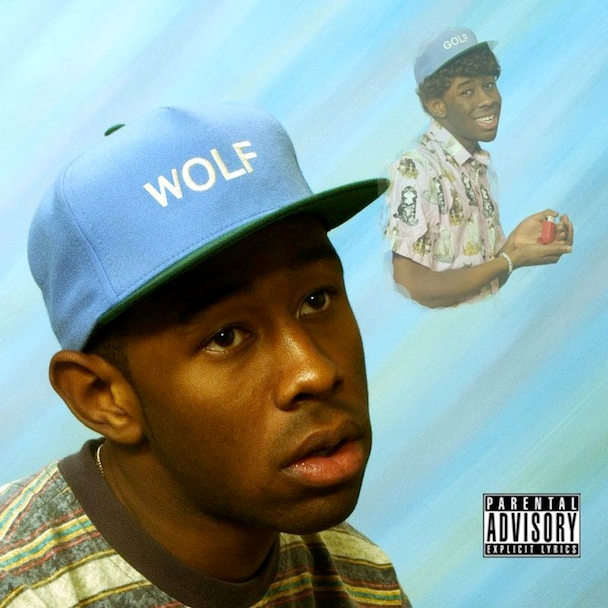 Album Review: Tyler The Creator - Wolf
Artist Name:

Tyler The Creator

Album Name:

Wolf

Release Type:

Album

Release Date:

Record Label:
Label Location:
Review Author:
Review Date:

EM Review Rating:
Tyler The Creator has established a brand to his name—and a verbal spit wad-spewing precedent to say the least—confirmed when you can't help but chuckle at the irony of a Tegan and Sara ad that appears in a Spotify window playing his latest album. In his rapid rise to stardom, the rapper/producer/director has stirred no shortage of controversy. Ample usage of the word "faggot," misogynistic subject matter, and detailed rape and murder fantasies in his lyrics have upset critics and pop culture figures alike, including Tegan and Sara, to whom Tyler addressed via Twitter, "If Tegan and Sara need some hard dick, hit me up!"
His debut and sophomore albums, Bastard and Goblin, no doubt earned their fair share of negative criticism, but the success of these works also proved that Tyler was speaking to a generation that could appreciate his raw, rough, and ugly confrontational style. Fans found the value of his work through a different kind of listening experience that required the comprehension of F bombs and fellatio references as mechanics that supported Tyler's catharsis. Through his expressive juvenilia, audiences shared Tyler's cathartic experiences and discovered a relatable outcast with daddy issues, morphing from listeners to fans.
But that's old news. It's been about two years since Goblin dropped and a lot has happened—including the establishment of that brand and precedent. It's no secret that Tyler's a superstar now: he bought his mom a four story house, got himself and his crew a show on Cartoon Network's Adult Swim, won the 2011 Best New Artist VMA, and has been a key building block in the success of Earl Sweatshirt and Grammy winner, Frank Ocean.
IFHY-ft.-Pharrell--EM0413
Download:
Tyler, The Creator - IFHY ft. Pharrell
His performance on an album following all of that would be the basis for determining Tyler's legitimacy in Hip-Hop—if he is worth the hype and if he can maintain it. Another album too similar to his last two projects or too heavy in empty shock factor would read predictable and stale, dropping him straight to the bottom of the pigeonhole his critics dug out for him. But if he could retain the style that garnered his fan base in the beginning while reflecting growth and maturity, he would prove himself as a dynamic artist truly deserving of a place in Hip-Hop and an even more fruitful career in his future.
At last, on April 2nd, the album dropped and in its 18 tracks of glory—perhaps three to five tracks too many—Wolf indeed reflects growth and maturity in subject matter, witty lyricism, and beautiful production proving to be one Tyler The Creator's most well developed and best albums yet. The appeal of Wolf largely roots itself in Tyler's nuanced expressions of vulnerability, showcased by "Answer," an open letter to his absent father over a lo-fi guitar riff reminiscent of Tyler's Ariel Pink influences. He's still angry as ever, but now, in between the moments he exercises his demons through vigorous language directed at his lacking father, he softly repeats, "I hope he answers," for the first time dropping his sarcasm to openly pine for a moment. Romantic instances when Tyler may have resorted to more stalker-rape reactions to rejection like in Bastard's "Sarah," are traded in for more thoughtful explanations. In "IFHY," he still threatens sadistic crimes of passion, but he'll admit and explain that it's because he caught real feelings.  
But Tyler pinball's between emotionally gripping to off-putting without warning. Slipped between heartfelt confessions and commentary are tracks like "Tamale," a distasteful track over some brassy production. Where subject matter lacks in consistency, production quality picks up the slack. Tyler employs his signature wallowing synthesizers, but adds more varied and polished sounds to the mix. Beautifully executed jazz chords prevail, especially in "Treehome95," in which Tyler focuses on producing and lets Erykah Badu and Coco Owino steal the show. Some boom bap sounds sneak their way into the project as well in rougher songs like "Pig" and "Rusty." The productions are eclectic; he even throws in some trap inspired production with some speedy hi-hats in,"Trashwang." "Lone" is the final track, tying the project together with a session with Dr. TC, as is uniform for each of the last tracks on Tyler'slast project. An authentic revisiting of his grandmother's death brings the emotion home, an event only vaguely touched upon in a few tracks throughout the album, but clearly hacking away at Tyler'spsyche. It's a track that truly shows Tyler's growth, and when lined up with "Inglorious," the final song on Bastard and "Golden," the closer to Goblin, there is a clear spectrum of maturity and emotional depth. In all—though overly bi-polar at times with a clear struggle to balance maturity with Tyler's hooligan rebel rap—Wolf is a well written, developed, and produced album, and a sure sign that Tyler The Creator is a growing artist.