This year, Boomtown returned for another unforgettable edition for Chapter Two: The Twin Trial following its reboot last year catapulted by the pandemic. Held at the Matterley Estate near Winchester, Hampshire, Boomtown certainly delivers as the UK's answer for Tomorrowland with immersive stages big and small, multiple districts and an epic lineup. Here's what went down.
With the option to experience five days of the weird and wonderful, Boomtown has so much to offer that even five solid days of exploration doesn't allow enough time to encounter all of the festival's unique layers and offerings. This year, our primary focus was the music and the breadth of stages whilst being able to discover something new.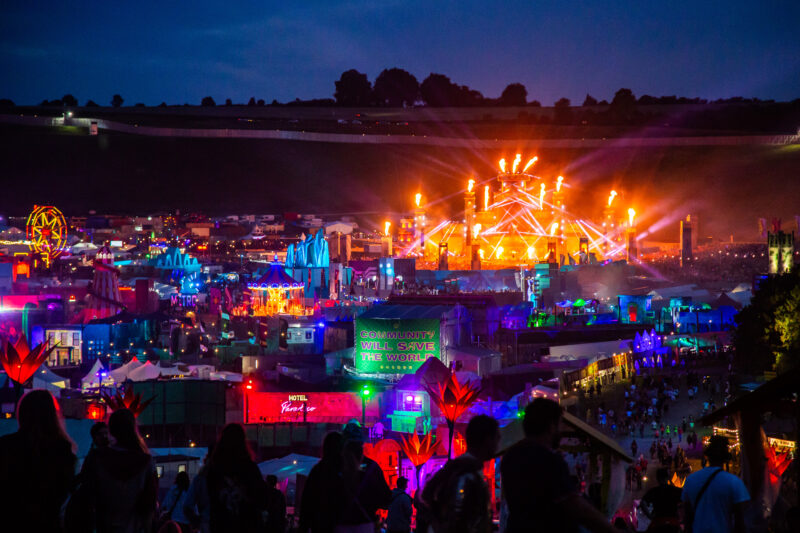 Friday evening kicked off with Dr Dubplate B2B DJ ADHD in Boomtown's apocalyptic district, Area 404 on the Wrong Side Of The Tracks stage. The set boasted a quality blend of garage and techno with highlights including a fun bootleg of DJ Casper's "Cha Cha Slide" and a bootleg of Dave and Central Cee's "Sprinter" produced by rising newcomers Y U QT.
Next up, we headed to a new stage for 2023, Spectrum 360, hosted by Madidextrous and saw the lineup of DJs surrounded by a 360 crowd. Heading initially for Zero's set we discovered DJ Can't Say No and Lobsta B who dropped bassline and donk fuelled cuts including a surprisingly catchy bootleg of Doja Cat's "MOO!". Accompanied by next-level dancers, Zero stepped up to the decks soon after to deliver his signature blend of bassline sounds and nothing but energy for a multi-genre tear up.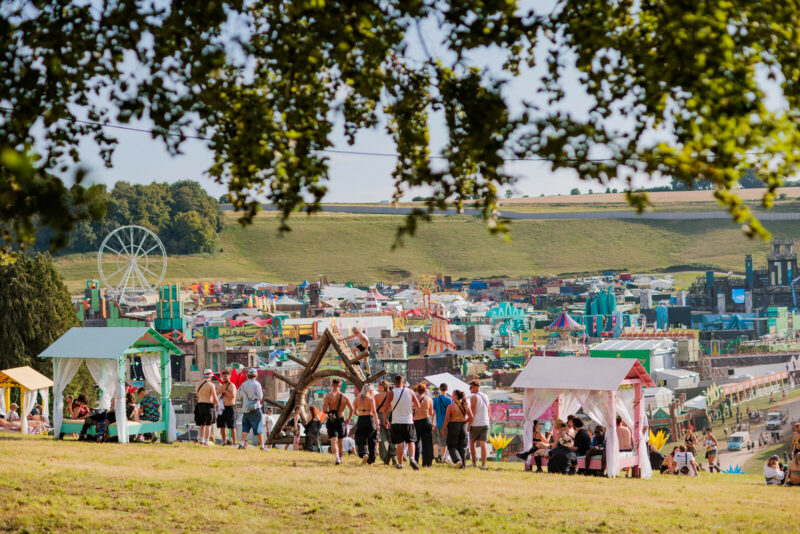 Skream b2b Hamdi caused an absolute roadblock so decided it was time to explore the corners of Boomtown that we were yet to get stuck into and embrace the experience. From immersive actors, multiple rooms to step into and secret bars to explore, juxtaposed with the wonky ravers that the craziness of Boomtown attracts, Friday night was nothing short of carnage. Wrapping up the night saw Serum and Inja step up to the Origin Stage, one of the biggest stages at the festival with arguably the best-set design and light show that UK festivals have to offer. Notoriously known for its vast array of D&B acts, Boomtown's Origin stage paired with the legendary pairing of Serum and Inja mixing jungle and jump up alongside lyrical fire, closed Friday night off on a high.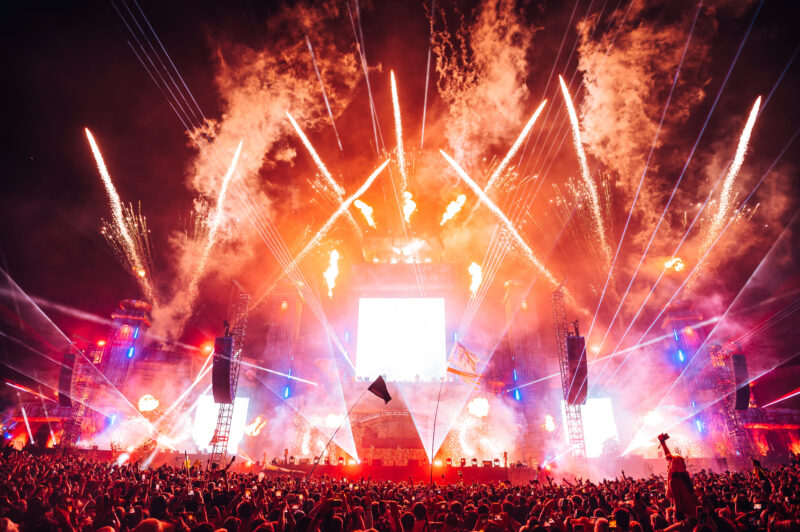 Moving into Saturday, the festival entertains hip-hop legends CYPRESS HILL who performed their album Black Sunday album as they celebrated its 30th anniversary on Boomtown's main stage – Downtown. A rare UK appearance, the crowds packed out in full force and the legends also treated fans to a few global hits away from the album, making for a weekend highlight. Prior to Saturday night's headliner, an afternoon lineup of garage took over. Boomtown delivered an epic billing on the Origin stage that saw ravers flock in their hundreds to sets like Oppidan b2b Matt Jam Lamont, Champion b2b MPH, Sammy Virji b2b DJ Q (who dropped current anthem "Shella Verse'"with Flowdan), Girls Don't Sync, Interplanetary Criminal and more. Later on into the night My Nu Leng stunned with a 10 Years Of My Nu Leng set featuring Dread MC on the mic which is now available for fans to treat themselves to online. Rounding of Grand Central on a high was none other than junglist Nia Archives, who combined epic vocals with flawless DJ talent, performing crowd favourites like "Mash Up The Dance", "Forbidden Feelingz" and new track "Bad Gyalz" among others.
With a lot of fun and frolics consumed, Sunday was a slower start taking in the more visual elements of what Boomtown has to offer. Getting back into the swing of things, A Little Sound brought one of Sunday afternoon's biggest crowds as she delivered her much loved D&B originals as well as ultimate floor fillers. Back on Grand Central, Australia's finest Confidence Man left fans speechless with the creative and versatile stage presence that sets them apart from the rest as well as performing recent favourite "Now U Do" with DJ Seinfeld. Stealing the show for the ultimate Sunday service on a glowing evening was none other than Sister Sledge, who performed hits like "He's The Greatest Dancer", "Lost In Music", "Thinking Of You" and of course closing out their show with "We Are Family". A versatile line up that allows for acts like Sister Sledge to play is what makes Boomtown a festival not to be missed.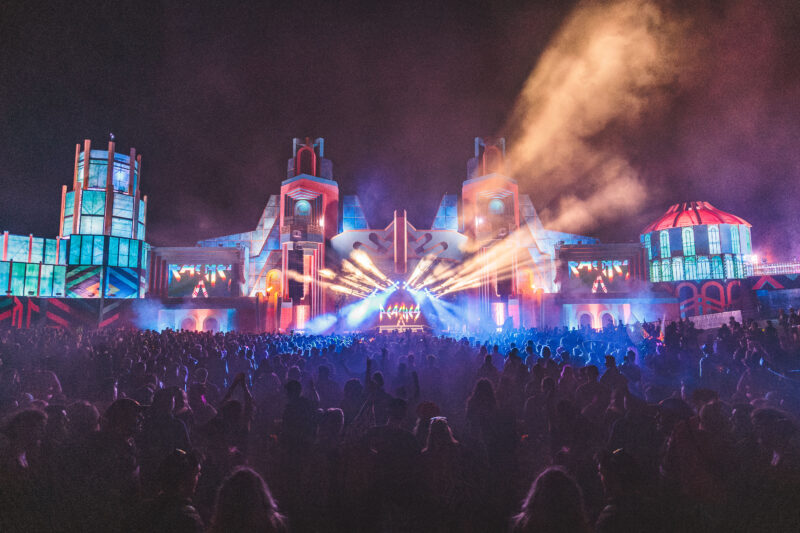 Additional Sunday highlights included Madidextrous who delivered mind-blowing 4×4 D&B weapons, whilst VTSS and Hudson Mohawke went b2b for a filmed Boiler Room x Sportsbanger special, with Boiler Room setting up shop across the whole of Sunday for a takeover in the Hidden Woods, making for a magical experience. Closing out the Sunday at Origin, and the whole of the Boomtown weekend was none other than Hedex for his special My Home Is The Rave set. It included special Hedex edits, collaborations and special guest appearances from A Little Sound, Mozey and more. Leading into the legendary Boomtown closing show, immersive visuals around this year's storyline appeared before launching into a firework ensemble whilst spreading their core messages of sustainability, preserving the environment and more. Not giving too much away into what's next in the storyline, Boomtown revealed their next chapter, Chapter Three: The Revolution of Imagination. Check out the closing ceremony after movie below to get a taste of what's in store.
For those who want to know more, and even immerse them in the experience next year, all details and updates can be found here for 2024. For more information on Boomtown please visit: Facebook | Twitter | Instagram