For many of us who dream of one day being the biggest pop artist in the world, that's all it could ever possibly be: a dream. Yet, for 18-year-old London-based artist Denis Coleman, that pipe dream is slowly becoming his reality — and quite frankly, he's thriving in it.
U.S-born but moving to the UK at the age of six, young Denis Coleman found himself captivated by the vibrancy of a busy London city. Navigating his new environment and working out who he now wanted to be, the U.S suburbs where he first grew up seemed like a lifetime ago. Since becoming his home, London itself has played a huge role in creating the Denis Coleman we see today. "It's probably influenced me in ways that I'm not even aware of just because it's such a melting pot of ideas and sounds," he says. "I don't think I could really see myself living anywhere else."
From a young age, Coleman played different instruments and wrote music, constructing heartfelt lyrics and exciting beats all by himself. Finding that his dream to become a recording artist was growing every day, he quickly fell in love with the art of creating music, and so, deciding to "trust the process," he took the plunge. "I think it can be easy to think that when we have different ambitions and want to take a less typical path, it can be unrealistic. But at the end of the day if you try hard enough and get a little bit of luck along the way, then anything is possible."
Releasing his first single in 2019, Denis Coleman was just a baby-faced artist living out his wildest dream ("Make Friends" is a certified bop, by the way). Now, despite only being three years later, his growth as an artist has increased incredibly. With his approach to writing music changing, he's now more insistent on playing a critical role in his musical output by co-producing his own work. By having this creative control over his own work, he can bring to life what his mind has been developing.
"The way that I approach writing a song is very much in every aspect," he explains. "When I'm writing the lyrics, I'm thinking about how the sounds make me feel, how do the rhythms interplay with each other and getting the production and the top line to really mesh well. When it comes to trying to create a song that feels as close as to what I'm hearing in my head and often the best way to do that is to take certain sections of the song and produce them myself."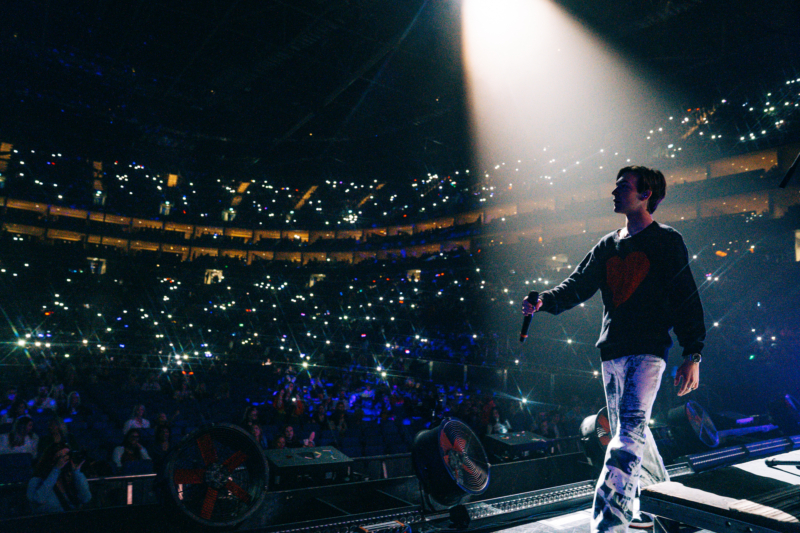 When I read his Spotify bio back to him – "I write happy songs about sad stuff" – he laughs. "Whenever I write, I really want there to be a purpose to be writing that song, whether that's something I've felt that I want to give a voice to, or something that I've seen in other people that I want to try to tackle, investigate and explain. Every topic I write about is usually either sad or deep in some way or a commentary on my life. It's hard to write a song that's too happy because it can feel almost superficial and not relevant to me."
Unafraid to discuss the tough topics within his music, Coleman recently released the bold single "Healing The Process," a hard-hitting track about our relationships with social media and the impact it has on our mental health. For someone who's grown up with the evolution of the online world and whose digital presence is critical to their career, surely it can feel overwhelmingly unavoidable? "It's a weird balance of knowing that it's not really helping my mental health but at the same time not knowing if there's really an alternative," he laments. "It's kind of just being in that limbo and in that weird state of trying to find the best way to navigate it."
The online world has a way of applying unnecessary pressure to those who actively consume it. But even those who have an influence are not safe from the negativity. "I'm aware that it's not great and that it's affecting me. It leads to all these little micro-adjustments in my mental health that when you combine them over a period of time, it's quite a noticeable dip."
Deciding that "Healing The Process" is his favourite song he's released to date (although "pillowTHOUGHTS" almost took the top spot), it's a sound that he's proud of. An honest account of an almost universal experience, it takes artists like Coleman to keep the conversation going around the importance of mental health and highlighting that even those we idolise do experience the same things that we do. Connecting with audiences around the world by writing songs that are relatable, to almost all of us, helps to position Coleman as one of our generation's key voices.
"When I look back at the things I was writing even just a year ago, I feel like I've changed a lot and evolved," he notes. "My influences change, my tastes change and practice does literally make perfect. But also, it's just things that happen in my life, like we had lockdowns and pandemics and these things that completely restructured the way we orient our lives and our relationships, and so many different challenges and ideas that we had to work through and figure out and I think that spawned a lot of creativity from me to try and tackle the way that I was feeling and engaging with these issues through my song writing."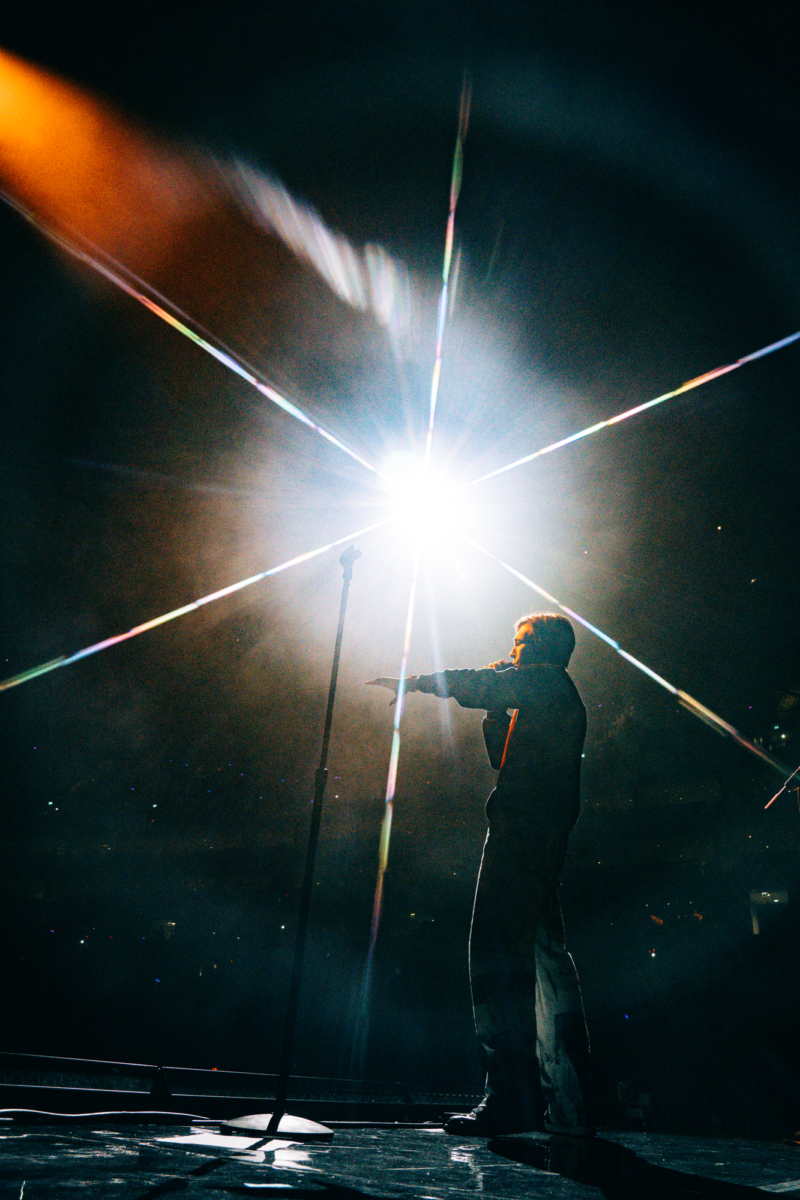 Having just toured with Little Mix on their Confetti tour, Coleman has officially become a part of the girls' final chapter (for now). "It literally took me to be on that stage for the first time to fully process that I'm on tour with Little Mix," he claims. "I think at this point, after doing a few shows, it's starting to sort of sink in that this is real." With his craft developing on these support tours, Coleman already has a captivating presence when he takes to the stage. An energetic set sees him warming up the audience with his illuminating tracks that are already perfected for arenas. Although playing the O2 arena is a huge milestone in an artist's career, this 18-year-old has already played it four times – I'd say that's pretty impressive.
As we both confirm that "Shoutout To My Ex" is the most classic Little Mix song, he reiterates the importance that touring with bigger acts has on rising artists. He's already racked up support slots with The Vamps and HRVY too, both of which are incredibly big UK artists, so what's it like sharing these stages with such pop royalty? "It's amazing and it's always a huge pleasure and honour to have that opportunity. It's a huge learning opportunity when I get to watch the way they perform and the way they work to get everything into place. There's so much to learn and it's a great chance to practice my own show, to reach new people and connect with fans. It's very special."
"This summer I'm doing a headline tour of the UK and I'm thrilled about that," he says excitedly. "When you're warming up for someone else there is a lot of pressure because, obviously, you don't want to let them down and they've brought you on to live up to that. But when it's my own show, I have full responsibility and control over it which is great but also it means that I have to do a very, very good job. So, I'll be working very hard on that to try and get it as perfect as possible."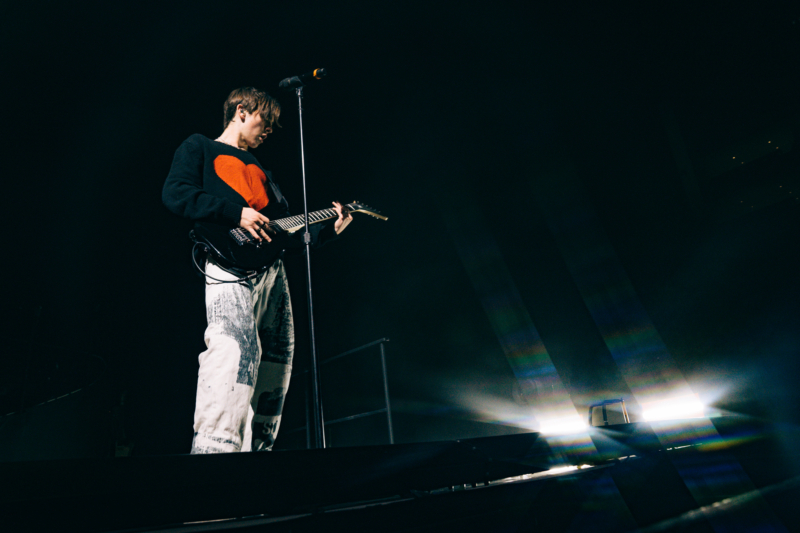 With a catalogue of great tunes ready to be shared with audiences across the UK, Coleman has just added another one to his discography in the shape of "Narcissist." Written about the attraction of similarities and narcissism in love, the single reveals itself to be an alluring guitar-fuelled number that continues Coleman's talent for writing addictive choruses, highlighting "the allure of similarity, about that initial rush when you meet someone who is 'just like you.' Time eventually reveals the nuances of everyone's character, but there is a brief dreamlike period in which every connection feels euphoric."
As a future arena headliner and an artist setting his sights on global fame, Denis Coleman is captivatingly grounded. When we discuss what the future holds and the things he wants to achieve, he answers with wisdom and self-awareness. "If I have to choose one thing, I think the most important thing is that my music is the best that it can be. I never want to be in a position where I'm flatlining or doing the same thing, I want to be better and hopefully in the space of the next few years that will be the case. But at the core of it, hopefully, the music is really meaningful and has a point to it."
Denis Coleman's headline UK tour starts this August. Tickets here.