As singer-songwriter Lizzy McAlpine continues to rise to stardom, I had a chance to chat with the 22-year old artist while she had an off day while supporting dodie on tour. The Pennsylvania-bred songwriter punctually arrived to our Zoom call with a cozy black crew neck sweater and with a pleasant and genuine smile – this is despite the fact that she's gearing up to perform her third show in four nights. Lizzy's only a few weeks away from charging forth her sophomore offering now with newfound attention from reputable A-listers like Shawn Mendes and Phoebe Bridges as well as a few TV performances on Ellen and Jimmy Kimmel Live! It's safe to say the momentum of her trajectory is in full-swing. Her new album five seconds flat releases today, and while sitting down with me, she had a chance to tell me more about it, and the road that led her here.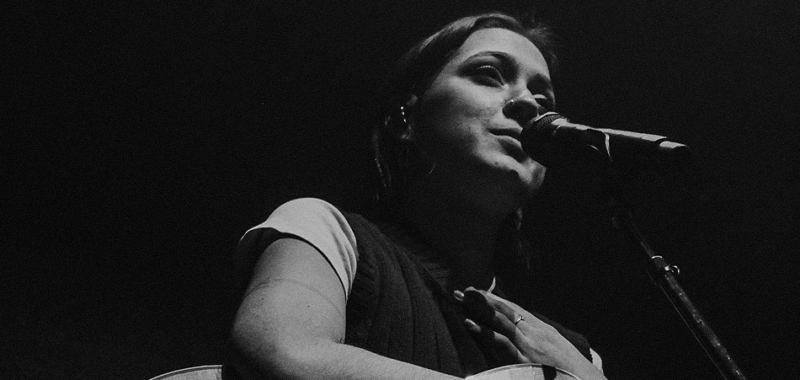 Only a few minutes into our conversation, Lizzy and I begin gabbing about frivolous things like New Girl and Philly cheesesteaks. Comfortable now, the singer tells me her story and some of the steps taken before landing where she is in her career today. She began writing when she was in 6th grade at age 12 in a family where only her sister was musical in any form or fashion. However, she believes that her mom might sneakily have a hidden talent when she occasionally hears her sing.
McAlpine didn't release her first studio album until 2020 with Give Me a Minute, which she details happened after she dropped out of Berklee two years in. Talking about her studies at Berklee, she  recounts, "it all kind of just went over my head if I'm being honest. I don't even know theory or anything like that. But the people that I met, and the friends that I had and surrounded myself while I was there for sure have an impact on the music that I make now. First and second semester I was surrounded by jazz musicians." During our talk, she also explained that her mother and grandmother were huge broadway music fans and listened to it around her growing up.
Almost two years to the day of our interview, Lizzy lost her father. I asked her if and how she goes about using music to cope with the grieving. "There was a song about my dad on the first album I put out, Give Me a Minute. Strangely, he passed on March 13 of 2020, which was the craziest time in the world. Then the album came out on the 13th of August with 13 songs and the 13th song was about him. I did not plan any of that." Lizzy then lifts her hand up in the Zoom call showing her tattoo of the number "13" on the back of her right hand between her wrist and thumb. Now, with the number having as much significance as it does, Lizzy McAlpine makes certain that every project she releases from here on out has a song about her father, particularly on track 13.
Her new album, five seconds flat, is executively produced by Phillip Etherington — one of her Berklee College of Music classmates —and Ehren Ebbage. She had a clear vision for her second album, writing a 14-song story arc about love & heartbreak– though mostly heartbreak. The studio album's title is actually drawn from one of the final moments in the upbeat track 14 of five seconds flat, "orange show speedway." She admitted that there were other potential titles for the album that didn't make the cut after realizing she actually didn't want them, like "hate to be lame," "isn't this always how it was gonna end," and "this year was a fever dream," but ultimately decided that "five seconds flat" incapsulated the whole love story just right at the close of the story. Both the album opener and closer are about the same ex-boyfriend.
Five of the fourteen tracks were available to the world prior to the album's release. The latest single released on the record was one of the numbers that nearly became the album name, however Lizzy described "hate to be lame" as not summing it up and being a "piece of the story, and not the whole." It's one of those eyebrow raisers for her audience as the new music finds McAlpine stepping into her own as an artist, stylistically building on her past work while looking toward the future. Joined by FINNEAS, the Phillip Etherington production perfectly rises and falls with FINNEAS commanding the final verse. He so subtly harmonizes with her on the last chorus and the marriage of their voices can easily send shivers down spines. When referring to the Grammy-award winning producer, FINNEAS, McAlpine gushes, "he's amazing, he's a genius. He's been so supportive of this song."
In the fall of 2020, Lizzy wrote "hate to be lame" in London while working on the When the World Stopped Moving: The Live EP. She was writing about a relationship that she was starting while over there and wondering whether or not to say 'I love you' despite her trauma and past relationships. She let it sit until she and Etherington began recording this new album. Interestingly enough, by the time she began recording five seconds flat, that same relationship was entering its tail end. "So, I wrote that bridge as a reflection. It was interesting because I wrote the song while in it, and then wrote the bridge removed from it." That bridge reads, "Do I love him? Do I need him?/Do I want him? Do I care enough to say/That I love him, that I need him?/'Cause I don't,/but I want to feel okay/If I love him, if I need him/Maybe that will make him stay/If I lie, will I still feel this way?"
The album also features a verse from upstate New York songwriter Laura Elliot on the seventh track, "weird." "I'm obsessed with her," McAlpine is quick to add. The two have more than just a musical history, as MacAlpine reveals that after being friends for a while, she discovered that "[Elliot]'s actually the cousin of my ex-boyfriend." Small world indeed.
The studio album is simultaneously released with an accompanied short film written by McAlpine herself. Alongside director Gus Black, they weave story plots from the album into a short narrative while incorporating the album's music videos. "I got to put all of my passions into one project," she says. "I haven't really done anything like this before, and I want to make acting a large part of my career in the future. So, this feels like a jumping-off point." Growing up in Philadelphia, Lizzy did theatre in high school and claims it was "her life" and all she cared about. Seems fitting that she wrote and performed in the short film, acting as the main protagonist.
"The narrative is very much about the fact that even though relationships and love are like so messy and feelings are so complicated and weird, and that no one knows what they're doing ever, and all that jazz— even though I've gotten my heart broken so many times, I still want love. I still search out love in relationships, because it's also beautiful at the same time. That's kind of like the central theme of the album and the short film put together."
The indie rock album five seconds flat begs the attention of all lovers of love, but inevitably feeds the downfall in her story arc of love. The hurt and joys that are packaged in to the ride are described by the songstress in unique and painstaking ways. Her brushstroke is broad and her work is vivid. The fourteen songs will get you on the Lizzy McAlpine train if you haven't already on-boarded.
Connect with Lizzy McAlpine: TikTok | Youtube | Instagram | Twitter | Facebook