Toronto'sSophie Powers captures the empowerment the feeling of leaving a bad situation on anthemic rock track "Clearview," featuring UK alt artist NOAHFINNCE. Led by her bold vocals which plays off Finnce's gritty delivery, the production explores leaving someone toxic behind in a fierce chase of negative feelings.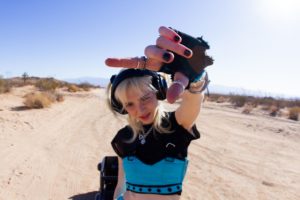 Drawn from Powers' personal experience, the punchy guitars and explosive beats of the offering are elevated by vivid visuals that imagine breaking out of a toxic relationship as a high-speed car chase, successfully escaping a person "no longer in my rearview mirror," according to Powers. With swag and confidence balanced against raw vulnerability, Powers channels passionate pop-touched, punk rock sensibilities for an optimistic message that encourages us to face the confines of negativity that hold us back.
Making her debut earlier this year with "Loney Army," and quickly racking up million streams for it, Powers shows promise as an artist. At just 17 years, tapping into the loneliness of contemporary life while simultaneously offering us companionship with her unfiltered and down-to-earth anthems – and "Clearview" is one more indication that the only way is forward and upwards for this rising star.
Connect with Sophie Powers : Instagram| Facebook