The bedroom pop movement of the last few years has spurred a rise in artists that can singlehandedly catch the ears of listeners across the world. It is this authenticity and "do it yourself" style that forms the backbone of Garret Seaman's, a.k.a Postcard Boy, latest music. Throughout his newest work, Limbo,  the San Diego native takes us on an exploration of teenage love, relationships, and the emotions that come with adolescence.  
Before pursuing music, Seaman was a photographer under alias phylm, shooting for brands like Volcom and Brixton. Postcard Boy represents an extension of Seaman's artistry, proving his talent transcends visuals and film. 
With Limbo, Postcard Boy finds a perfect balance, combining a classic bedroom pop sound with elements of punk and electronic music. Whether it be the auto-tuned vocals, disorienting drums, or chaotic guitar, Seaman's experimental style pushes the boundaries of the indie genre.
Limbo begins with "Dazed," providing the perfect introduction to the project. The track takes a nostalgic look at the ups and downs of relationships, with pitched-up vocals over minimal percussion culminating in a bass-heavy electric guitar solo. The following track, "Flight," details the carefree joy of California summers that Seaman hopes will never end.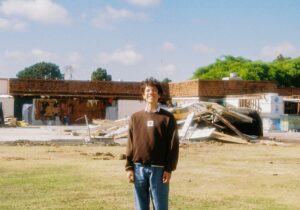 The title track is definitely the most experimental of the bunch. A spacey intro meets turbulent guitar and rapid drums, embodying the confusion that comes with growing up. "Company" proves to be the most introspective, where Postcard Boy finds himself reflecting on his introversion. The instrumental is more pop-oriented and upbeat with catchy lyrics that are especially relevant in the times of COVID-19: "Not the type to call. I like privacy and time to me but I really need company." The final two tracks, "Sincerely" and "We've Been Here Our Whole Lives" provide melancholy, bittersweet goodbye tracks, remembering the highlights of the teenage years.
Though this project only runs 20 minutes, the listener feels as though they are growing and reminiscing along with Postcard Boy. With each track, we are reminded of the joys of youth and the melting pot of emotions that come with growing up. 
Check out Postcard Boy's Limbo on Soundcloud above or here on Spotify. 
Connect with Postcard Boy: Instagram | Twitter | SoundCloud | Spotify