If you appreciate quality rap music, you've probably already listened to several artists that make up the Atlanta collective Spillage Village. Most recently, J.I.D and EarthGang from the group have signed to J Cole's iconic Dreamville Records. Nevertheless, Spillage Village comprises not only the two recent Dreamville sensations but also 6LACK, Mereba, Jurdan Bryant, Hollywood JB, and Benji. Their latest song "End of Daze" is an eerie track addressing several crises simultaneously occurring in society today. We can praise Mike Dean, Nice Rec, Johnny Venus, Jay Card, Christo, and Elite for providing us with a calming yet alluring sound production throughout the entire track. From the death of basketball icon Kobe Bryant to the murder of George Floyd, J.I.D, EarthGang, Mereba, Jurdan Bryant, and Hollywood JB all hop on "End of Daze" to voice their perspective on societal issues and the importance of protecting one's peace during troubling times.
Throughout the music video, we see each artist maintaining the utmost composure while being exposed to traumatic experiences showcased on an old school television set. Directed by Caleb Seales, the visual shows viewers clips on the COVID-19 pandemic, the death of Breonna Taylor, and the recent uprising of Black Lives Matter protests. Simultaneously the distinct soothing lyrical flows throughout "End of Daze" fits nicely with the relaxed demeanor of each artist – such as Olu from EarthGang strumming a guitar and J.I.D sparking up. If there is anything we take away from this song written during a global pandemic and the increasing protests for racial equity it is to maintain awareness, continue advocacy, and protect your peace.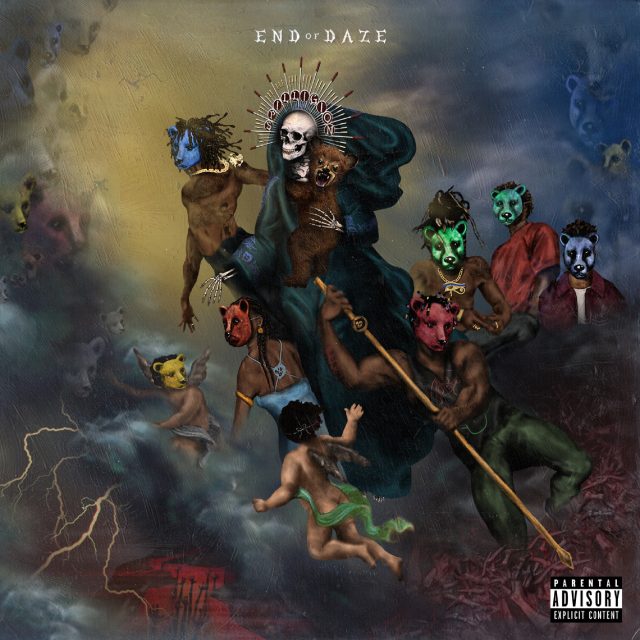 A few months ago, EarthGang took to Twitter to announce the upcoming Spillage Village album titled Spiligion. We can look forward to the project dropping later this summer.
Connect with Spillage Village: Spotify | Instagram | Twitter | Facebook