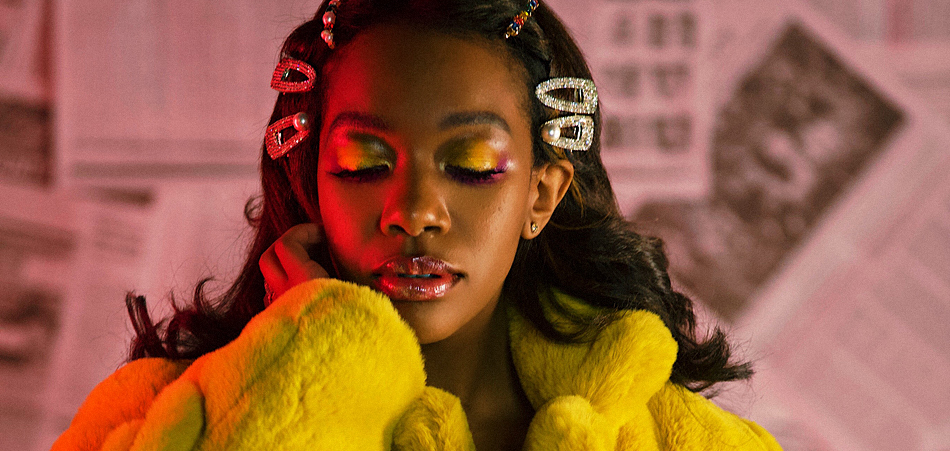 Just last year, A$H. set out to create a debut album showcasing that she isn't an artist looking to find her seat at the table because she is too busy building her own with a unique art-pop sound. Upon the first listen to It's Just Art, the bright imagery within the music creates the perfect soundtrack that is fit to be cohesive with a melanin runway show or the front page of a magazine cover. Now, the Oklahoma City-born singer is releasing her new visuals made to compliment her album with the premiere of her new short film under the album's moniker.
When it comes to the lo-fi short film, it serves as an adventure through the glamorous depths of her mind as it looks as bright as her music sounds. Every song that's featured represents a different side of her that has helped build her as an artist while still balancing a love life and a separate career. However many times the mood changes throughout the short film, the one thing that's constant is the glossy persona with her "suit jacket and Chanel shades" ready to take over the show. She is still a growing indie singer but the visuals are a clear indication that she's ready to steal the spotlight with her aura. 
Whether you're an artist, a performer, or a writer, the underlying commonality that's shared is your work serves as your rawest forms of expression. It's never premeditatedly made to be critiqued, only purposed to be consumed and digested by fans to grasp a better understanding of who they are when the spotlight goes away. For A$H., this is her chance to blend her vocals with her established background as a performer. "I think this will give people an opportunity to see independent artistry from a brown girl that's still pop, bright, and sexy," shares A$H. in a phone interview with EARMILK. 
While her music background has been well established being a third-generation female singer stands out, her experience with performing comes on full display as the energy she gives in each scene solidifies the emotion she's trying to give. When asked about growing as a performer, A$H. said her time as a Theatre major at Spelman College played a big role in helping her become more comfortable in front of the camera and recording live. "Performance and theatre are helpful because it helps you take whatever art form you have and deliver it with confidence… it was definitely a big shaper in my ability to be an artist today." 
The confidence isn't lost with her on the business side either as she's also continuing to build the independent label she's helped birth with her producer, Glam Pop Records. Although she made it clear that it can be difficult at times, the pleasure she finds in the process keeps her constantly focused on making sure the label progresses. "Like Nipsey Hussle, it's a marathon and a constant look in the mirror… there's nothing like building something of your own and doing things the right way. it keeps me happy and fulfilled because when you take on the calling of an artist, nothing is handed to you. This is my calling, so I'm going to ride the marathon out."
Check out her debut album It's Just Art and take a listen here. Make sure you grab the special edition vinyl copy here