Ahead of her performance at Electric Island in Toronto this weekend, we caught up with Blond:ish, now the solo act of Vivie-Ann Bakos, to talk about the changes she wishes to see in the music industry in order to combat the issue of plastic waste that is plaguing our planet. She's launched an eco-initiative called "Bye Bye Plastic" that aims to improve the way the nightlife industry uses plastic – ideally not at all. 
Bakos recently split ways with Anstascia D'Elene Corniere and now represents Blond:ish on her own. When asked about the transition on the road and in the studio, she says she hasn't thought much about it, but if she has to answer, "creatively wise there's no compromises or other opinions coming into play, which could be good or bad or who knows but it's just a complete freedom of expression and decisions made instantly and at your own pace!  Solo life on the road seems more professional these days less partying less drinking. I think since the plastic mission just on a different vibe these days!" The world can't wait so I'm taking initiative to have less hangovers and take care of my body." She says with a wink.
Speaking about her plastic mission, I wanted to know where the initial urge to do something came from, as she's been a huge proponent of removing plastics from the music industry. "A turning point came at sunrise at Warung Brazil a few years ago," says Bakos. "After an amazing show with 2000 people, the sun rose over the cliff shining on a plastic tsunami of bottles and cups that had been left behind by ravers. This was the (plastic) straw that broke the camel's back." She used this as fuel for developing her Bye Bye Plastic project that is now aiming to reduce plastics on DJ riders and in venues. I asked what we can look forward to in the future with Bye Bye Plastic, and she enthusiastically says, "Oh wow, well there's so much going on, it's insanity.  Moving so fast – right now I've just finalized a pitch deck for a documentary series with the producer Sergio Lazarov called the 'Zero Plastic Tour". He's shopping it now with all the streamers. We're also working on a huge coordinated festival effort for World Oceans Day/Week in June 2020."
Blond:ish wants to be a point of contact for making this change in the industry a bit easier. Bakos says, "If you're a festival or promoter and want to do the same in your city, please contact me, together is better for sure." She highlights global partying destination Ibiza as a perfect target, saying "There are so many beautiful organisations in Ibiza so we're all talking on how to amplify the efforts on making Ibiza a plastic-free island." If you've been to any large scale music production I'm sure you can relate to the mounds of plastic water bottles etc. that are left over at the end of every event. The ideas she presents are relevant to everyone who enjoys the nightlife industry, but more importantly, is that it doesn't have a negative impact on our planet. 
As such, Bakos developed a few missions that are very possible to accommodate in the near future: 
"Mission 1: Change hospitality rider to be single use plastic free. This includes a coordinated social media effort.
Mission 2: Install and upgrade booking process to include carbon offsetting automatically so we are carbon neutral or carbon positive DJs. If DJs have a solid logistics team we educate them on how to gently remind promoters to transition from plastics. Our BBP team is currently speaking with bamboo cutlery and reusable bottles and cups for travelling so we can all be single use plastic free in our suitcase and on the road too."
Getting back to the current state of her travels and tours, Bakos is now embarking on a trip that sees her headline Electric Island this weekend, which for those who are looking to attend, should know it's now taking place at Woodbine Park for the June 22nd edition. The flooding caused the team to switch to a perfect second home, while the later events this summer will head back to the island. 
As mega acts and audience favourites like DJ Harvey and Seth Troxler share headlining duties with Bakos, I wanted to know who some of her personal favourite DJs and inspirations are. Her response struck me as positive and inspiring, as she shared "I'm honestly inspired by any DJ or artist passionate about and owning their craft.  It's so inspiring! That feeling resonates." Her description of her sound is also refreshing, as she describes it as "Positive and uplifting.. F U N ." Bakos says, "That's my vibe these days." We can't argue with the formula for success when it involves those few words. 
When it comes to the actual production of said music, I was curious to find out just one or two of her favourite synths, drum machines or plugins that she likes to use. Usually, when I pose this question to an artist they don't get down to specifics which is really what I'm after, and luckily this time Viv was generous to share some of her secret tools of the trade. ": On the road, I keep it simple" she says. "I like to use any sounds that are around me, record them and play around with them … then some Omnisphere, Sub Boom bass, Izotope and Komplete 12." 
"When I play my DJ sets, I use the Roland hpd20 and the teile delay made by rampa. At home I use the UAD plugins a lot, and when I'm lost in my friend's studio in Berlin I jump in his Euro rack straight to the SMR – that's my jam."
Blond:ish has been busy these days, and that goes the same for her production schedule. When asked about upcoming releases, she had a lot to talk about. "Well it's a bit early to say, but honestly have been trying every angle to get the "Foreigner – I Wanna Know What Love Is" record cleared by the band — we finally got in touch with the band directly so cross your fingers and toes for me so we can get this record out and share the loveeeee like we did so much when I played it the first time at Burning Man in 2018.
There's also an old Fela Kuti record that I sampled, it had the longest name I ever saw Mr. Grammarionalism llalala – it's coming out on MoBlack. Then I did a track for some female summer vibes, it's a Dexter Wensel sample, you'll recognise it when you hear it."
In addition to the more dance-focused music, Bakos has been working on ambient works and an album. She says "I did a remix for my ex-boyfriend LUM it's more of an ambient trip, it will be out on vinyl and digital on his label soon. I think there's a LUM original and Bedouin remix in the same pack. I've organically also started working on an album ;) looking to have it finished by the end of the year — I love to explore sound in different ways and albums are always a chance for me to get away from the 4/4 kicks and experiment with instrumentation." With an output like that we can be sure to see lots of upcoming releases in the near future!
As for shows, "I'm really looking forward to Electric Island of course ;) Always love being back in Canada, it's always a vibe! And can't wait for all the A B R A C A D A B R A parties we have this summer! We have Barcelona on Saturday July 20, Fri July 26 w/ Lunar Disco, Fri Aug 23 w/ Maga, and Fri Sept 20 w/ Special Guest." You can catch Blond:ish (Vivie-Ann) on tour at Electric Island this weekend or all around the world, follow her on her social media outlets to stay informed!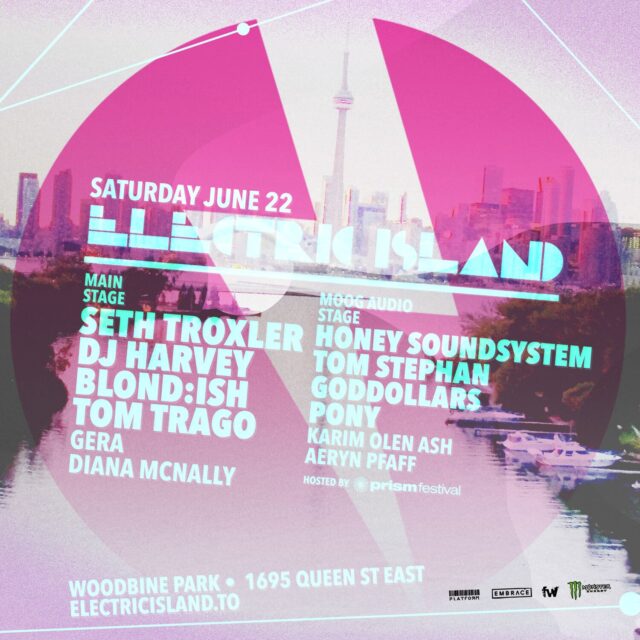 Connect with Blond:ish: Facebook | Soundcloud | Twitter