Over 80,000 attendees made their way towards ZOZO Marine Stadium and Makuhari Beach Park for the 3rd annual EDC Japan held on May 11 and 12. With wave upon wave of music enthusiasts making their way out of the local station and heading towards the "konbini," also known as a convenience store to grab their alcoholic drinks (yes it is legal to drink on the streets in Japan.) The energy was erupting as we prepared to take on the journey to the festival grounds. Before even arriving at the festival grounds, a sea of extravagant and vibrant matching outfits portrayed a sense of togetherness to bound the experience for everyone involved.
Approaching the gates, you could see an influx of locals rocking their favorite artist's merchandise—from those headbangers waiting to ride the rail with Excision, to going on an uplifting journey with Alison Wonderland. The strong presence of music culture could be felt not only for the main stage acts but from the diverse lineup Insomniac and HARD curated for this year. Acts ranged from rising Tokyo producers such as Allen Mock and bass duo Herbalistek to international artists  Jauz, Tchami, Malaa, Major Lazer and RL Grime.
The energy was electric from the start but it really wasn't until Jonney Ford took the stage that the RYDER cult was in high-speed self-driving mode. JOYRYDE took full control of the steering wheel and onto a journey paved with genre-bending records and hard-hitting bass drops.
If there is one guy who I can trust taking me on a 130km cinematic journey on my laptop, it is JOYRYDE and EARMILK had the unique chance to catch the artist following his 2nd EDC Japan appearance. Check out our exclusive EDC Japan interview with JOYRYDE below:
EARMILK: I have always been curious about how you prepare yourself before pushing the pedal at club shows and festivals around the world. Are there any pre-show rituals you can share with us?
Jonney Ford: Most of my sets are driven around what I am going to release as a recording artist with JOYRYDE, so the first part of every set and building the set is what is the new music that I want to inject into people's lives that enjoy JOYRDYE and how will they better understand that because you can't just drop something that's from a different genre or the wrong thing just after anything. You have to pave the inspiration towards the song, at least I like to kind of pave the inspiration for each record that I am going to play and it's unreleased because unreleased music people do not know and cannot celebrate, although they might hear it and say wow that was crazy.
It's not energy in the same way, but what I like to do is set up the playing field for it so that the tracks before are something that either inspired it or I feel is in the same family. That is one section, then I am asking myself okay when is the last time you played here, in this country or this festival and I have my JOYRYDE records that I want to play. The ones that people know and if I played here last time or in a night club or something, I would look back at the set and see what I have played at the start and put that more towards the end. It's the same music. I can't change the music I have released, but I can change in the order and play it so it's very exciting to me.
I also like to take little bits of audio from each track and put it in build ups where you think it's going to go into one of the tracks and then it doesn't, but then it comes later. That is really most of it. It's just the stuff I want to play that's new, architect a way to make that interesting and then a cool way to play the music they already know.
EM: During the middle of your Asia Tour in 2017, you played your first EDC Japan at the circuitGROUNDS Today, the "RYDRS" were in full force at the kineticFIELD prepared to be taken on a cinematic journey influenced by your personality and passion for cars. How would you describe your feelings while performing on the main stage today?
JF: The first time we came here on the circuit GROUNDS, because it was the first EDC ever in Japan, it felt like there was no comparison. It was WILD. Like no one knew what to do and no one has ever done it before. They have been to events, stood in front of people playing and they have enjoyed the music, but when you have never been to the place before and it is a different name and everything. There is a level of originality to it, because you know that no other person has stood on that dance floor before so they will go mental. I lost it… like I went so hard. I pulled muscles, hurt my arm, lost my voice from shouting because I went all out. It felt like the moment was so live and now here we are two years after that.
We got a culture in Japan. Japanese people are amazing at absorbing the culture and perfecting it. You can show them a piece of music that they have never heard in their lives and then two years later they have not only adopted it as their own, but they start to improve it. They start to perfect it and adapt it to their lifestyle. You come back to now and I was speaking with the festival owners. The men and women who run this festival and they said: "look man, two years ago when we started this festival people were only vibing to main stage music, like big room and trance was the only stuff they knew." I just left the main stage today and Excision was playing. We are talking about some underground dubstep smacking music and now the locals from Japan don't only enjoy it, but they are a part of it. People already know it and the culture.  They are into it and to show that the fast progress where they are not just being played something and this is what is happening, it's immersive and they have already understood it.
That is one of the amazing things about Japan. They adopt whatever you put in front of them and they own it. Eventually, they will shape it. Now, they know my music and feel that is in the main stage caliber and obviously I am honored. That's amazing, but that is not the headline. The headline is watching how the people in Japan have enjoyed my music and how they have evolved.
EM: Just over a month ago you released "YUCK" featuring killer vocals from GOLD. Initiating a hip-hop infused vibe and pushing the boundaries forward, can you break down what it was like creating this dynamic single with GOLD?
JF: Part of the biggest frustration of my life is taking out my intention from my head and putting it into a practical product. It's easy to understand something in your head, but then to write the language down into a format that people can not just hear it, but actually understand what you were trying to say. It's tough because I see in my head oh yea hip hop and rap beats that's fine, but when you come to the blank page sometimes what comes out of you is not what you are trying to get.
There are a few records in your career that italicize the effort and that was one of them. "YUCK" was one of the records where his lyrics straight on my beat just played back so innocently without any type of production effort. I wasn't trying to pull something out of the bag and fix something. I literally put his vocal on this beat  and…flames. It just flowed and it is moments like that which remind me how important it is to keep being in love with things that are good taste. Not just what you are doing because if you are only doing what you understand, it leaves no room for discovery. Discovery is the most fulfilling thing because that is when you remind yourself after five years like oh sh*t.. there is more and this is new. This is great and it stills sounds like me and has that vibe, but this a whole new thing. Between that idea and "YUCK," there is countless instrumentals and ID's on my computer which arguably could be records, but "YUCK" just made it. GOLD's voice is so commanding. It is the type of voice that when a guy starts talking it does not matter who you are. You shut the f*ck up and let this breath leave the lungs and you pay attention. It's impressive to watch a person's voice be commanding than the hype of production elements, such as bass and sub because his voice is the headline. His message and attitude is like the headline then.
The song feels like it is coming in after him and doing its thing. Which is equally important, but finding people like that and having a sound to their voice is very important. I spend a long time finding interesting sounding things whether it's a hydraulic drift or a guy's voice, but they are super important. Things like that make the records. You need the tools to build the concept and it was an exciting road to watch that happen. I have tracks that I have spent months on, "YUCK" fell together in nine hours. I tweaked it a little bit at the end, but the majority of the record was untouched. I knew if I kept producing it too much it would become lame so I let it sit.
EM: Being fully transparent and honest with your audience is a trait many in the music industry completely respect about you. After recently announcing a later release of your upcoming single "Selecta 19," are you able to share what you intend your audience to take away from this track?
JF: The biggest part for me and being where I am right now is the responsibility I hold to people who want to enjoy good quality hardcore music, but not have to settle for a format that is fully excavated. There are a lot of formats in audio, sound, and genre which are excavated in a sense where when a sound is excavated and right now you go and purchase a sample pack of a certain genre, with $25 you could sound just as good as the headliners. That means to me that sound is excavated. I feel like I want to be a part of something I do not fully understand and I think what excites me about the ideas my team and I get involved in is that it paves its way for the next thing. Now I made "Selecta," it sounded good, but I felt a responsibility to an underground music sound to take it to another section. Maybe the trick for it to sound better, was making it sound worse. To shave off some of the polishing and make it a bit more raw. However, when you juggle a lot of elements of a product, sometimes you can become confused. I wasn't ready to let my confusion dictate my timetable and release schedule.
I wanted to make sure what I put out is something which I was fully honest about like you said. I don't think honesty equals correct, but honest equals honesty. I would prefer honesty with me forever rather than perfection because I am a human being that has confidence but can suddenly have doubts. I will embrace both publicly and with confidence because that is all I got for people. It's to be myself. If I am trying to display perfection, that is bullsh*t because nothing is perfect. Perfection is something you can only appreciate after the fact. You cannot aim towards perfection, you can only look back after ten years and say sh*t yea that was perfect, but you are not entitled to know that beforehand it needs to have just as much of a chance to fail as the other. Only when it has a chance to fail can it really succeed because people sense when something is pre-made to achieve a certain level of appreciation. When it can lose then that's when people actually say f*ck it, I am going to make this track popular and then their friends love it because it was not supposed to be big.
Now "Selecta" is a song I am extremely passionate about and I did disappoint myself because I could not mean it within the deadline, but I am very humbled that I had my team around me to support me and tell me to do what I feel. When it does come out which it will, along with a fire video we filmed including a lot of people I love, I will be very happy to share it. I know that this will be the best version "Selecta" will be even if it is architected to be worst sounding.
EM: Love that. I know we are all looking forward it. Besides performing and producing tracks, you are also passionate about editing your own videos such as "NEW BREED" which correlates to the immersive experience you provide your listeners. What would you say is the biggest challenge you have faced when multi-tasking all core elements of production? Is there an example scenario which stands out to you?
JF: The biggest challenge in the multi-tasking is remembering that there is a core center to the project. The problem is that when you have five thousand listeners that is okay because they are all there for one song. When you have twenty thousand listeners, probably these four songs got them in and there is chance they have a similarity between them. Now after four years of projects and you have one and a half million listeners a month, you have attracted one and a half million different people with different personalities and angles of attraction to your product. One guy came for the house, one for the trap and some guy came for the aesthetic which is the overall behavior of the project. I find myself trying to keep a medium of the behavior of the stuff. The actual creating of it is all fun. Especially the people who are professionals who get paid and every once and a while they will edit something that reminds them of why they are doing this. It reignites this childish element and you realize you have the power to edit time and to freeze time and edit reality. In a way that no one else can. You can freeze, pitch, edit, turn and make a beautiful thing which people cannot see when they look out into the world. That is really inspiring. When you have peers that you love and idols you want to honor with your work having that basis of love really shapes what you do. The hardest thing for me is trying to enjoy what I love with the 1.5 million people who listen to the product each month. I don't want them to be disappointed, but you have to draw some margins with people who prefer specific genres.
If you can find something you are doing for free, you will never have to do it for free because you love it so much. You just only want to do it. I think I am grateful I could find a project where I can implement all of my passions for creative arts and I am constantly trying to learn about photography and music. You watch someone do an amazing video and think I am not good enough. My photographer Nate knows that being able to open your computer and modify an image from nothing.
There are people out there who are convinced that a photograph mimics reality. They cannot understand the picture that you have edited is not what the world looks like. They are thinking where is this world? It's crazy. People freak out and don't understand, but what you don't understand drives you into things.
EM: After showcasing your innovative stage experience during your past C.A.R.S tour in North America featuring an interactive 1969 matte black Dodge Charger, do you have any plans on enhancing or bringing a similar stage design for future tours?
JF: I have never told any media outlet this before, but when I started with JOYRYDE I had next to nothing in a financial sense. I had at most maybe one hundred to three hundred dollars in my bank. I was borrowing money to keep my project going and of course, pay my rent. My team helped me out as much as I could, and I felt this importance to bring something significant with my entrance. I always wanted to put a vehicle on stage, and I think it's the hardest shit and that itself is a flex and impressive. I reached out to my team and people close to my heart to reach into their pockets and allow me to do this. I borrowed money to make this and we did that car stage, but now we are going to do it again.
This year I start a tour. I have my own concert tour which is like something I have never done before. We are going to start in July and go all the way through the summer until January. It's literally nonstop and we are going to hit all of the continents in the world. Every major city that we can and the music for that I am trying to make it that every single song that I play is involved with JOYRYDE. Either it's an original song for me, a remix someone has done of one of my originals or a remix I have done of a song that I have played. Not necessarily a remix, but a version I have played. Either my hands been on it or it is a remix of my song. I am going to try and do that, but it is hard sometimes because I play so many records in my sets. I am willing to inject the same amount of appreciation for the tangible aesthetics I did before, but this time I am willing to use the people I have met in the 3 years of JOYRYDE to get this done. The same person who made that car stage happen has met with people who only make car stages happen. 
If you have not stepped in JOYRYDE's world of adrenaline and pure madness, you are in for a treat as phase one of the BRAVE World Tour is launching off at FVDED In The Park on July 5th. As Jonney was thrilled to share that "this time they will be bringing the gas and making something amazing in as many cities they can hold this in." For more information on how to score those pre-sale tickets before the chaos click here.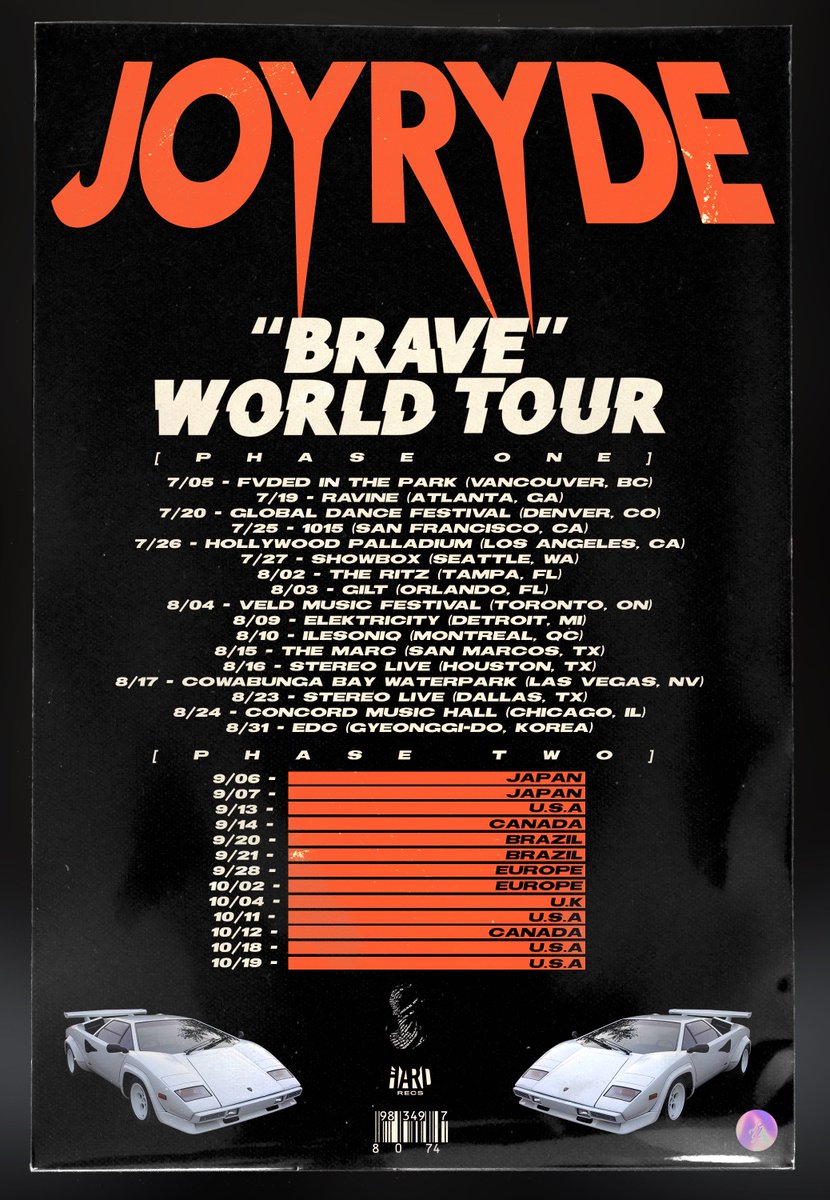 Connect with JOYRYDE: Facebook | Instagram | Soundcloud | Twitter