Last week, New Yorkers began a ritual that we have experienced too often over the past decade: bidding farewell to one of the city's music venues. But unlike the still sour loss of Roseland Ballroom in 2015, the East Village staple Webster Hall has gotten lucky. The venue opened in 1886, and is one of the city's oldest standing venues, with its Grand Ballroom holding 1500 capacity, its Marlin Room at 600, and its Studio at 400. Surviving fires and additions, Webster Hall became a beacon over the years, seeing New York's East Village nightlife transform from seedy underground to new heights of revival. It's seen Bob Dylan, Frank Sinatra, B.B. King and more perform on its stages, and embraced the electronic music boom in the 2010's. But now, that history has the chance to see its time go, as the venue's purchase by AEG Live and Brooklyn's Barclay's Center earlier this year has led to renovations of an outcome that has not been shared with the public.
Last Saturday, Webster Hall as we know it hosted its last club night as we know it. Bidding farewell to its party series Bright Nights of the past and Gotham of the present, Grammy-winning face of the electronic music generation Skrillex joined to bring the place to the ground, nearly literally. In a classically Webster Hall way, the place was overflowing with people – undoubtedly over capacity as the sold out venue sold more tickets at the door – but in a celebratory way. The center balcony generally shakes with a raucous crowd, but this night, the whole room shook. Photographers shooting the show claimed "you could bake a cake on stage" from how hot it was, the mosh pits (that included a Skrillex-aided DJ Sliink), and more celebrity turn out from Boys Noize, Tommy Sunshine the night felt even more special with a rare set from Dog Blood. Aided by Skrillex's notorious energy, the seeming hundreds of friends on stage along with him and an unspoken honor to be there, Skrillex's farewell went out with a bang. Followed by the final closing show with Action Bronson on Friday, August 11th, Webster Hall literally brought down the house.
Skrillex knows how to throw down at Webster Hall's final club night.

Posted by EARMILK on Sunday, August 6, 2017
Designated an NYC landmark, Webster Hall could see a totally new life after its renovations: a new name, a new look, and a new feel that could all be determined – we'll have to wait to find out. But until then, we have our favorite memories to hod onto. We checked in with some of the venue's regulars, some industry insiders and our own team to share some of their favorite memories from the one and only Webster Hall as it goes into the unknown. 
"One of the first things that pops into my head is the time Katy Perry showed up at Bassment Saturdays. It was when she was dating Diplo and the MDBP after party was upstairs. It was way too hectic up there, even in the green room, so someone brought her down to Bassment. She was just hanging out on stage, towards the edge of the stage right by the crowd. No one bothered her, maybe a couple people said hi and asked for photos but she wasn't bombarded. That was one of the things I most loved about that place… anyone could feel comfortable there, mega star or not." – Mark Martinez, aka Subset
https://www.youtube.com/watch?v=Gmdot0pQzSs
"Webster Hall has to be one of my favorite venues in the States. The last time I played there with Bakermat, it was completely sold out and easily one of the best shows of the tour. While Bakermat was playing, I actually went into the crowd and had the best time with some of the attendees, dancing and doing tequila shots at their table! I want to wish Webster Hall all the best during the renovations and hope to be back soon!" – Sam Feldt
"Our "fondest memory" at Webster Hall was the time someone on the team thought it was a good idea to throw semi hard balls into the crowd….everything was fine until they started throwing them back at us on the stage. It turned into a shit show!!" – Krewella
"I went from sneaking into the green (fan) to kicking people out of the green (manager). The first was much more fun" – Enes, Disruptor Management
"Webster Hall has been a venue that was a total neighborhood spot in the East Village, despite its worldwide notoriety. For those of us who live nearby, it's a guarantee, and for me, as I began finagling my way into the New York music scene, it was a staple in my nightlife. They treated us like family. On some nights, you just had to say the right name and be courteous to get a VIP band at the door. Security, though, was no joke. As a girl you had to prepare yourself to get completely felt up getting searched and going through the doors, and get scolded if you flinched. And then there's the green room and the stairs leading down to the stage – who knows what year they were built." – Steph Evans, EARMILK Managing Editor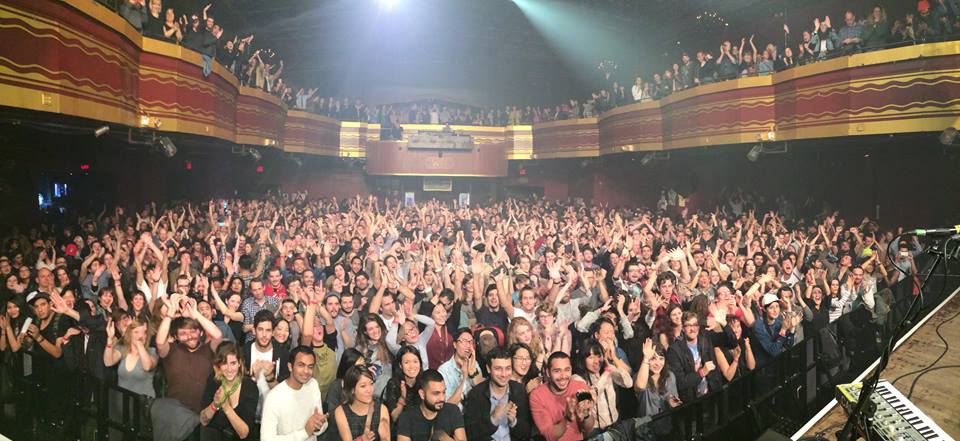 "Webster Hall is legendary; being able to perform at the same venue as Tina Turner and Metallica was such a rush. The green room is cozy, my crew was able to see the show from there, and they told me that they'd never seen a balcony as turnt as when I performed a sold out show there and that is a very special memory for me. I loved playing that space!" – Lizzo
"One time when seeing Devendra Banhart in the Main Ballroom, all the cell towers in the city just stopped working, so I couldn't keep track of the time and be sure to catch the last train upstate…and I wasn't the only one. What'd everyone do? Sit down and sing along to "At the Hop," because fuck cell phones." – Alex Wojcik, EARMILK contributor
"I've only played at Webster Hall once if I'm not mistaken but it made an impression on me. The quality that stands out the most is the architecture. The balcony gives you the feeling you are performing in front of the amphitheater, you have people not only on the dance floor underneath your feet but also above and around you, which makes the exchanging of the energies between me and the audience a bit more intense." – UMEK
"Our first time ever playing Webster Hall was opening for Ellie Goulding on her first US tour.  We had been to countless shows as fans at Webster, and then the night of the show, we had a million friends backstage all partying in the crowded green room and remember thinking 'So this is what it's like up here…'" – Ben "B-Roc" Ruttner and James "JPatt" Patterson, aka The Knocks
One New Year's Eve I wound up having sex on stage under a table, and that awesome bartender Rob Lowe (sp?) lifted up the tablecloth, shook his finger at us, and then went back to whatever he was doing. Such fun vibe. I think Gesafelstein was playing. – Anonymous
"Webster Hall is one of those venues that you just know, regardless of where you are from. There are so many bands that we look up to who have played it and when we did, it didn't disappoint – oozing with character and charm, from the grand balcony to the rickety backstage stairs. We hope we'll be back at some point to play in whatever comes next for the iconic space." – HONNE
https://www.youtube.com/watch?v=8py7fqG6Sus
"On my birthday I got to see Baauer play before he blew up – his first show ever – and go back to back with Just Blaze during a special night. They even sang happy birthday!" – Lindsay Herr, EARMILK writer
"From selling tickets as a local band at Webster Hall's small studio room to playing sold out shows in its Grand Ballroom…it's safe to say we have a lifetime worth of memories there that we'll never forget. It was just one of those special clubs…you never knew who you might bump into there or what surprise artist you could end up seeing. We're staying optimistic and hope the new renovations and club will maintain the iconic legacy that Webster Hall created." – Jean Paul Makhlouf, Alex Makhlouf and Samuel Frisch, aka Cash Cash