The tasteful house and techno celebration CRSSD Festival made a splash at its fifth installation at downtown San Diego's Waterfront Park last weekend. With headliners 2ManyDJs, Âme, Duke Dumont, Claude Vonstroke, Rødhåd, and Flume, the young festival maintained an underground feel while simultaneously highlighting significant dance-heavy acts. Although bouts of rain sprinkled over the two-day lineup, happy crowds of honest electronic music fans freely danced across San Diego's premiere house, techno, and dance event.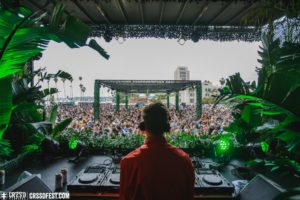 photo credit: Felicia Garcia
Each CRSSD stage has its own unique vibe, yet the festival maintains a cohesive soundscape. Artists including Cut Snake, Louis Futon, Mija, Wax Motif, and countless others ranging from deep house to chill electronic were showcased at The Palms – the most intimate of the three stages. With Hawaiian shirts and palm fronds aplenty, the first stage was a warm welcome onto the festival grounds and generated a similar atmosphere to Splash House in Palm Springs, CA. Under a canopy with swaying umbrellas overhead, thumping bass provided refuge from light rain.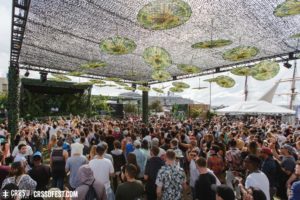 photo credit: Miranda McDonald
The CRSSD stages gradually get larger as you walk deeper into the park, with picturesque 360° views of the surrounding downtown SD marina. After your head starts bobbing and feet start tapping at The Palms, the City Steps stage draws a slightly larger crowd for deep house and techno tunes. A bit dancier than The Palms, this stage enjoyed beats from the likes of Peggy Gou, Lee K, Midland, and Tensnake, to name a few. On Saturday, watching Damien Lazarus at this stage felt equally as inclusive and relaxed as at the Do Lab – minus the heat of Coachella Valley.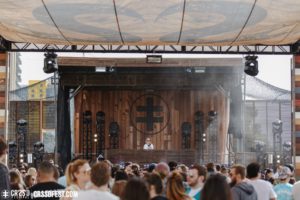 photo credit: Miranda McDonald
The City Steps stage is directly adjacent to the second most exciting part of CRSSD – festival food. While typical munchies like pizza and fries were crowd pleasers, CRSSD maintained a diverse palette by including sushi and delicious dumpling options (I had seven dumplings… oops). While a tad pricey, free flowing beer, wine and cocktails satiated the 21+ crowd. Following the main food and drink area, which thoughtfully provided a free water station to refill water bottles, the main stage dominated the cloudy horizon.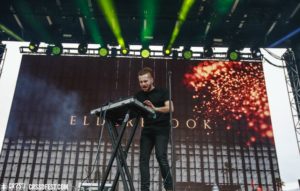 photo credit: Miranda McDonald
The Ocean View stage (the main stage) has a special, once in a lifetime view that not many festivals can claim. Planes descended from right to left directly behind Ocean View into San Diego International Airport, and just like a movie, fireworks exploded directly parallel to the stage after the sun went down. With palm trees dotting the sky, it's a necessity to see at least one set at Ocean View even if the main stage isn't usually your thing. Moving from chill electronic like Kasbo and HVOB to more trap infused acts like Snakehips, the main stage maintains an intimate feel despite its size and perfectly balances artistry with club bangers.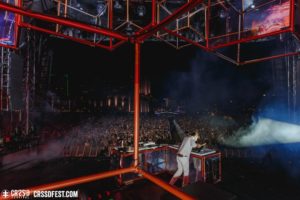 photo credit: Miranda McDonald
At one point during Flume's set at Ocean View, my friends and I had a pretty hype dance circle going and a wandering, dancing passerby somehow accidentally found his way in the middle of it. Unlike other festivals, when people in the crowd can occasionally get cliquey and take themselves too seriously, we made a new friend out of the hilarious situation and embodied the spirit of the CRSSD community. Personally, the last three acts on the main stage stole the show; Snakehips, Marian Hill, and Flume stacked one after the other is a guaranteed good time. Snakehips wove in crowd pleasers like Snoop Dogg's "Drop It Like It's Hot," Marian Hill brought with them a funky, underrated saxophone player, and Flume's visuals and transitions were unstoppable.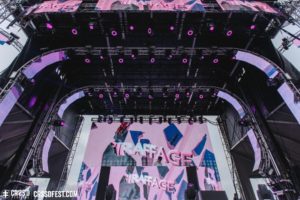 photo credit: Miranda McDonald
Beyond the hard to beat line up at CRSSD, the logistics of the festival are also impressive. Minimal sound overlapping occurred from stage to stage, and the volume at the main stage has significantly improved from past years. Any festival goer will tell you that bathrooms are usually an Achilles' heel of a festival weekend but never was there a longer bathroom line than two or three people at CRSSD. Entering and exiting was also a painless process, making for smooth sailing and keeping music as the priority. CRSSD is a must go for electronic lovers everywhere, and San Diego's electro scene is one not to be slept on.