Gary Richards aka Destructo has been one of the busiest people in the music industry today as a DJ, the founder and CEO of HARD Events, and putting on festivals like HOLY SHIP! Fortunately, I was able to sit down with Gary Richards the last night of HOLY SHIP! 9.0 to talk about the evolution of HOLY SHIP! and his own unique musical stylings.
This year's sailings were different from previous sailings in the fact that they were consecutive, with HOLY SHIP! 8.0 running from January 6-10th and HOLY SHIP! 9.0 going from January 10-14th, presenting entirely new challenges as the HARD crew essentially ran a 9-day festival. When asked about dealing with the grueling nature of the back2back ships, Gary said, "I have to pace myself. I plan the whole schedule for everything, so I know what time I'm going to sleep. Like yesterday, I just had to tell myself 'I'm fucking sleeping.'"
There are still many differences between organizing HOLY SHIP! versus a normal festival like HARD Summer. 
"The key to any festival is communication amongst the staff, dealing with the police, fire, and medical. On Ship! it's the captain and the weather… when you do a festival for 150,000 people, you're just dealing with people entering and exiting, and medical but for this, I'm hyper-focused on the schedule and my team, so when we have to call an audible we just have to move things around."
As they had to completely change up the schedule and move all of the top deck artists inside on 8.0 when the ship went through a heavy storm.
Dealing with artists' preferences and set times is another potential issue. On 8.0 Gary recalled that no one wanted to play against Marshmellow, but after explaining that if, "When Marshmellow's on, I need people at all the other venues." Gary thinks that artists overanalyze things like set times saying that "on this boat, people are going everywhere. It's my job to spread everyone out at every festival, and I've been able to successfully do that for almost 9 years."
Through the HARD festival series, Gary Richards has become known as a tastemaker, continually booking artists a year or two before they get wide recognition and even helping quite a few aspiring acts along that path. His secret, he says,
"I just have one simple formula. Since I DJ a lot and I'm always trying to play different sets, I never play the same shit ever. I'm constantly digging for new stuff, and if I find a track from someone and I play it, nine times out of ten I'll book them. If I play three tracks from them, I'll book them on everything."
One such artist on the 8.0 who caught Gary's eye was Lucky Charmes, with his track "Ready." So Gary hit him up on Facebook when a slot opened up, claiming "he's on because he makes cool tunes."
[soundcloud url="https://api.soundcloud.com/tracks/257258486" params="color=ff5500&auto_play=false&hide_related=false&show_comments=true&show_user=true&show_reposts=false" width="100%" height="166" iframe="true" /]
Throughout our interview, it became increasingly apparent how humble and thankful Gary is about what he's been able to achieve, both as a musician and as an event promoter, saying;
"I don't even fucking know how this shit is going on. It's just all spiraling, I'm just riding that. I have these ideas in my mind, things I want to do, but with everything…I couldn't do the boat by myself, I couldn't do HARD by myself, couldn't make all the tunes by myself, and be a dad and all that."
But, Gary quickly points out that he doesn't mess up his priorities saying,
"My number one job is being a husband and a dad,"
He gets visibly excited about his son's upcoming basketball game and the fact that his daughter is starting soccer while saying he'll probably tour less this year to spend more time with them.
If you know about HOLY SHIP! at all, you'll know that Destructo's three-hour Sunrise Sermon set from 5:30-8:30 am is the premiere event of each ship, with everyone together on the top deck as the HARD father brings forth a new dawn. Having been through three Sermons myself, I can certainly attest to the beauty of so many people together on the ship dancing to techno, house, and whatever else Gary works into the set. When talking about the different sections of the Sermon, he said,
"The Sermon is always supposed to be that the first hour is that 5:30-6:30am where it's like 'you should go home.' If you're at the club at that time of night, nothing good is going to happen, you're going to get in trouble, like you should just go the fuck home. So it's like I play that Drumcode-esque stuff. Thet kind of techno that almost puts you on edge but is still groovy."
However, as all good things must come to an end, so must the techno as the sun comes up and the music transitions to more chord structures and "feel good" songs. A good example of this was when Gary Richards had Griz play his tenor saxophone along to the Christopher Cross song, "Ride Like the Wind." Another was when Gary had Mr Kool-Aid play the last song of the Sermon because, when Gary would to Mr Kool-Aid's parties, he would always end with a remix of "Strawberry Fields" or "Hippie Chick." Recalling the moment,
"Steve was standing there with such a smile on because on the screen the visuals were old flyers he drew himself from the early 90s for shows that I did with him. He drew the first Electric Daisy Carnival flyer, he drew those flyers; that was his idea, and to have him here… It was just fucking perfect, because, without him, I wouldn't be here. The first time I ever went to a warehouse party it was Mr. Kool-Aid and Doc Martin, and those dudes were on the stage with me, it was pretty incredible. When I first me those guys, I was just some little punk kid and they were like gods. Now the little punk kid has got the cool shit going on."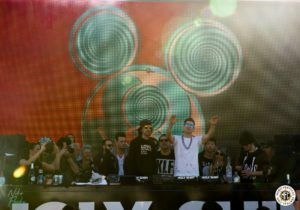 After a nice long discussion about techno and who Gary can and cannot book for HOLY SHIP!, we somehow transitioned into talking about the single Destructo put out last year named "Techno," with Gary saying that "the funny thing is that I put out that track and all the techno people were mad at me because they think I'm talking shit about them but what they don't realize is that I'm so old-school that, to me, when I say the word techno, it's music that was made with technology. In 1991, anything that was electronic was techno." In fact, when Gary did A&R for Rick Rubin at Def American Recordings his nickname was techno boy since he signed all of the electronic music. Nowadays, however, techno is no longer an umbrella term but its own verifiable genre filled with the likes of Ben Klock and Adam Beyer. Gary had always thought it would be funny to use that Eminem sample from "Without Me," but had never found the right track until he whipped it up with Wax Motif one day in the studio in less than 15 minutes. Realizing it worked he says, "I kind of just put it out as a goof…I wanted to do the smiley face [cover art] sad because no one listens to techno anymore so he's bummed out."
When asked to single out his favorite HOLY SHIP! memory Gary Richards recalled that
"There was one time, on an earlier ship, Boys Noize was playing in the Theater and I just went by to check it out, make sure he's got a good crowd. I always want to make sure that everyone has a good show. Just was going to peep my head in and go to bed because I had the island in the morning. I walked in, opened the door, and Justice was playing my song "Technology," and Boys Noize had Skrillex on his shoulders and Diplo had Zedd or Gessafelstein on his shoulders and they were chicken fighting. The dudes from Justice were smoking Cohibas doing tequila shots with no shoes on. I was like 'Are you fucking kidding me right now? Am I dreaming? This is the coolest fucking thing on Earth.' That was fucking sick."
Kind of makes me wish I was old enough to go before 2015.