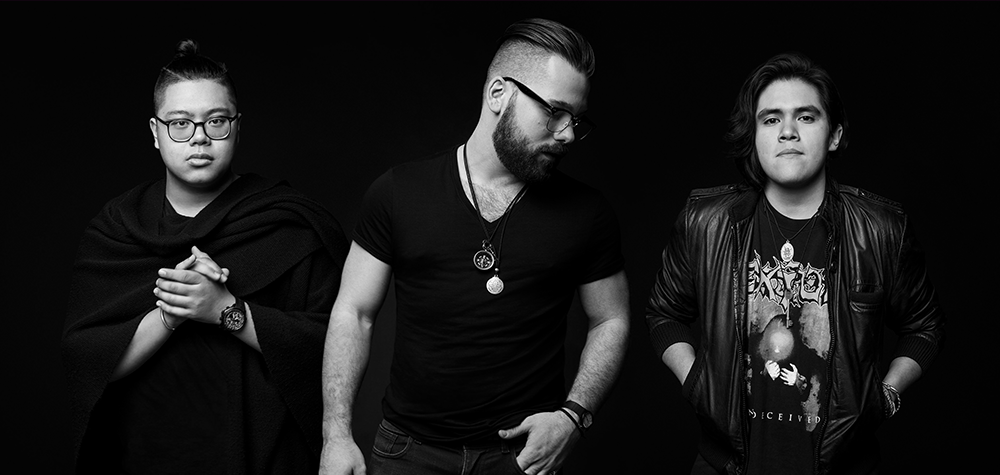 The state of Arizona and AriZona beverages aren't the only Arizonas you should be familiar with. Meet A R I Z O N A, a trio ready to become your new favorite with their captivating songwriting and production. In preparation of the release of their debut album, the New Jersey natives recently released the first single from the album titled "Oceans Away". They are now ready to share the visual for the single where we see Zach, Nate, and David traveling from Boulder, Colorado to Los Angeles. They seem to take the scenic route enjoying the many sites and laughs along the way.
Zach, Nate, and David shared a bit about how they came to be known as A R I Z O N A, the concept behind the "Oceans Away" video, and what they are looking forward to in 2017.
EARMILK: How did the name A R I Z O N A come about?
A R I Z O N A: We wrote the first A R I Z O N A song (Let Me Touch Your Fire) while Zach and I (Nate) were living in LA and David was in Boston. We FaceTimed David one night after feeling super burned out and tired of writing and producing for other people and asked him what he thought about starting our own project. We all kind of laughed at the idea because we didn't think anyone would care. At the time I had an AriZona Iced Tea snapback that I wore everyday so when we asked David what we should name the band he pointed to my hat and said "Dude just call it Arizona, the name isn't going to matter. No one's really ever gonna care anyway right? We can space out the letters and make it look as cool as we want". So to us, A R I Z O N A means never taking yourself too seriously, and always putting the art first.
EARMILK: How did the concept for the "Oceans Away" Visual come about?
A R I Z O N A: I think our music, especially Oceans Away, has a tendency to be seen with the perspective of a romantic relationship - but ultimately the song is about distance. So rather than to force a storyline to our audience, we just focused on the journey...and it could be a very deep, existential and heavy take on the journey of life, and how it can take us apart from the people and things we love and cherish - or it can be that we just wanted to take a trip with our best friends.
EARMILK: You all have your debut album coming in 2017. What can expect to hear on the album?
A R I Z O N A: The album is a collection of the past ten years of our lives. It's a celebration of all our ups and downs so there's a bunch of uptempo party bangers akin to 'Where I Wanna Be', but we also hit you in the feels with more songs like 'Oceans Away'. Most of the songs we've released so far were written almost 2 years ago. So the songs on the album show a lot of the maturity we underwent in those two years while still staying true to the A R I Z O N A sound.
EARMILK: In addition to your album, what are you all looking forward to in the new year?
A R I Z O N A: At the end of each year, there's all this hype surrounding 'New Year's resolutions'. Everyone treats this time of year as a time to really take stock of what they've done well, or what they'd like to do better in the new year. For us, this is a concept that we like to try to implement on a much smaller scale, maybe week to week even. Keeping our heads down beneath the crossfire of things in our world that can so easily whisk away your peace of mind, and remaining in a humble place where we can keep creating things we love, is probably the only thing that really matters. That being said, I (Zach) did hear that season three of Rick and Morty is finally getting released in early 2017, so that's pretty tight. I'm definitely down for that. Also, touring, and getting out into the world and meeting the people who enjoy what we do.
Look for A R I Z O N A's debut album in 2017, and enjoy journey with "Oceans Away".