Festival trap forefathers Slander ascended the ranks of EDM stardom swiftly over the past several years. From humble beginnings DJing fraternity events and climbing the ranks of the nightlife scene in Orange County, Derek Andersen and Scott Land hit a burgeoning market at a pre-boom sweet spot, coining their own mash-up sub-genre "heaven trap" and catapulting to main stage familiarity as trap took over in 2014.
At the cusp of 2017, Slander has just embarked on Gud Vibrations, their North American bus tour with co-headliner/BFF/co-pilot to the meteoric ascension of trap NGHTMRE. I recently had the chance to catch up with Derek and Scott, and I was excited to pick their brains on their journey so far and how they plan to continue the momentum into the New Year and beyond.
In the over-saturated dance music market of today, one of the keys to success is developing a niche sound that still reads as genuine. With so many gimmicks clogging the EDM collective subconscious, I was curious as to how Slander birthed their now-ubiquitous "heaven trap." Derek's advice was to let creativity flow while honoring your roots. "I think just trusting my instinct, turning off the fear inside my head – that's what was able to let me create the idea," he explained. "So that's my advice, maybe take a genre you liked in high school and mix it with the shit that you like right now. Or the shit you liked a couple years ago, mix it with what you like right now. I think you can create something unique because everyone has unique taste."
Seems easy enough. But Scott quickly followed that up with the groan-inducing truth about the state of the industry: "On a general advice to younger producers, nowadays theres so many kids who are really talented on a producing level, you almost need to invest as much time in thinking about your branding and how you want your act to be received by people visually even. If people hear one song on SoundCloud and they go to your Instagram, is your Instagram cool enough where they'll follow it right away? I think that's a really important thing separating the acts now." It's a bitter pill to swallow for musical purists, but it's an important reality to accept if you are an up and comer trying to catapult yourself ahead of the pack. "Make sure you think about how the world is going to receive you not musically as much as they are going to receive you musically," he emphasized.
[soundcloud url="https://api.soundcloud.com/playlists/277435048" params="auto_play=false&hide_related=false&show_comments=true&show_user=true&show_reposts=false&visual=true" width="100%" height="450" iframe="true" /]
It is my belief that Slander is an electronic act utilizing marketing in a way that is genuine. If you peruse their Instagram feed, it IS cool enough to follow right away. The Slander of social media, the visual Slander, is curated in a way that is both impressive and inviting. Sleekly edited tour footage conveys a few tight homies relishing in success found together. Their logo and branding is subtle, a welcome departure from the gaudy "replace all A's with V's" trend that never seemed to die.
To get a better idea of the Slander origin story, I asked Derek and Scott about their surprise last minute main stage performance at Nocturnal Wonderland 2014 (filling in for a tardy headliner) – a "big break" for the duo and opportunity to spur a larger audience for their then-niche sound. Scott remarked, "That was the only day in my entire life that it felt like a dream when I was actually in real life. The crazy thing for us, and the reason why that was even more special than it seemed [to the crowd] is that we grew up going to Insomniac shows, both of our first raves that we ever went to were Insomniac shows. That was in a way the culmination of everything for us." It may sound like the plot line of that Zac Efron movie, but it is undeniably endearing to behold: two Cali raver dudes making good on their dreams.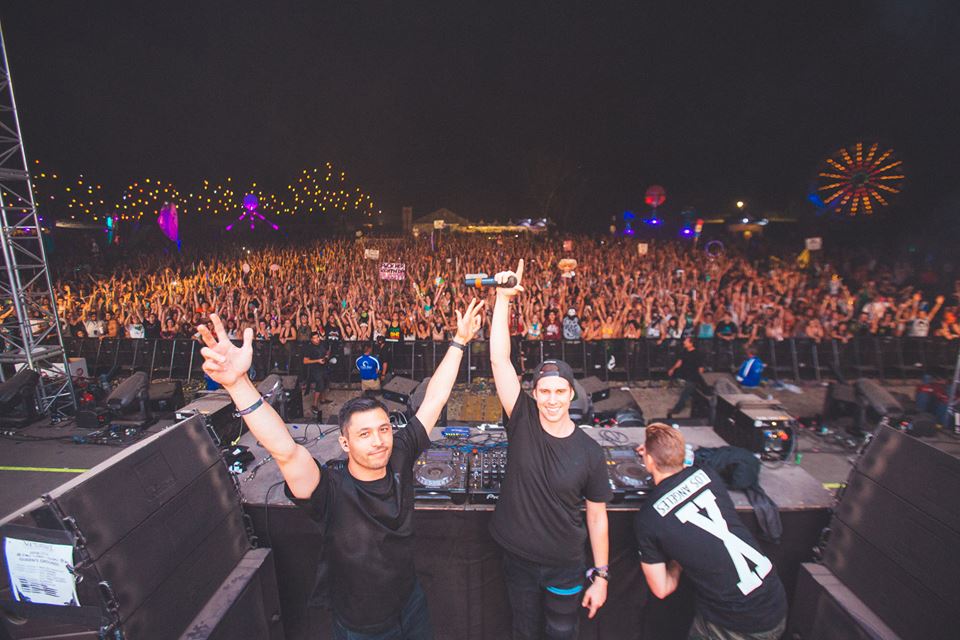 Fast-forward to the trap world of today (all CO2 cannons and bottle service) and the idea of a bus tour is so Americana, so "Almost Famous" that you can't help but root for the hometown boys. "I know we're gonna crank out a lot of really cool shit on the bus tour because we're gonna have NGHTMRE and HBSTRK and KRNE all on the bus with us and LDRU," Derek remarked excitedly. "I think it's going to be a really dope creative environment to start new ideas that we can release in 2017." Derek revealed that fans can expect two vocal originals, one of which features a music video, along with more big show announcements to come next year. The future is bright for Slander, and we're excited to behold the evolution of their aesthetic and sound.
Connect with Slander: Facebook | SoundCloud | Twitter