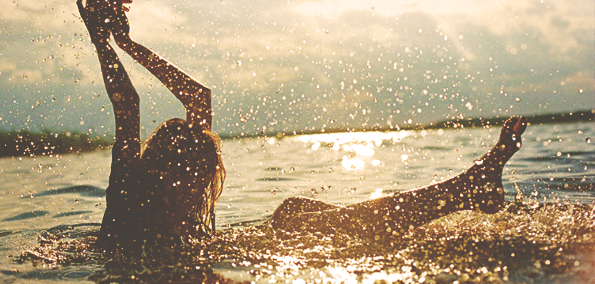 Bamiyah is an LA based majestic feel fairy. The angelic artist released the warmest of tracks ironically titled "February," but in the month of September. Now it's October and her and Denmark based producer, Nilas, has released the most sensual baby making remixes of "February".
Bamiyah sounds like an angel. I sat here trying to think of a description of her voice and the only thing I could think of was goddess and holy af. Her vocals are so delicate with a vulnerable tone and a perfect pitch. Nilas has lifted her voice to create an vocal orgasm as he lays down these combusting synths, which really make us feel like we are at our climax. I could only hope that the day that I die, this soundtrack is playing as I flood the gates of heaven. Or the ocean? (where ever you believe that your spirit goes). For me, personally, I'm going to outer space that's simultaneously underwater because I'm a fucking mermaid where it's CONSTANTLY magic hour so it will be dusk forever. There will also be an endless supply of tacos and tequila. And this song playing on repeat as the sun is forever "about to set" on the horizon and melt into the liquid of the ocean. 
I can't wait to hear future collaborations from this duo - can you guys make us an ethereal ass EP? Thanks in advance!
Connect with Bamiyah: Soundcloud | Spotify | Instagram | Twitter | Facebook
Connect with Nilas: Soundcloud | Spotify | Instagram | Twitter | Facebook