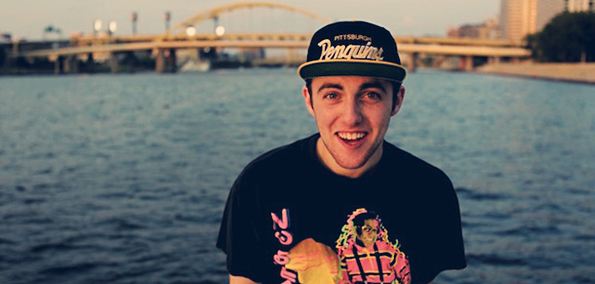 Last fall, Mac Miller graced us with GO:OD AM and today has announced his his follow up project titled,  The Divine Feminine, coming in hot on September 16th. Naturally, homie released a track while announcing his album - giving us just the tip, just for a second, just to see how it feels. "Dang!" features sensual vocals from Anderson .Paak and a funky bounce production by Pomo.
I was almost positive this production was one of Kaytranada's hidden gems - with those pulsing synths, two-step claps and a groovy guitar. Turns out that it's the young Montreal-based producer and multi-instrumentalist beat guru, Pomo.
Anderson .Paak begins the intro with some soulful silk that we are all so familiar with - homie could say "poop" numerous times on a track and I'd be like, "Yeah I'm wet." The groovy, electro funk soundscape lays down a familiar sound for .Paak but throws in a different backdrop for Miller to flow over. Miller has really curated his own evolved new sound and morphed into the progressive hip hop genre. He has coped at least three different flows on this track -keeping us enticed the entire way through. Stream this on a warm summer day with the top down. Don't have a convertable? SAW THAT SHIT OFF YOUR SEDAN. OR EVEN BETTER, YOUR SUV. I call that the low budget Pimp My Ride. You're welcome.
Connect with Mac Miller: Soundcloud | Twitter | Facebook | Instagram
Connect with Anderson .Paak: Soundcloud | Twitter | Facebook | Instagram
Connect with Pomo: Soundcloud | Twitter | Facebook | Instagram