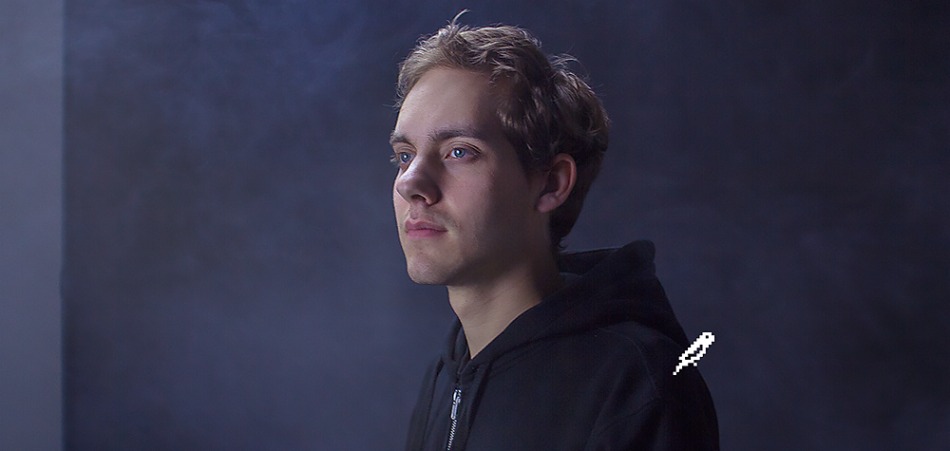 Straying far from the cookie cutter standard, San Holo emerges as an artist grinding to create innovation and indelibility in his craft. The dutch beatmaker has blown up since his debut release of "We Rise" through OWSLA's curated platform NEST HQ, proving himself to be dedicated as a music maker and passionate in the art he creates. In the last year, San Holo has been fully occupied, whether it be through his creative label bitbird or travelling the globe, the producer still manages to keep his name relevant in the electronic game. San Holo, under management of Heroic, has developed a slew of original singles in the past year and seems to show no signs of stopping.  In his most recent, San Holo teamed up with fellow dutch trio Yellow Claw in track "Alright", to construct a future bass track wallowing deep in emotion. The collaboration highlights San Holo's nature in feasibly challenging genres and defining a pin-point sound, bringing him to the forefront of talents in today's electronic industry.
---
Reflecting on his own diverse tastes, San Holo has shared with us five of his favourite tracks that he's most excited about at the moment. EARMILK was also given the opportunity to ask San Holo a couple of questions, delivering you an exclusive interview discussing his international tour experience, creative inspirations and plans for the near future. Check out the interview below.
San Holo's Top 5 Favourite Tracks

[soundcloud url="https://api.soundcloud.com/playlists/196869430" params="color=ff5500&auto_play=false&hide_related=false&show_comments=true&show_user=true&show_reposts=false" width="100%" height="450" iframe="true" /]
1. Tiesto ft. Jonsi - Kaleidoscope 
"Just listen…."
2. How To Dress Well - Repeat Pleasure (A.G. Cook Remix)
"This track changed my life, once again."
3. Jan Level - I Believe
"supporting the #NEWGAB movement!"
4. Analogue Dear - You Were Only But A Dreamer
"This guy is an amazing composer"
5. DROELOE - Make My Day
"Brand new artist, gonna do big things this year!"
---

A Chat With San Holo: Discussing tour life, creative process and what's next
EARMILK: Growing up in the Netherlands and having studied guitar and music production at the Rotterdam Conservatory, did you always see music as a part of your future career?  
San Holo: I started playing guitar about 11 years ago and from that point I knew music was going to be a very important thing in my life. I was really inspired by bands such as the Red Hot Chili Peppers, Rage Against The Machine and Billy Talent, especially by the guitar players who had such a distinct sound. Back then I really wanted to be in a band, writing and playing music together with friends. A few years later that's exactly what I was doing, and we did some tours and had some amazing times. Unfortunately all of those bands eventually broke up and so I ended up pursuing music by myself. I learned a lot about music in all the years of playing guitar, and developed a vision of what I wanted my songs to sound like. After being exposed to Hip-Hop I really wanted to explore more kinds of music so started making beats and compositions on my computer. This felt like freedom to me because I could do all the stuff myself!
EM: If you weren't making music for a living, what would you be doing? 
San Holo: I would still be making music if I didn't make a living off of it. I guess I'd just have to work at the supermarket to pay the rent ;) . I have no idea what I would be doing if I didn't have my love for music.
EM: After having toured cities in North America, Australia and New Zealand, what was the biggest challenge for you constantly being on the go? 
San Holo: I've never been someone who liked going far away from home for a long time. It always made me quite anxious and just uncomfortable. This was really something I had to overcome. I must say all this touring has actually made me so much more at ease with it, wherever I am. Of course touring is very intense, but I think it's good for me, for my mindset and my view on life in general. It's alright to "just be" sometimes, without too many questions.
EM: You've recently released "Alright", your first release off OWSLA in collaboration with Yellow Claw, also hailing from the Netherlands. Talk to us about the story behind "Alright" and the importance of collaboration in your music. Any dream collabs?  
San Holo: Collaborating is not an easy thing for me. Sometimes I just can't see the vision of the person I'm trying to collab with, and I'm such a perfectionistic. Sometimes it works, sometimes it just doesn't. "Alright" was a track that I built out of sounds I designed myself in a synthesizer. I felt like it was missing a human touch, so I asked Yellow Claw to send me some vocals, and so they did. After some editing a new song was born: Alright! About dream collabs… In the future, I would really like to make beats for artists, which is where this electronic music journey started for me.
EM: In addition to touring, making music on the road, you also lead your creative label, bitbird records. When seeking new music and featuring new talents, what are you looking for?  
San Holo: Ultimately the sound has to touch me. Something fresh, something unique, maybe even weird at first. We're looking for artists with a vision, artists that enjoy going outside of the box.
EM: Can you explain your creative process when it comes to producing? Are there certain quirks that get the gears going?  
San Holo: I don't think I'll ever be able to explain the creative process. Inspiration is such an ungraspable thing. It's up in the air. All I know is that ever since I started playing guitar I always felt this urge to create something. I've always wanted to write songs and get stuff out there for people to see and hear. In the end, I think your love for music is the only thing that matters. Make something that YOU want to hear, something that surprises you or moves you in a certain way. Don't think about rules or boundaries.
EM: You're extremely active on Instagram, Facebook, Twitter and YouTube. The music video for "IMISSU" alludes to a lot of today's producers heavy online presence. How do you think today's technology and social media can impact an artist's career? 
San Holo: Of course social media is a great way to connect with the people that enjoy your art. I love doing that! As long as it's real – in the sense that I want people to follow me because they love my music, not because I'm good at social media. Sometimes I scroll through my feed and I don't know if I'm looking at an artist or a good marketing plan...
EM: Explain your thoughts on today's growing expansion of electronic music. With the scene so saturated and how easily music is accessed, what does that say for aspiring producers? What tips would you give those interested in contributing to the electronic world.  
San Holo: To be honest, I don't know. I never wanted to "become a producer", I wanted to make music because it's what I have a passion for. You need to be 100% cool with the idea of not making any money from of it, and just need to feel it!
EM: Tell us something interesting about you that may surprise fans. 
San Holo: I stopped eating animals 10 years ago and I'm still alive, HOW?!
EM: What do you foresee for San Holo in the future and what is there for fans to get excited about? 
San Holo: Lot's of new music! Keep your eyes on my label "bitbird," we're going to be doing lots of cool stuff this year! I'm also going to be dropping some interesting tracks soon!
EM: What is the significance behind "Swirl"? 
San Holo: No comment. Swirl.
San Holo has also recently announced his return to North America with the New Sky Tour, along with an epic mix to accompany it. To purchase tickets and find out more information, check out his website here. Check out the 30 minute mix below.
[soundcloud url="https://api.soundcloud.com/tracks/246404200" params="color=ff5500&auto_play=false&hide_related=false&show_comments=true&show_user=true&show_reposts=false" width="100%" height="166" iframe="true" /]